Web-Cat Sale List for July 2022
Phone (419) 842-1863 weekdays
eastern time zone to place your
order.  The first caller gets the item!
DAVE TAYLOR  CIVIL WAR ANTIQUES
P.O.   BOX 87    SYLVANIA,    OHIO 43560

220701    Colt Model 1849 Pocket revolver as carried by the California 49ers in the gold fields, and tens of thousands of soldiers in the Civil War. Overall good to VG condition. The cylinder is roll-engraved with the Stagecoach Holdup scene. Metal is gently worn gun metal gray. Markings are legible. Mechanically VG. Wedge is very loose and falls out. 100% original and complete. The top barrel flat is roll-stamped with the fourth style barrel address: "ADDRESS SAML COLT NEW-YORK U.S. AMERICA" in a single line. The left side of the frame is stamped "COLTS/PATENT" and the left shoulder of the trigger guard is marked: "31 CAL". The full serial number is stamped on the bottom of the barrel lug, frame, trigger guard and backstrap. All of the numbers match.  $695.00
Telephone NOW if you wish to order this item.  First caller gets it!  (419) 842-1863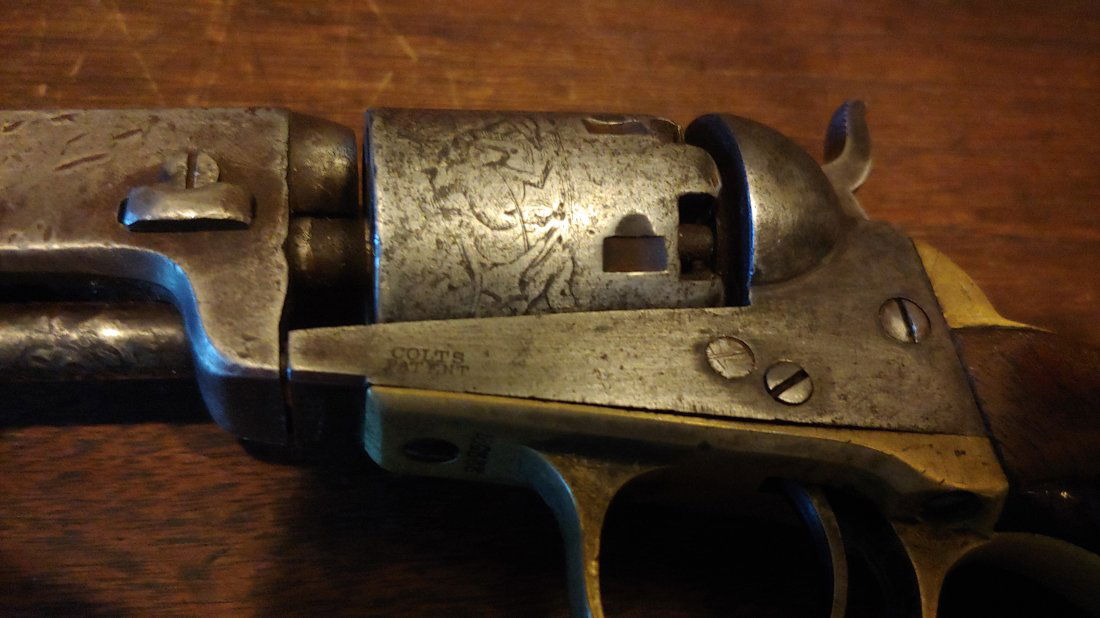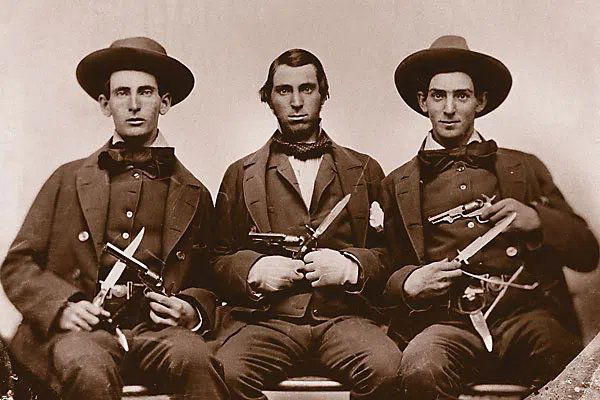 ********************************************************************************************************************************
CIVIL WAR NAVY PATRIOTIC SOAP DISH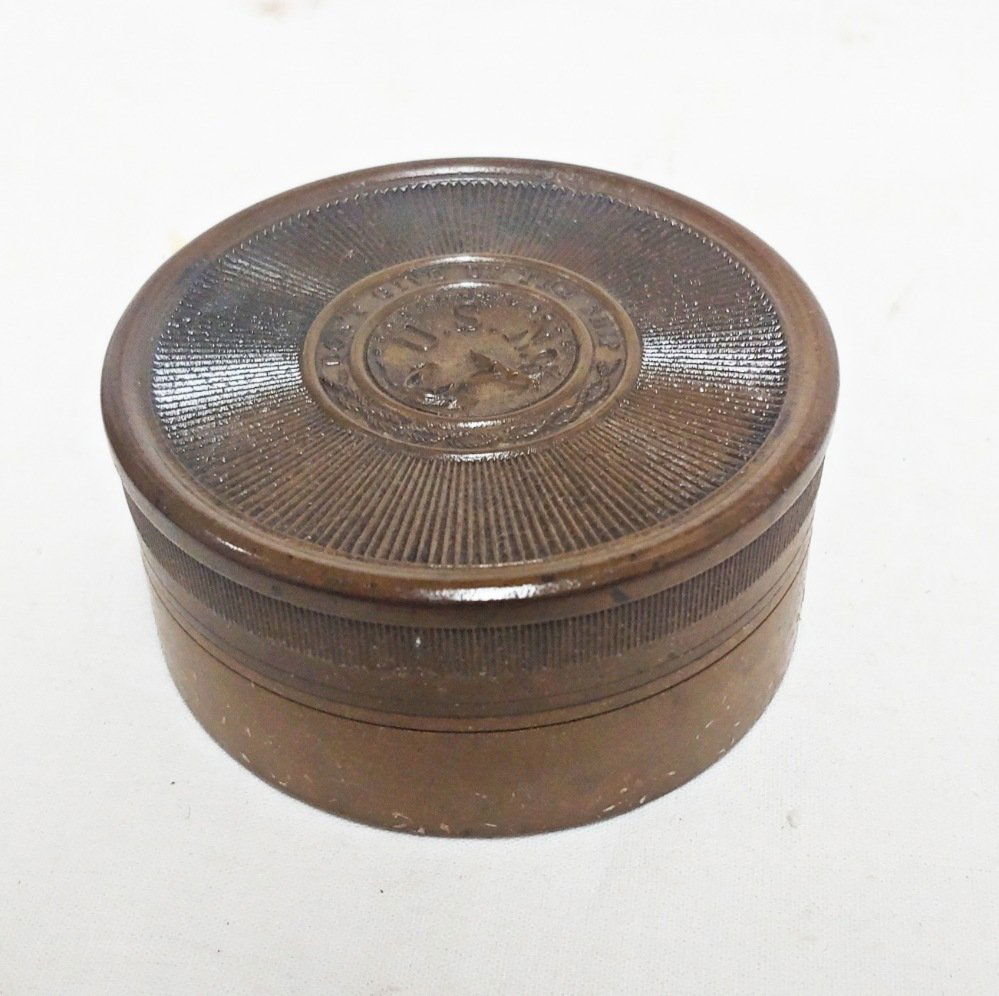 220702     One of the more popular Civil War personal item collectibles. Circular hard rubber container made of an upper and lower molded cylinder that fit together and are held together by friction. The bottom section is plain and is meant for holding a cake of soap. The top half has a very nice sunburst decoration with a central design of a fouled anchor surmounted by the letters "U.S.N." and the motto -DON-T GIVE UP THE SHIP- The underside of the lid has a circular mirror (cracked) and is embossed around the mirror with the Goodyear 1851 patent information. Very Good condition with no nicks, chips or cracks. Francis Bannerman, the war surplus dealer on Bannerman-s Island, had quite a supply of these on hand in the late 1800s and early 1900s. That's why enough have survived for us to collect.  Handsome, unusual, and interesting.  $265.00
Telephone NOW if you wish to order this item.  First caller gets it!  (419) 842-1863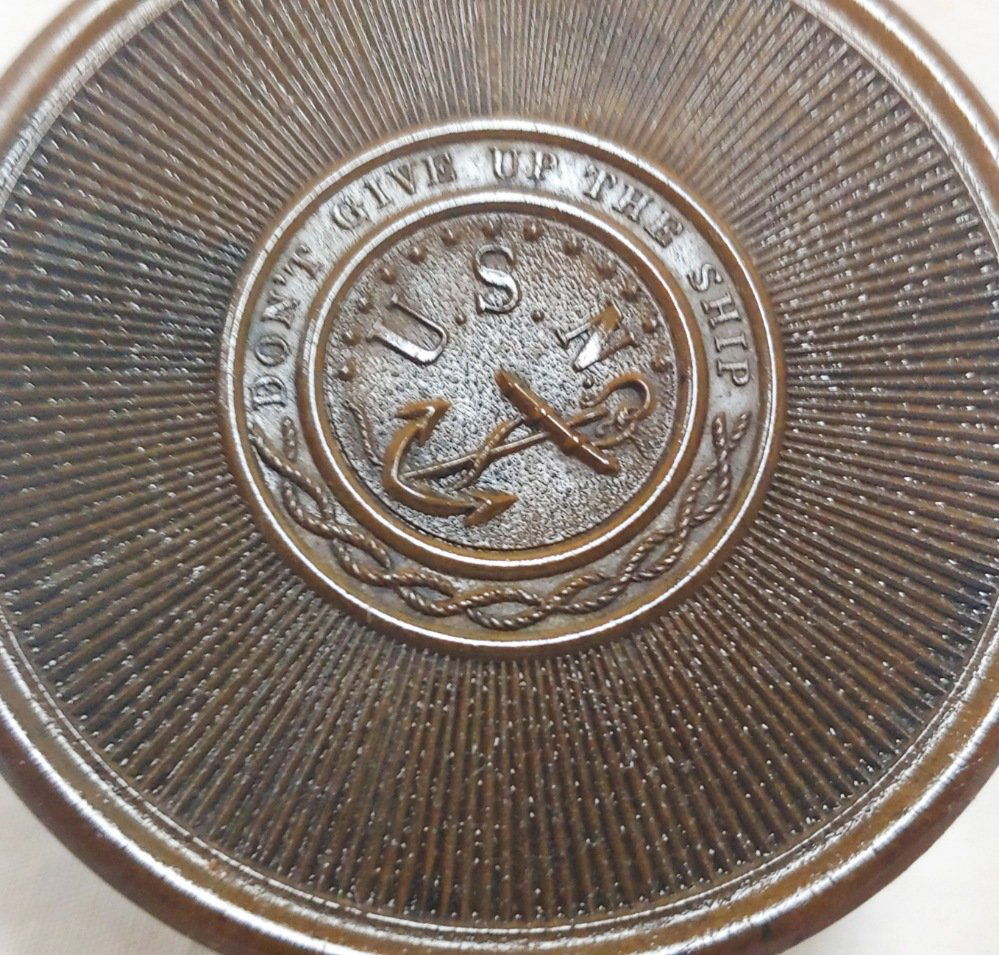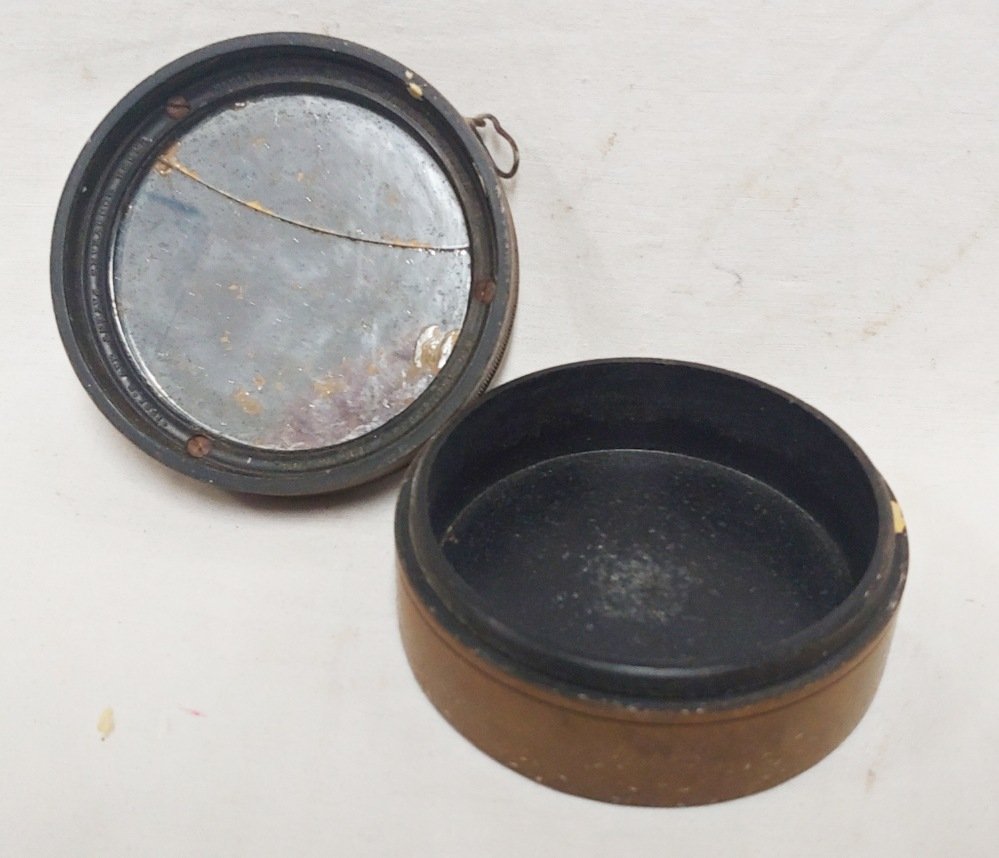 ***************************************************************************************************************************************************************************
US NAVY FUSE BOX  USNY BOSTON
220703  Regulation sailor's fuse pouch (or primer pouch) in excellent condition and nicely marked inside "USNY / BOSTON".  These were worn on the swabbies' waist belts along with their cutlasses and revolvers.  They contained friction primers or fuses for firing the deck guns.  Our good friends in Gettysburg recently sold one for $250.  I can sell this super example for $195.00
Telephone NOW if you wish to order this item.  First caller gets it!  (419) 842-1863
****************************************************************************************************************************
Telephone NOW if you wish to order this item.  First caller gets it!  (419) 842-1863
220704   This is an extremely rare Jenks-Merrill Conversion Navy Carbine. One of only 240 arms that were originally issued and accepted by the U.S. Navy in 1861.   It is a complete and correct example of one of the very rarest US martial arms, and it is in near fine condition!   This is a piece that is usually missing from even the most advanced collections,  it is only the second one I have owned in 50 years of collecting and trading. The other one is the best example I've ever seen and I paid the late Mitch Luksich  nearly $10,000.00 for that one years ago at the old Denver, Colorado Expo Mart show.  With only 240 delivered and an incredibly low survival rate, the Jenks-Merrill Conversion Carbine does not often appear on the marketplace. In late 1859, the Navy agreed to allow JH Merrill of Baltimore to alter some of the Jenks -Mule Ear- Navy Carbines to the Merrill breech-loading system.  All Merrill breech loading conversion arms are rare, (Mississippi rifles, and Model 1842 muskets), but the Jenks Merrill carbine alteration is incredibly rare.  The alteration involves filling and sealing the Jenks breech, replacing the breech mechanism with the Merrill mechanism and replacing the mule-ear Jenks lock with a conventional side hammer, back action lock. A multi-leaf rear sight was added as well. Two hundred ninety-four of the Jenks-Merrill carbines were delivered to the Navy in September of 1860 and were rejected due to issues with the breechloading mechanism and the lack of reliable ignition of the Merrill cartridges. The guns were returned to Merrill for retrofitting, and in January of 1861, 240 of the guns were accepted into service with the other 54 being rejected. No further orders for the Merrill altered Jenks carbines were placed, making this one of the rarest of all US military long arms ever produced, far rarer than most Confederate weapons which sell for two, three, and four times more money. Jenks-Merrill carbines are known to have been in the small arms inventories of the sloop USS Richmond and the gunboat Michigan. Description:.54 caliber, 25 inch rifled round barrel, no S/N. Browned finish, color case hardened lock and lever, brass mountings, sling ring in trigger guard tang. Top of breech lever marked in two lines: J.H. Merrill BALT / PAT. JULY 1858. Top of chamber marked -Wm JENKS- and USN inspection marks, including USN / RC / P / 1846. An old brass collection tag stamped 37 is attached to the heel of the butt stock.
This is in Fine condition, retaining most of the original lacquer brown finish. The breech mechanism exhibits strong traces of case color, mostly on the interior. Lock with slightly less color and a mostly smoky gray patina. Bore is fine, bright with sharp rifling. Mechanically perfect.  Correct in all respects.  Stock overall fine with a few minor bumps and dings. A really fine example of a very scarce Civil War carbine. You will likely not find another example of this gun for sale for quite some time.  $7,950.00
Telephone NOW if you wish to order this item.  First caller gets it!  (419) 842-1863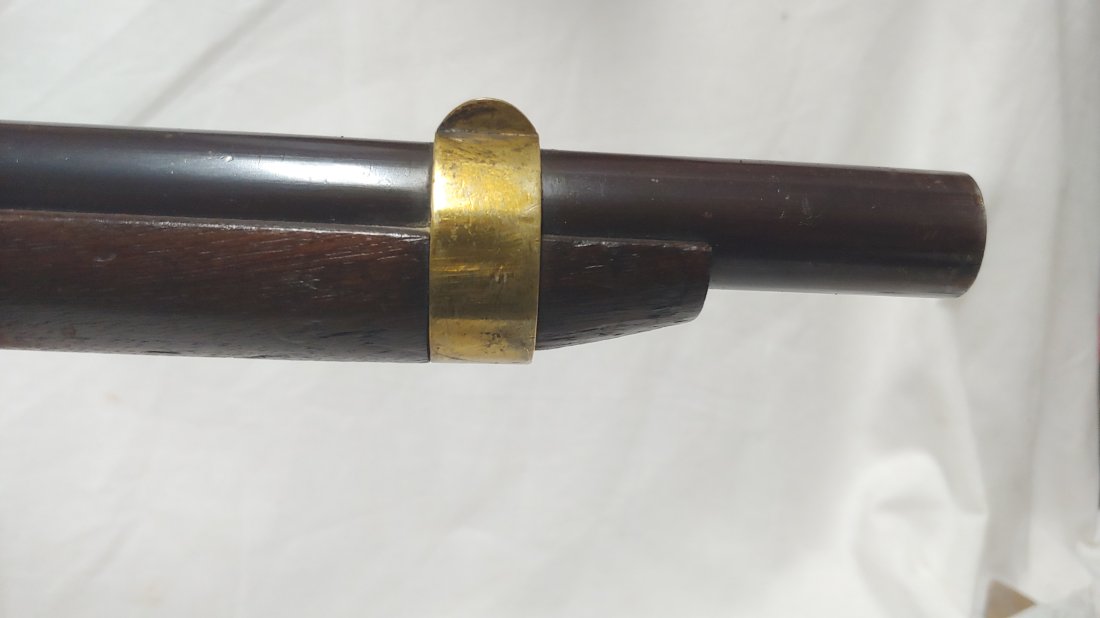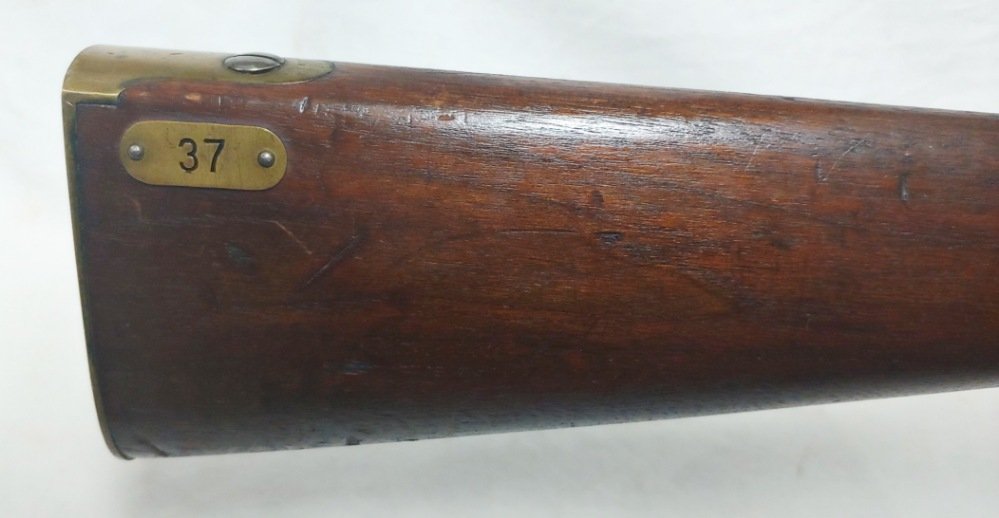 ********************************************************************************************************************************
48th PENNSYLVANIA SOLDIER'S MUSKET
CARVED WITH YANKEE'S NAME
AND REGIMENT.
                   PETERSBURG AND FORT MAHONE !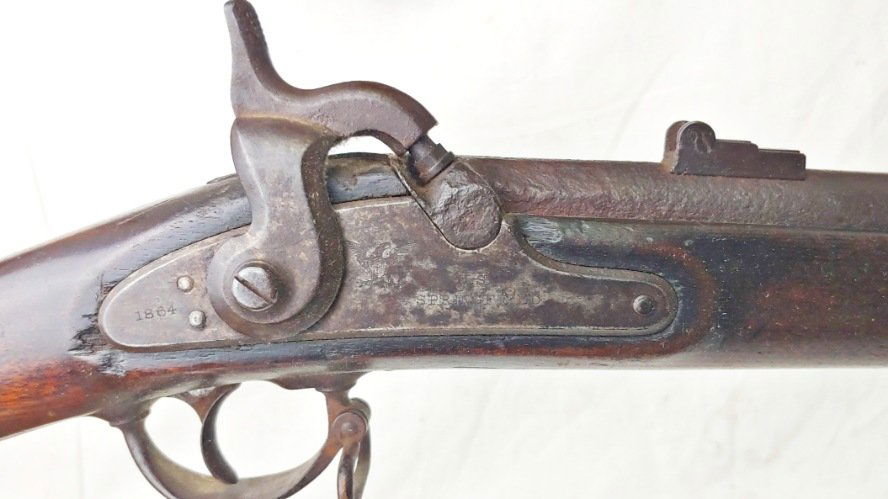 This Musket was here …
220705     Soldiers' weapons bearing real historical identification are very scarce and highly desirable.  This M1863 Type-II Springfield Musket (aka Model 1864) is just such a gun.   This war-used musket is wonderfully carved in the stock – AUGUSTUS REINHART – Co. I 48 P.V. –    Our soldier was somewhat comically dyslexic with his letters -S- carved backwards. Private Reinhart is carried on the rosters of the 48th P.V. as Augustus Reinhard. Enlisted January 1865 into Company "I".   Served his term and mustered out on July 17th. During his time with the 48th, the regiment was stationed at Fort Sedgwick in Petersburg.  On April 2nd it joined the assault on Fort Mahone where General Parke's IX Corps reached the Confederate lines first, attacking Fort Mahone, known to the Union troops as "Fort Damnation." The lines around Mahone were defended by about 3,600 men under General John B. Gordon. Their numbers were so small, that they could only post about 1,000 men per mile. However, despite the thinness of their ranks, they made "Fort Damnation" live up its name as they raked the waves of Union infantry with salvos of double-canister and volley after volley of rifle fire. Despite this, the Union troops kept coming, tearing their way through the abatis, and plunging into the rain-flooded ditch at the base of the Confederate breastworks, where many wounded Federals would fall and drown. From there, they scrambled up the sides of the earthworks, and jumped into the stronghold, fighting hand-to-hand with bayonets and rifle butts.    At first the IX Corps attack was successful, taking three Confederate batteries and gaining partial possession of another. But, soon, the attack bogged down amid the maze of entrenchments and no breakthrough could be made. One Confederate soldier recalled that, "the open space inside Fort Mahone was literally covered with blue-coated corpses." By 11:00 a.m., Gordon and his men had contained Parke's breach and began to work on counterattacks to push the Union attackers out of the fort. The 48th lost 11 killed and 18 wounded this day.  Lee surrendered a week later.  The 48th then occupied Petersburg and was detailed to guard  prisoners, etc., until the middle of July, when it returned to Alexandria and was mustered out on July I7, 1865.
This old musket is well worn for sure,  but it is complete and all original except for an earlier ramrod.  It still cocks and is very solid.  Private Reinhart did a fine job identifying his rifle for posterity, and it appears his family and descendants handled it, shot it, saved it, and showed it off for many years after 1865.  Lucky for us.  $2,650.00
Telephone NOW if you wish to order this item.  First caller gets it!  (419) 842-1863
Photographer Andrew J. Russell took a great many photographs inside Fort Mahone immediately after the battle.  His are some of the most gruesome images of the Civil War.  He took detailed photos of many corpses.  Below is a sampling I've put together…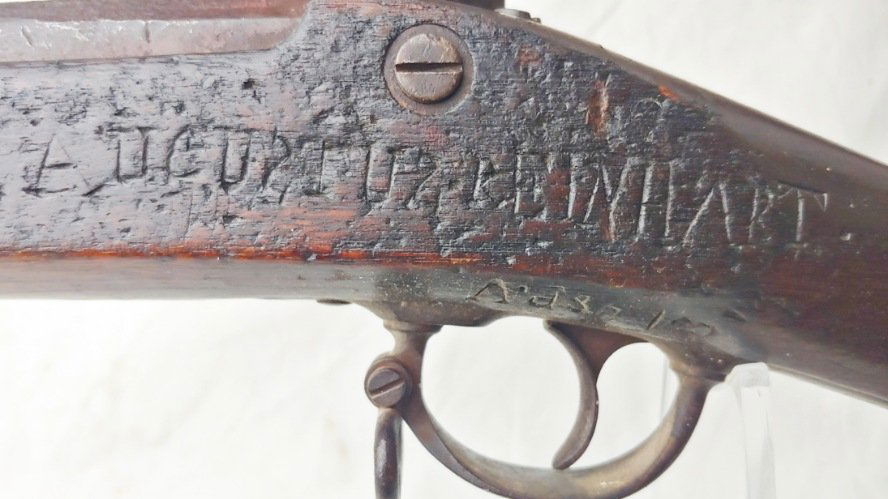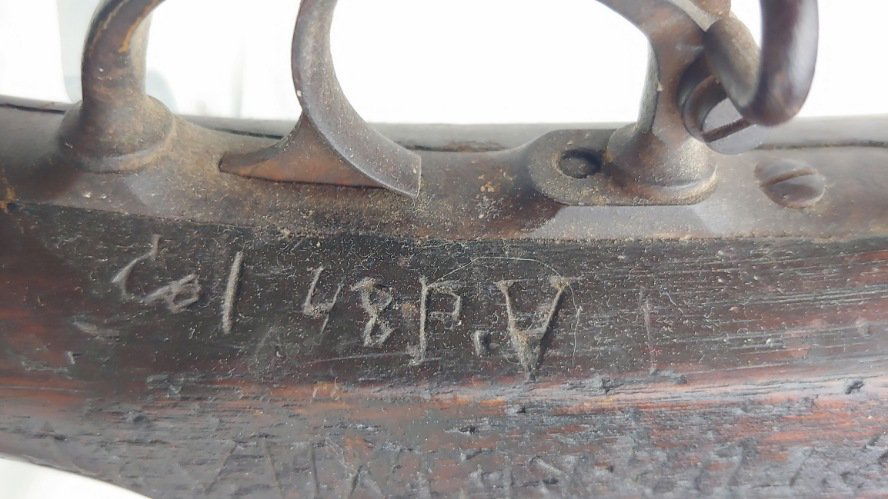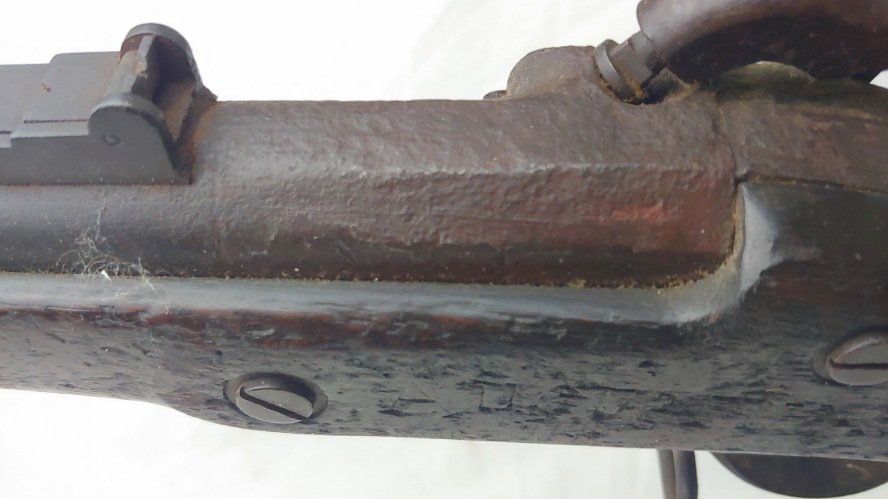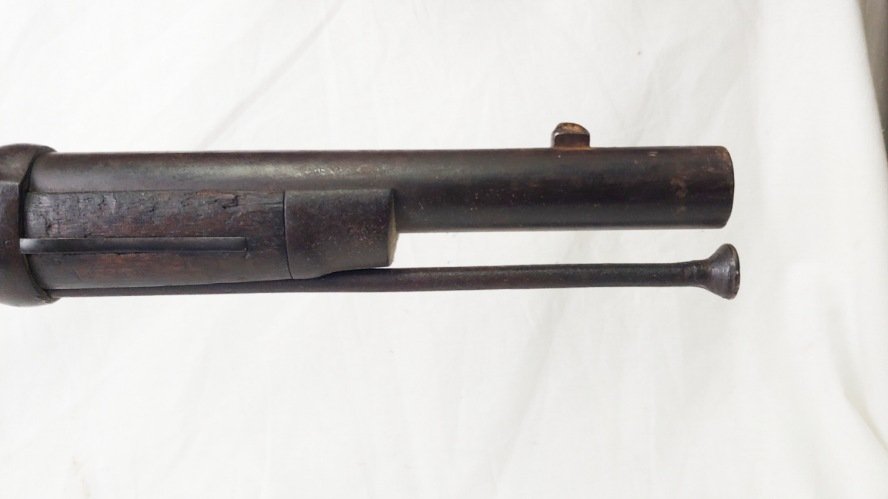 Telephone NOW if you wish to order this item.  First caller gets it!  (419) 842-1863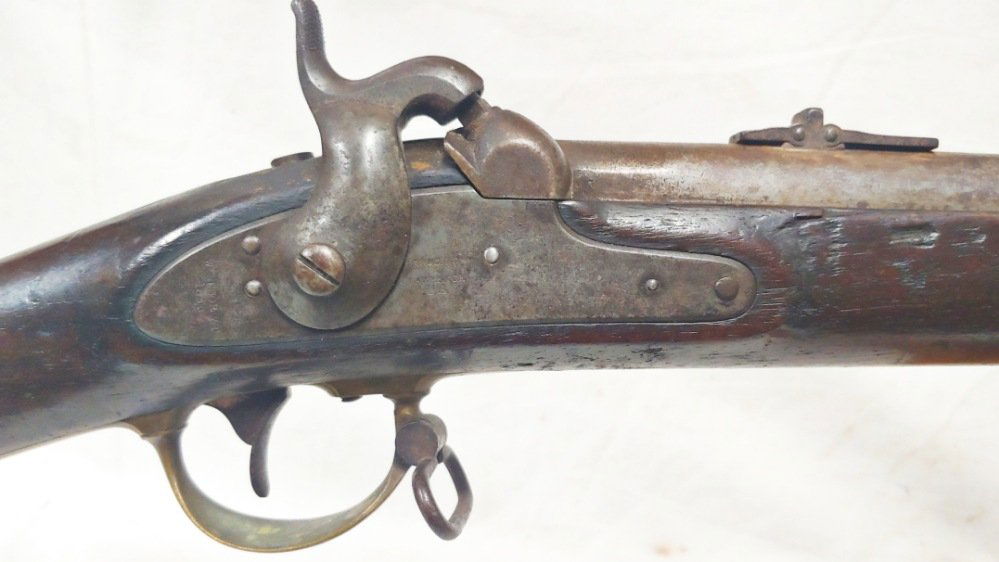 220706   Colt alterations of "Mississippi Rifles" are described on p. 156-159 of -American Military Shoulder Arms, Volume III- by George Moller.  This rifle is a classic example of the Colt alteration.  It was converted from .54 to .58 caliber (seven-groove rifling) by Colt and equipped with the Colt Model 1855 revolving rifle rear sight and a ring mounted bayonet stud.  These were fitted with saber bayonets originally numbered to the guns. No bayonet present.    In 1861, Colt purchased  11,368 Model 1841 rifles from the Ordnance Department for $10.00 a piece. Colt then altered them to accept .58 caliber Minie balls and bayonets under an agreement to sell them all back once the alterations were performed.   By June of 1862, Colt had sold 10,411 of these converted rifles back to the government for $18.50 a piece and made a quick and handsome profit. He then sold the rest to the state of Connecticut against his original agreement with the feds.  The barrel has the correct brass blade front sight, 500 yard Colt three-leaf rear sight, and the clamp-on band with bayonet stud.  The lock is marked "E. WHITNEY/U.S." at the center and "N. HAVEN/185?" on the tail. -US- is marked on the brass butt-plate tang. Barrel markings are sharp as is the barrel tang date.  Very good with smooth mottled grey patina on the barrel and lock, bright brass fittings, and general mild wear. Stock is likewise very good with some expected scratches and dings from real wartime service. Mechanically excellent.$1,975.00
Telephone NOW if you wish to order this item.  First caller gets it!  (419) 842-1863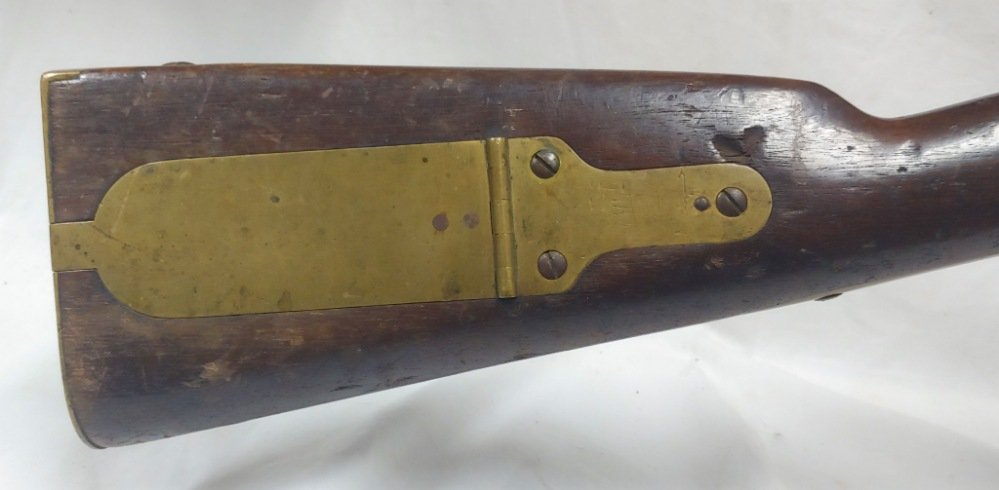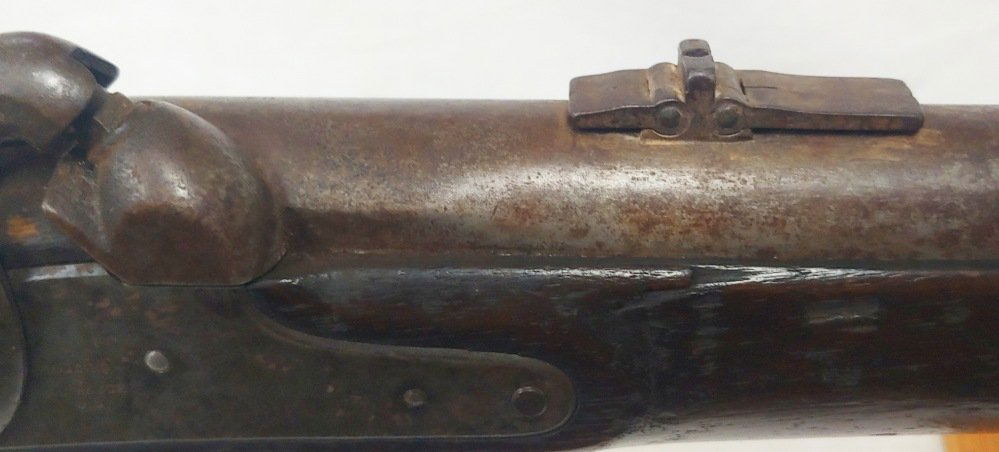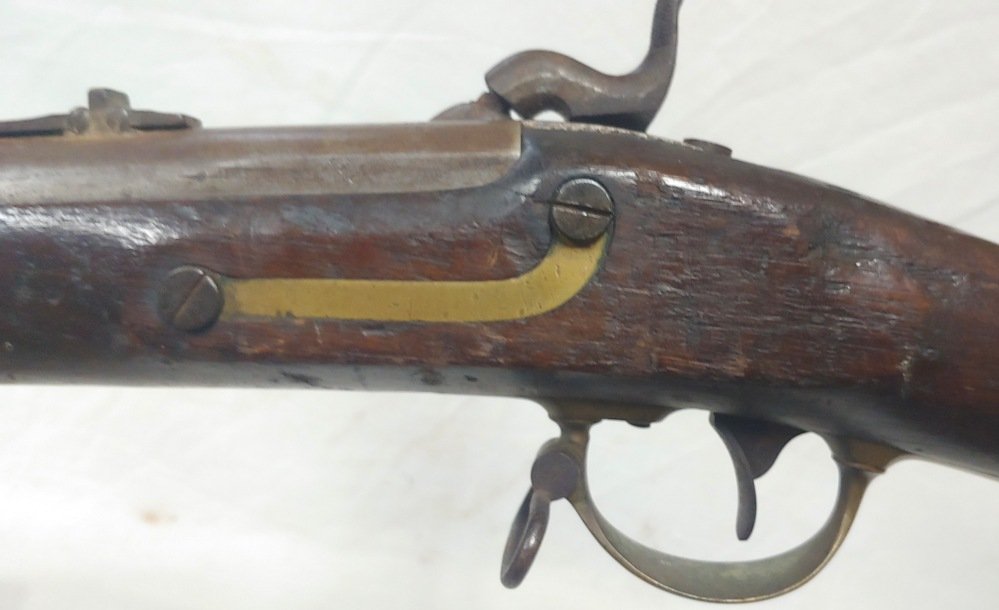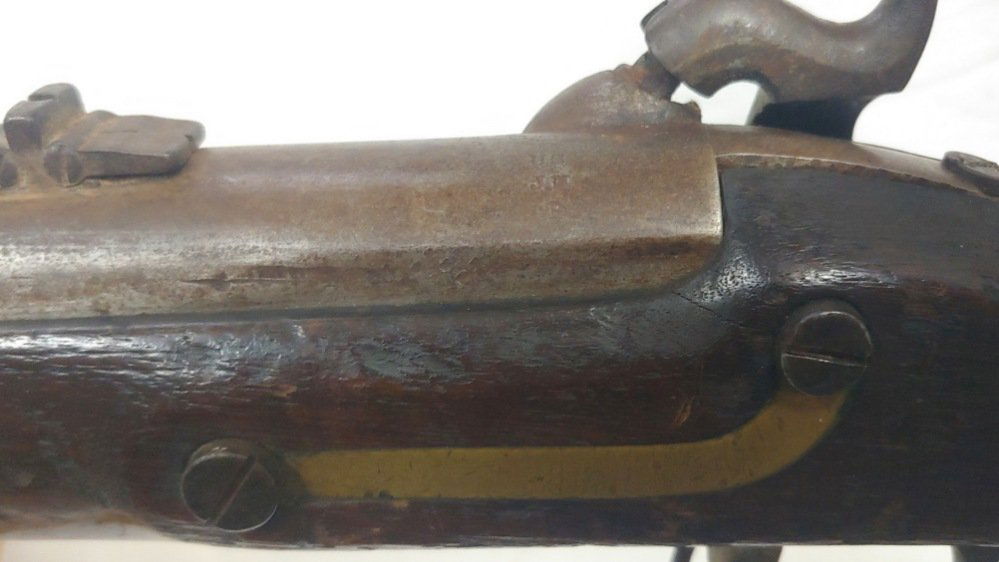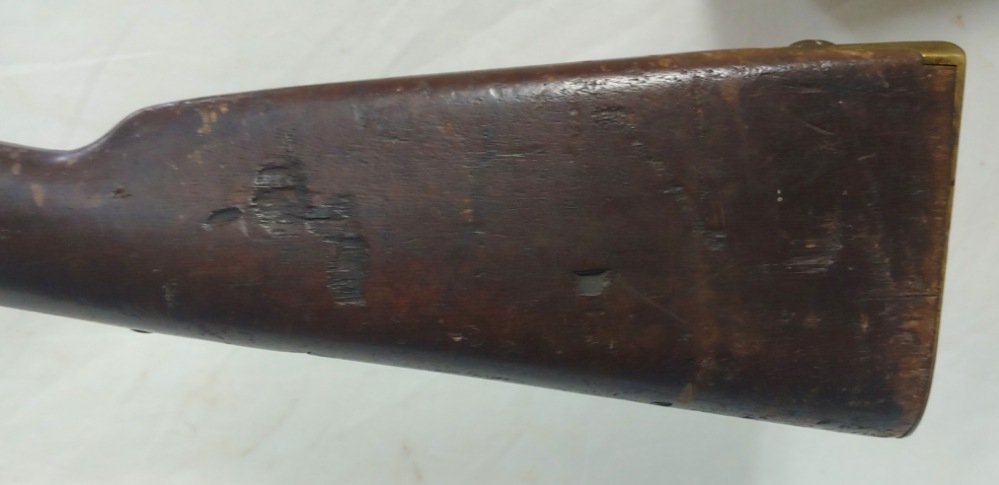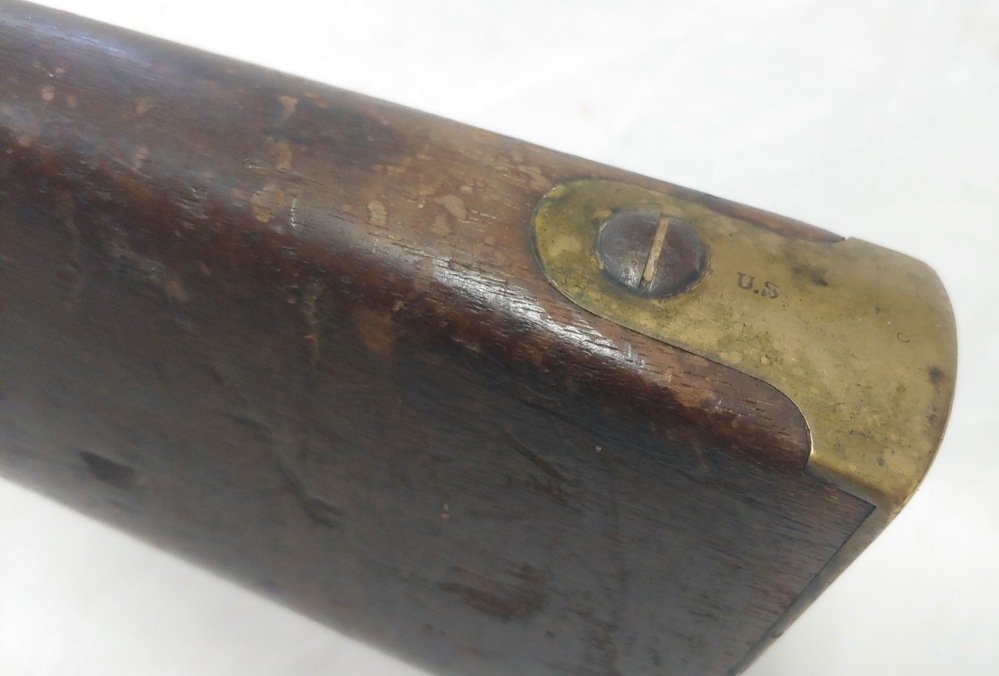 INCREDIBLY RARE CIVIL WAR
SIGNAL CORPS SOLDIER'S
FLARE BOX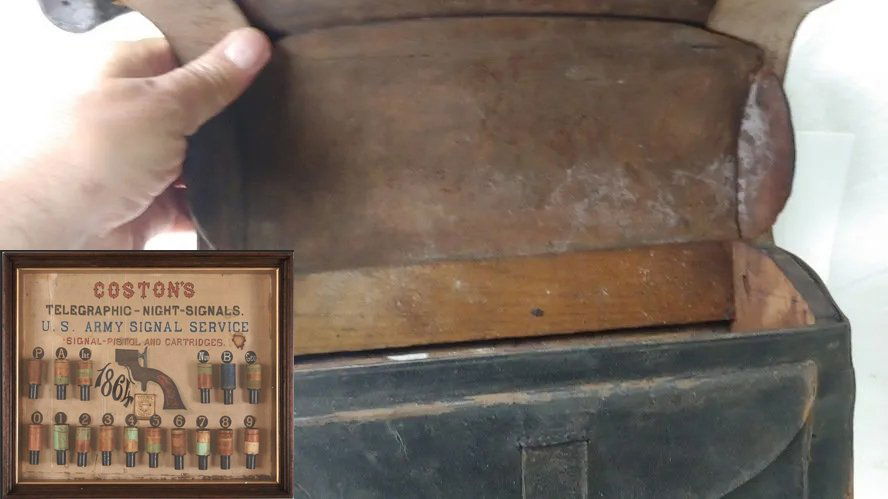 220707    I have only seen one other in my entire career. I was visiting with the late Jim Stamatelos decades ago at the old Glastonbury CT gun show, and we visited a Connecticut collector. During the visit Jim offered this man a small fortune for the best Civil War signal corps rig on the planet.   It was a perfect leather flare box with the sling, still full of the colored flares. My friends at The Horse Soldier eventually sold it for the estate when Jim died.   I don't know who owns it now.   At any rate, my box is only the second one I know of.  It was a little rough when I found it and I had some professional restoration done.    It looks like an infantry cartridge box on serious Steroids.  Same basic design but mega-big… double the size of a cartridge box.  Big and bulky, and constructed with an interior wooden frame for strength. They were designed to carry a full complement of assorted color flares for signaling at night.   Very worn condition.   I had the edges of the front flap backed with leather to prevent further chipping.    No strap, no roller buckles, no liner, no flares… but the rarest yankee accoutrement you are going to find. The picture of the flares and flare gun in the image gallery are clip-art only. $850.00
Telephone NOW if you wish to order this item.  First caller gets it!  (419) 842-1863
Civil War Signal Service in the Field.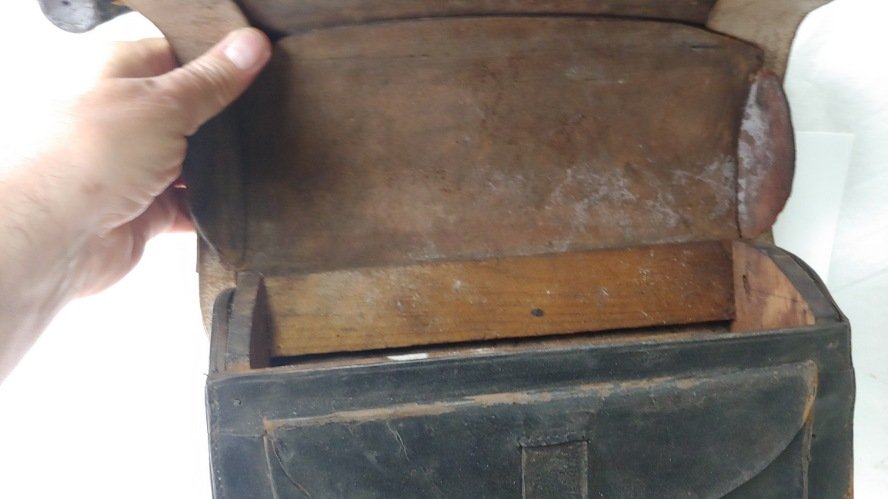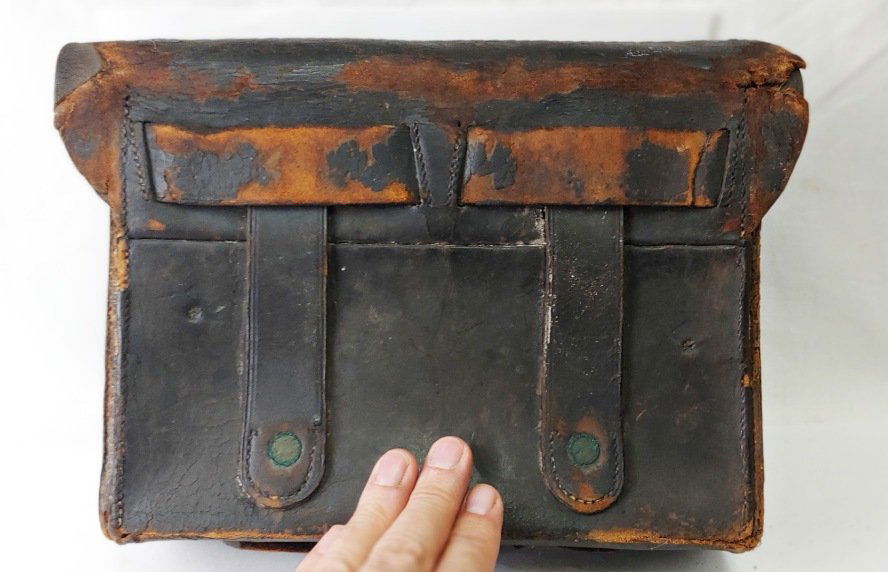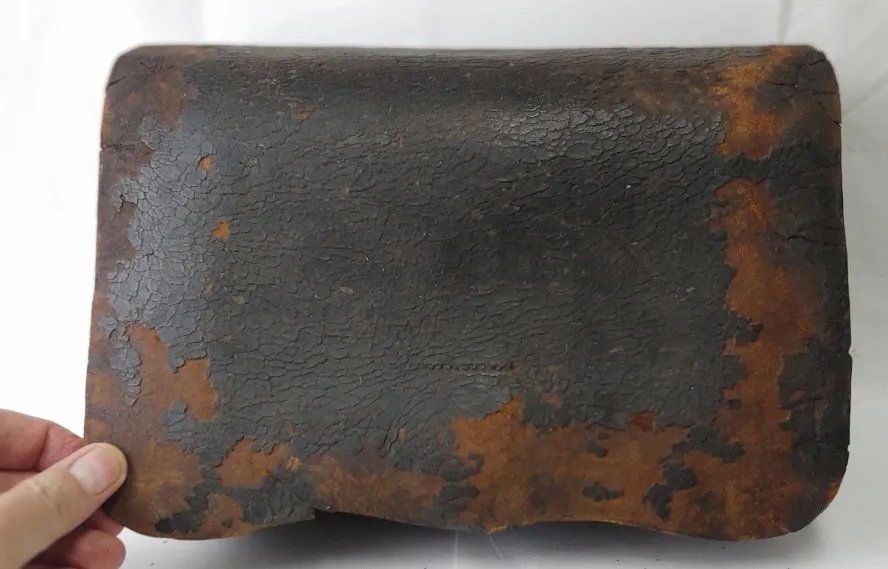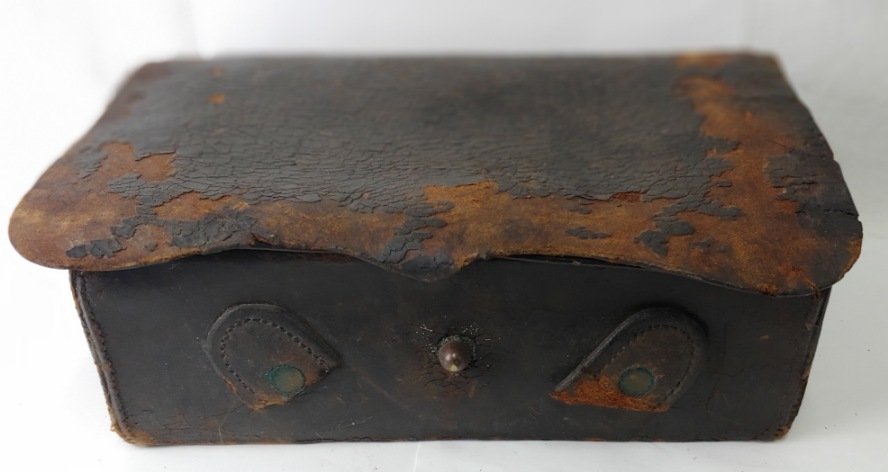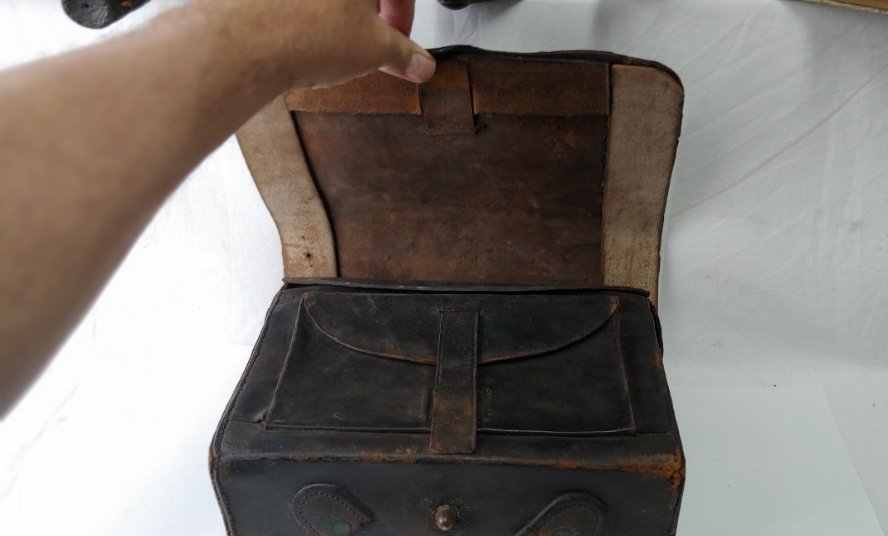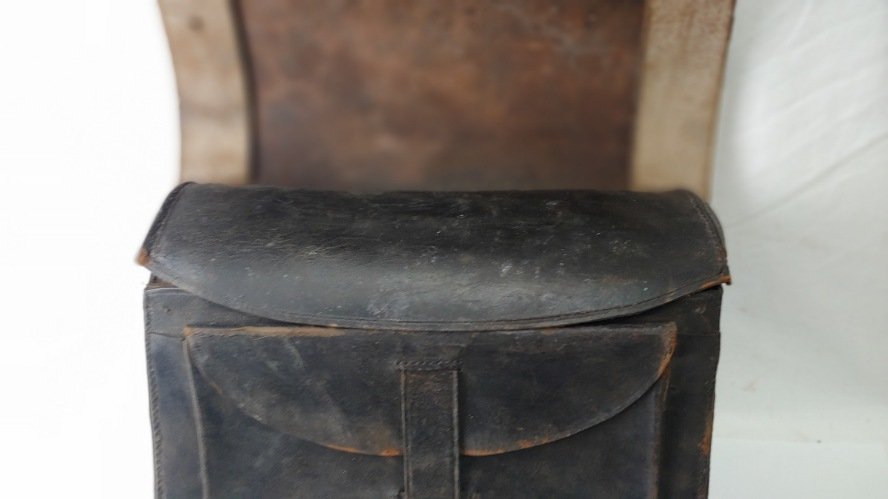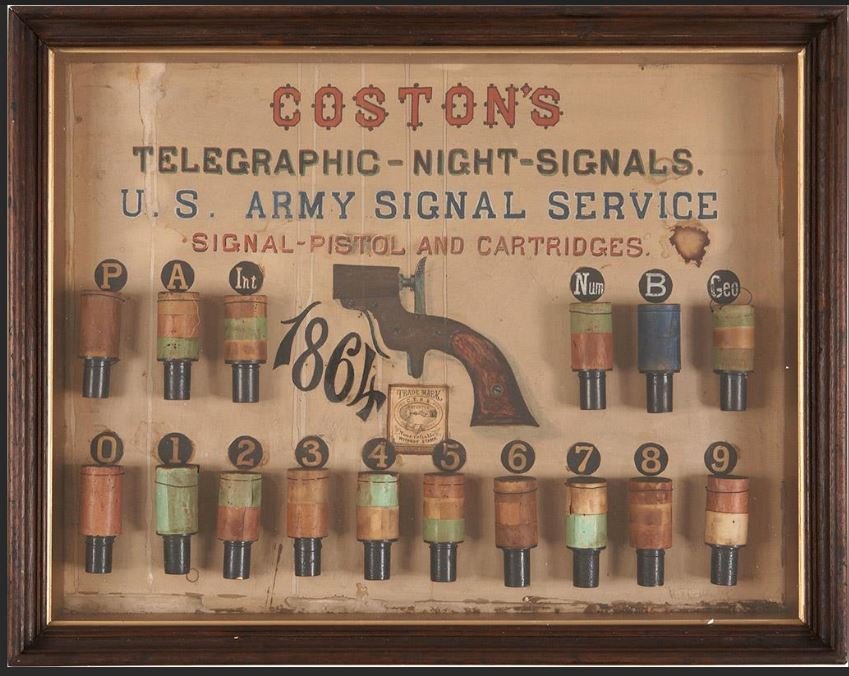 ABOVE ILLUSTRATION IS CLIP ART ONLY
IDENTIFIED / ENGRAVED
CIVIL WAR 9TH CORPS BADGE
Telephone NOW if you wish to order this item.  First caller gets it!  (419) 842-1863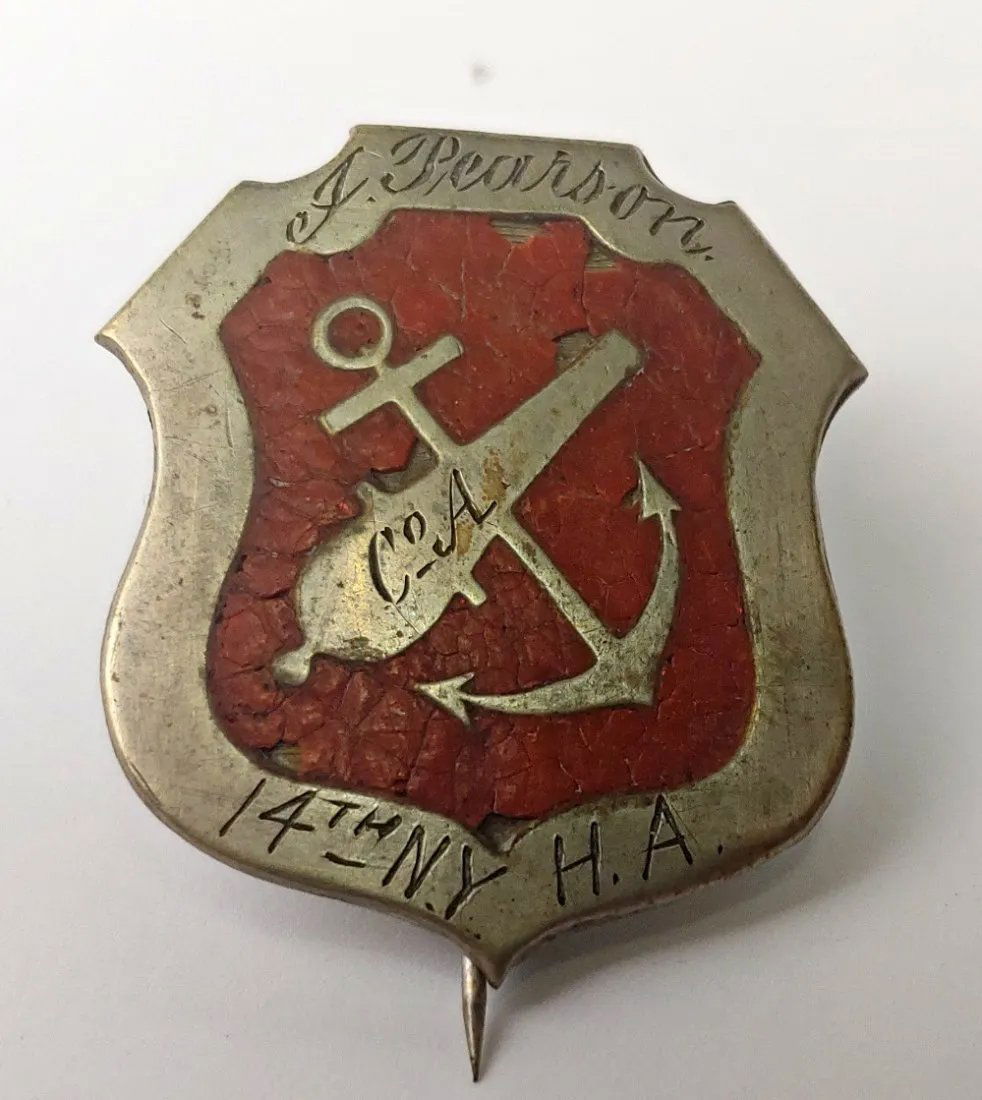 220708   A genuine wartime corps badge you can sleep at night owning. The real McCoy. The badge is typical of those sold by camp sutlers and ordered by mail order. The badge is stamped in a shield shape with recessed center bearing the crossed anchor and cannon of the 9th corps in relief and a red enamel background designating the first division. The soldier's name and unit are hand engraved: J. Pearson on the top edge, Co. A on the cannon barrel, and 14th N.Y.H.A. on the bottom edge. This is John Pearson, who enlisted in Company A at Oswegatchie, NY, 7/28/63 when the regiment was being organized. He mustered in as private and served throughout the war, only being discharged for disability on 5/26/65 at Alexandria. The regiment spent its entire service in the first division of the 9th Corps and was one the regiments recruited as heavy artillery but drilled also as infantry and called into the field for Grant's 1864 campaign. It was hotly engaged many times and lost 6 officers and 220 men killed or mortally wounded in battles such as Wilderness, Spotsylvania, Cold Harbor, months in the trenches of Petersburg, including fighting during Lee's attempted breakout at Fort Stedman at the end of March, suffering its last casualties only April 2 in the final assault on Petersburg. 226 KIA or Died of Wounds! The pin on the reverse is firmly in place and the red enamel shows crazing, but very little loss.  $1,250.00
Telephone NOW if you wish to order this item.  First caller gets it!  (419) 842-1863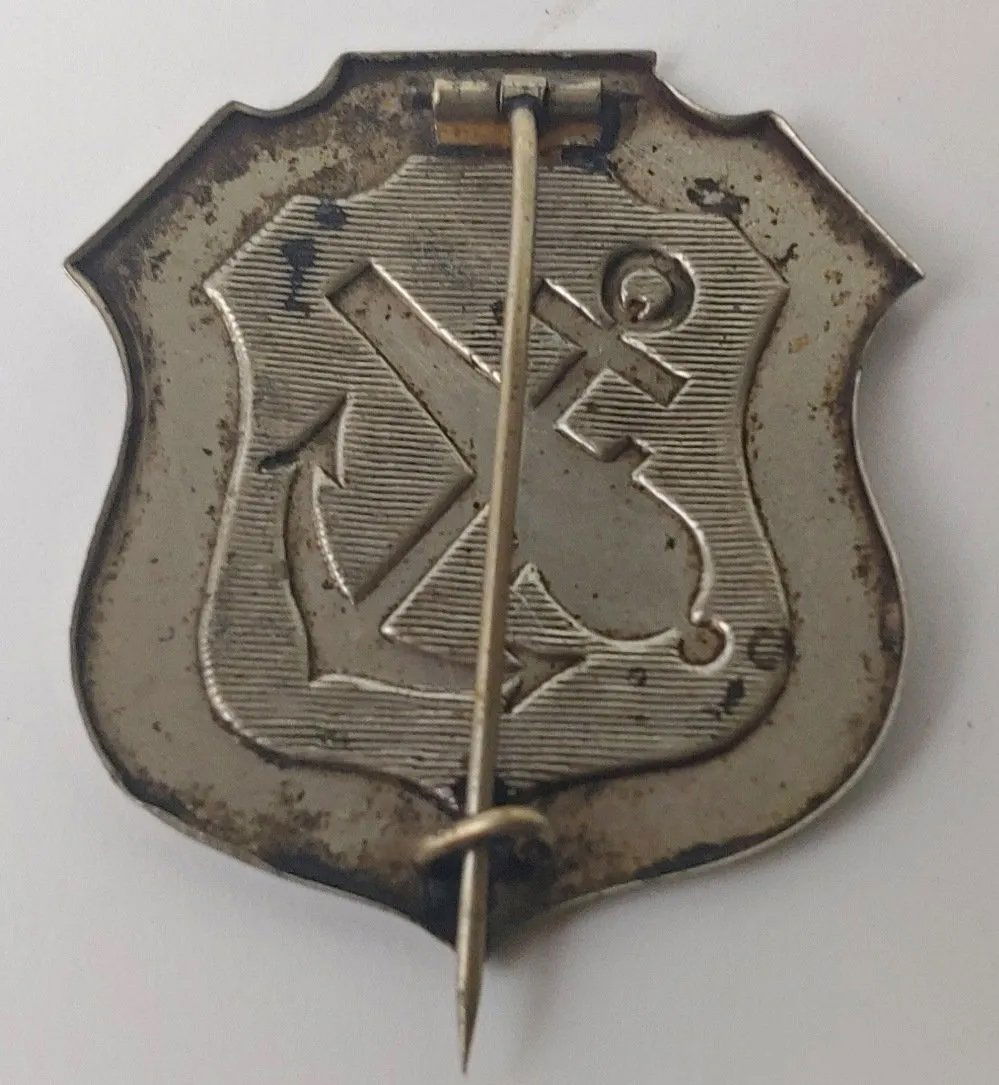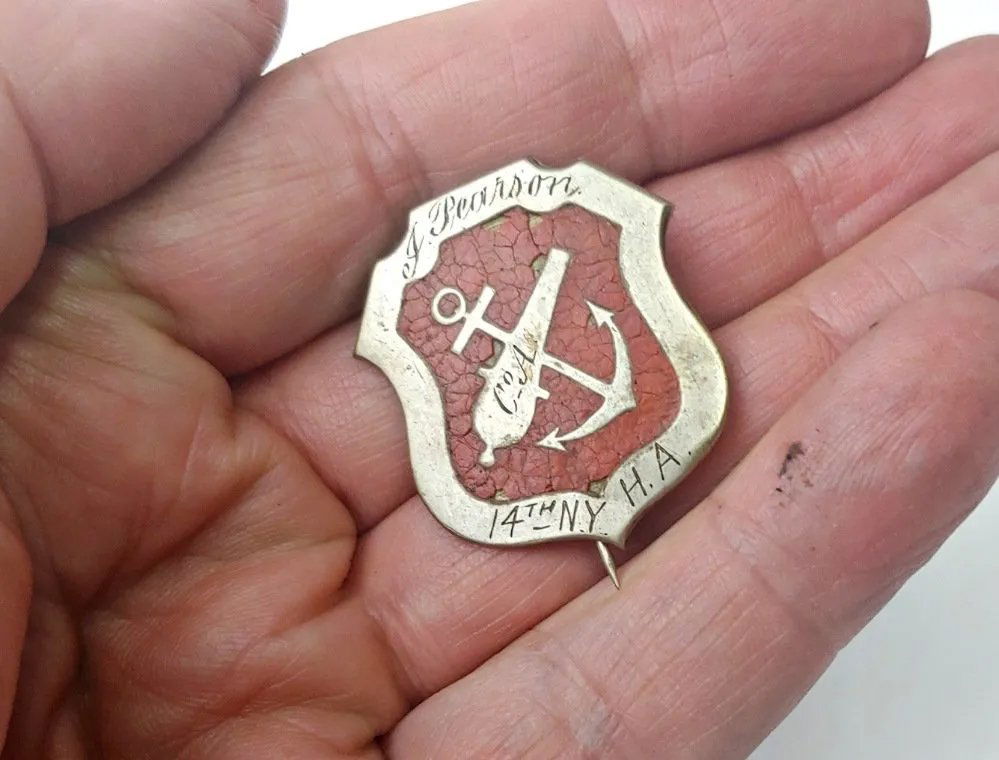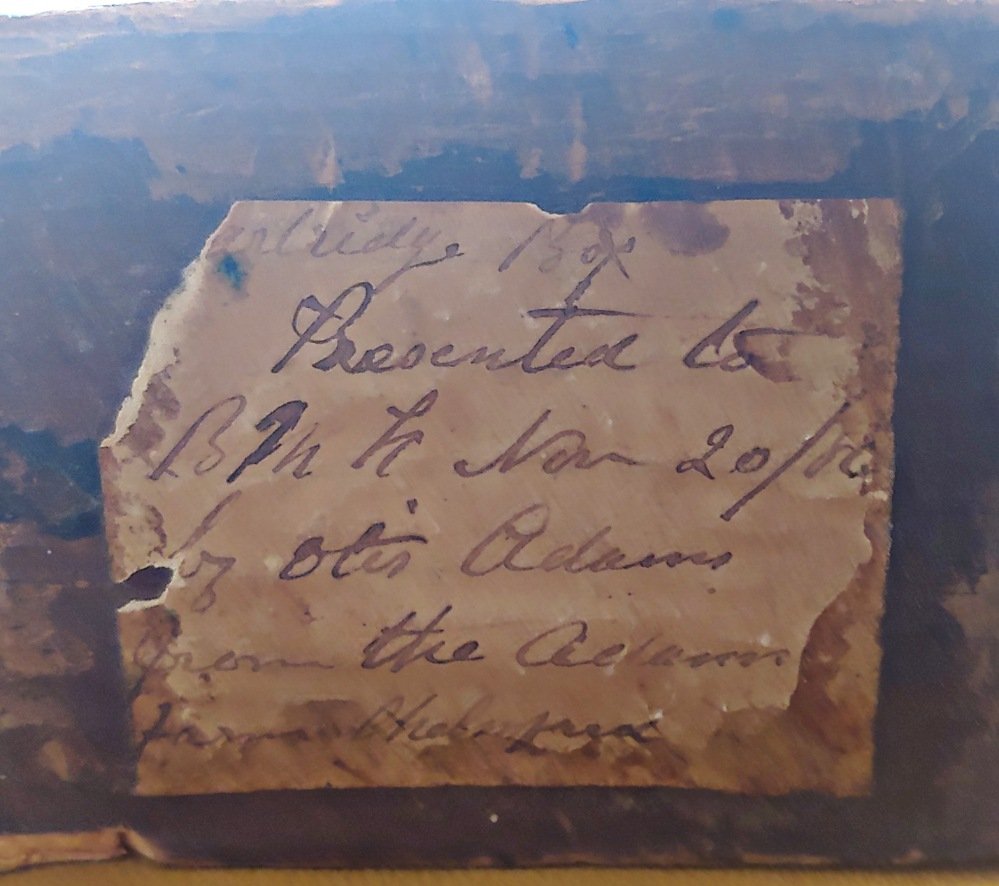 220709   1780s to 1800 era, possibly War of 1812. wooden block for holding 18 paper cartridges of 69 to 72 caliber. Has an ancient brown ink note affixed that reads Cartridge Box presented to bmh Nov 20/ 80 by Otis Adams from the Adams Farm Chelmsford. I assume 1880 in Chelmsford, Mass. Research shows an Otis Adams living in Chelmsford from 1798 to 1881.
Here is a snippet I found online regarding Otis Adams. 1 Academy Street This house was probably built prior to 1819 by a member of the Fletcher family. Between 1849 and 1872 the house was owned by Deacon Otis Adams, a particularly well known figure in town, having been a leader in the Unitarian Church, and a prime mover in the erection of the Revolutionary Monument on the Center Common. It was the deacon who suggested putting on one side of the monument, "Let the children guard what their sires have won." A phrase which has since become the Town Motto. From his first election in 1827 to his retirement in 1860, he served almost continuously in responsible positions of local government, including selectmen. Deacon Otis Adams owned the house in 1866 when the Chelmsford School for the Deaf opened in its left-hand upper front room. This school the forerunner of the Clark School in Northampton was the first in the Country to use only the pure oral method. The Winn Family occupied the house in th~ late 1800's were very active in the organization of the Central Congregational Church and donated part of their land for the Church to build on. Since 1908 the property has been owned by the Emerson Family.  $150.00
Telephone NOW if you wish to order this item.  First caller gets it!  (419) 842-1863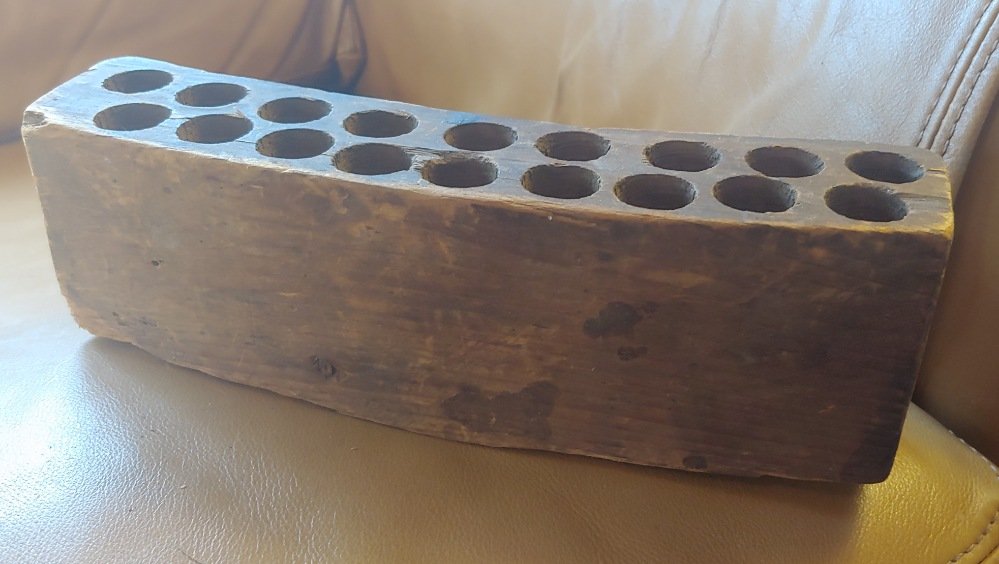 220710   Near perfect blouse size Confederate Staff Officer's button with backmark of H.T.& B. Manchester.  A southern picker found twelve of these in a tin box on the original factory card.  I bought them all.  They were part of a family estate and the name of the CS officer may come to light. My friends at The Picket Post sold one in 2020 for over $900 and currently have one SALE PRICED on their page at $795.  I have a few left that I can sell at a most friendly…    $550.00
Telephone NOW if you wish to order this item.  First caller gets it!  (419) 842-1863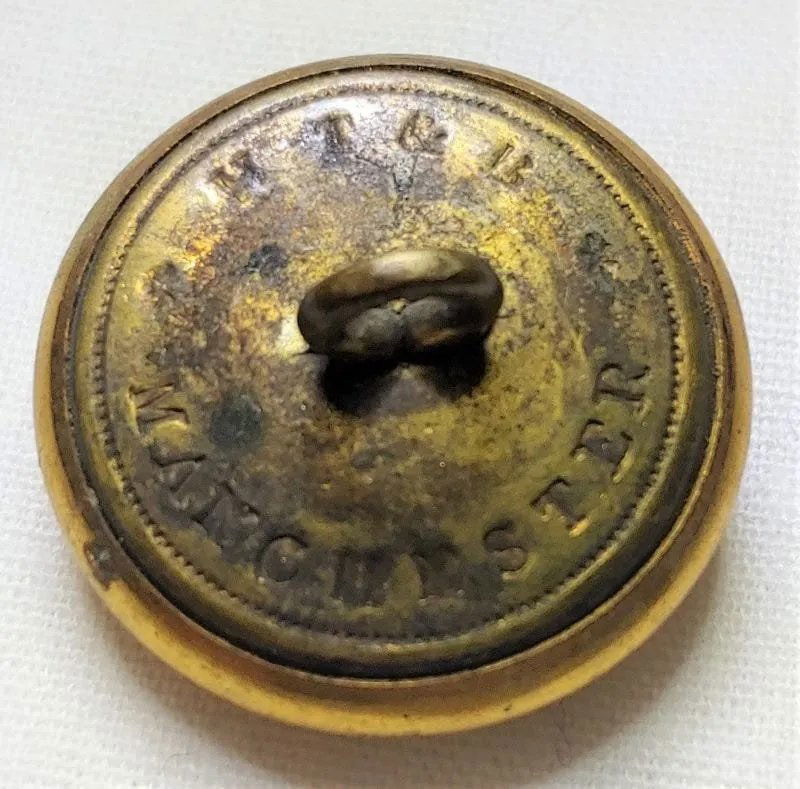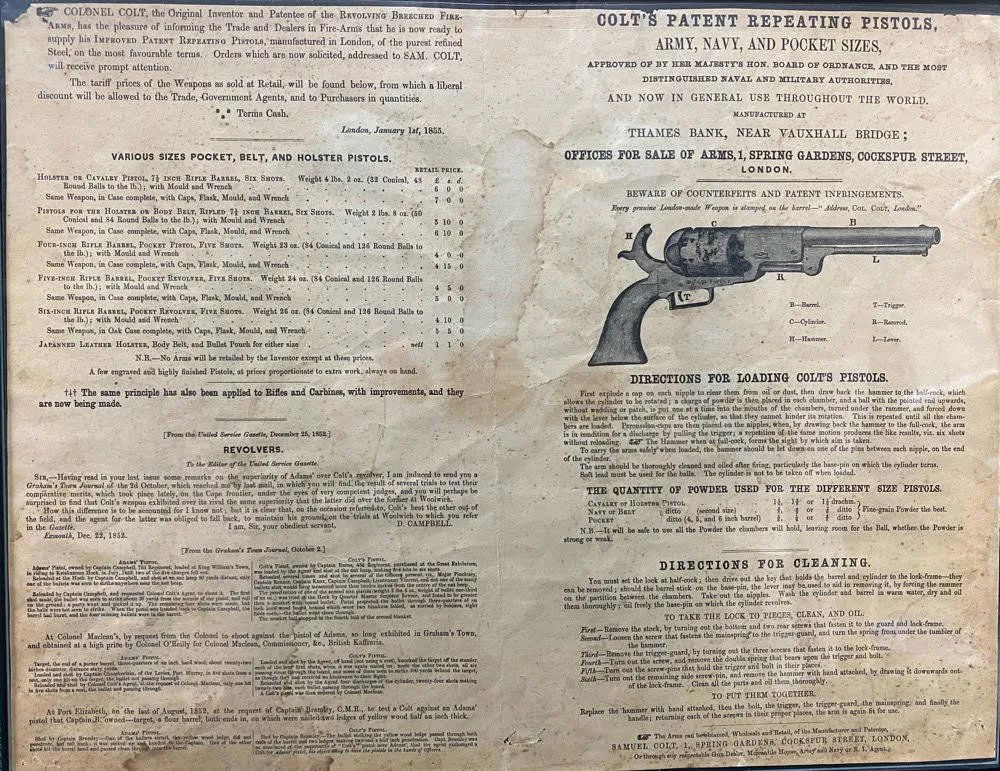 220711   London Colt Broadside!  An original, 1850s advertising broadside -Colt's Patent Repeating Pistols // Army, Navy, and Pocket Sizes-. It includes –Directions for Loading Colt's Pistols –Directions for Cleaning– and descriptions of the Dragoons, Belt pistols and Pocket pistols. This one was part of Colt's failed London venture of the 1850s.  Very scarce, highly desirable.   Overall Size: 14.25 inches x 11 inches. Very good overall with some age toning. Previous owner had this archivally de-acidified.  Housed in a modern frame ready for your wall.  Please forgive the poor photo quality, pictures were taken in frame.   $695.00
Telephone NOW if you wish to order this item.  First caller gets it!  (419) 842-1863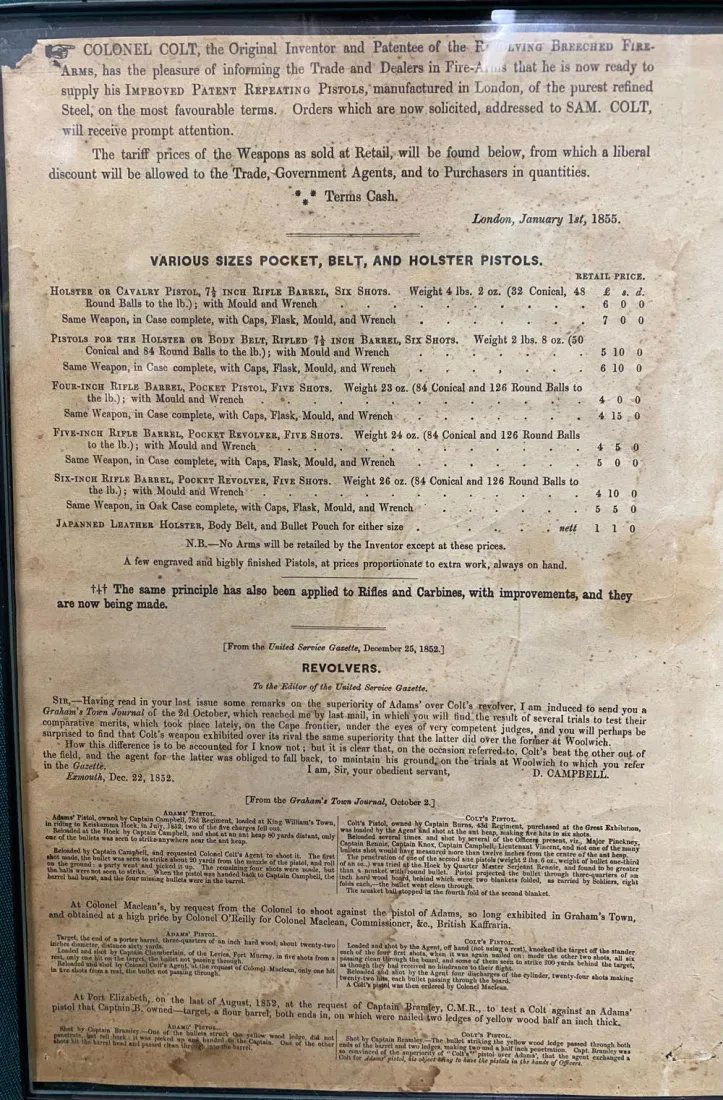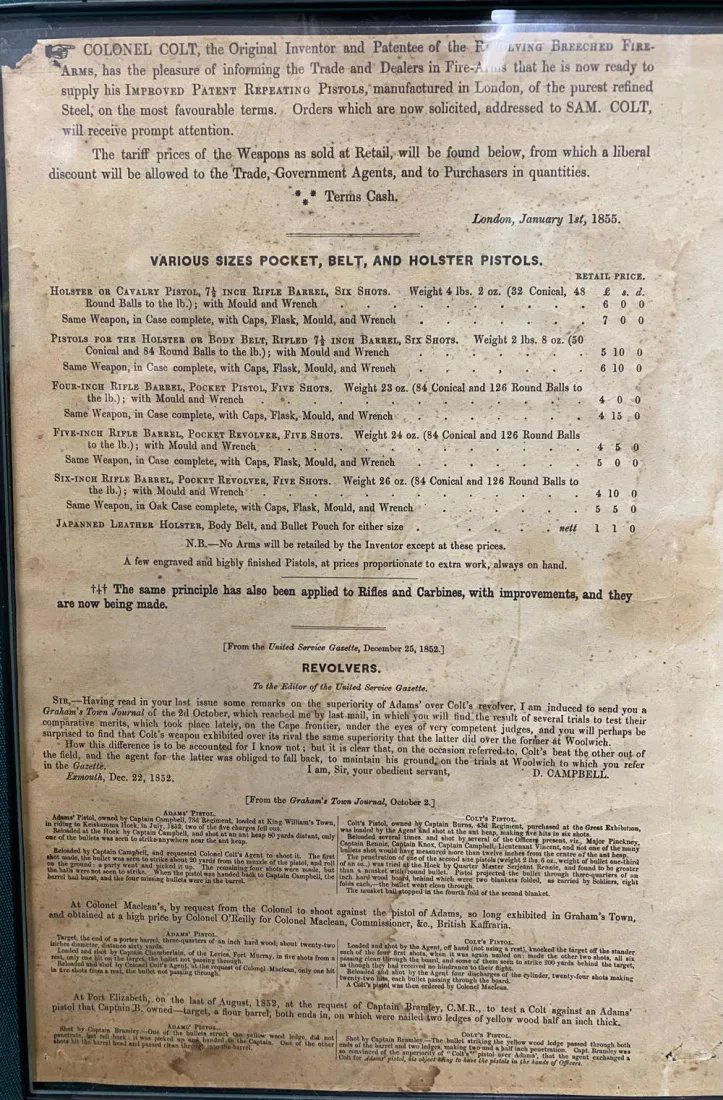 CIVIL WAR 10th ARMY CORPS BADGE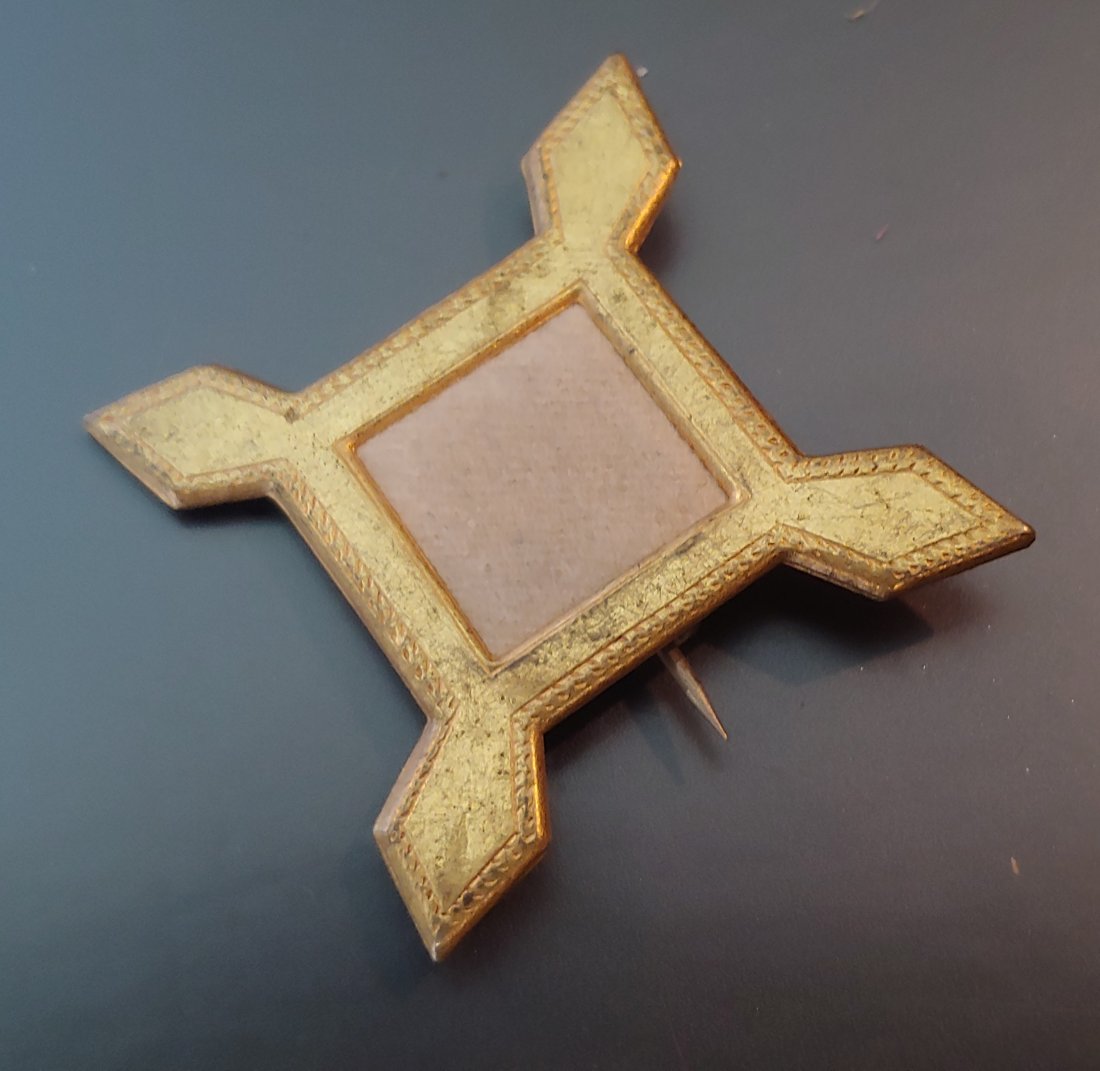 220712    Original surplus two-piece 2nd Division 10th Corps badge measuring 1.75″ square with a white cloth center sandwiched between two brass frames with a stippled design along the edges. It has the T-bar pin of the Civil War period. The two sheets of brass are held together with 4 prongs of fine brass wire. These brass sandwich style 10th Corps insignias are the only surplus war date corps badges that have been readily available to collectors for many decades. The corps distinguished itself in the Carolinas and Florida at such battles as James Island, Morris Island, Fort Wagner and Olustee. This is one of the few Civil War corps badges that actually did survive the war in some large surplus quantity. The real deal in excellent condition.  $265.00
Telephone NOW if you wish to order this item.  First caller gets it!  (419) 842-1863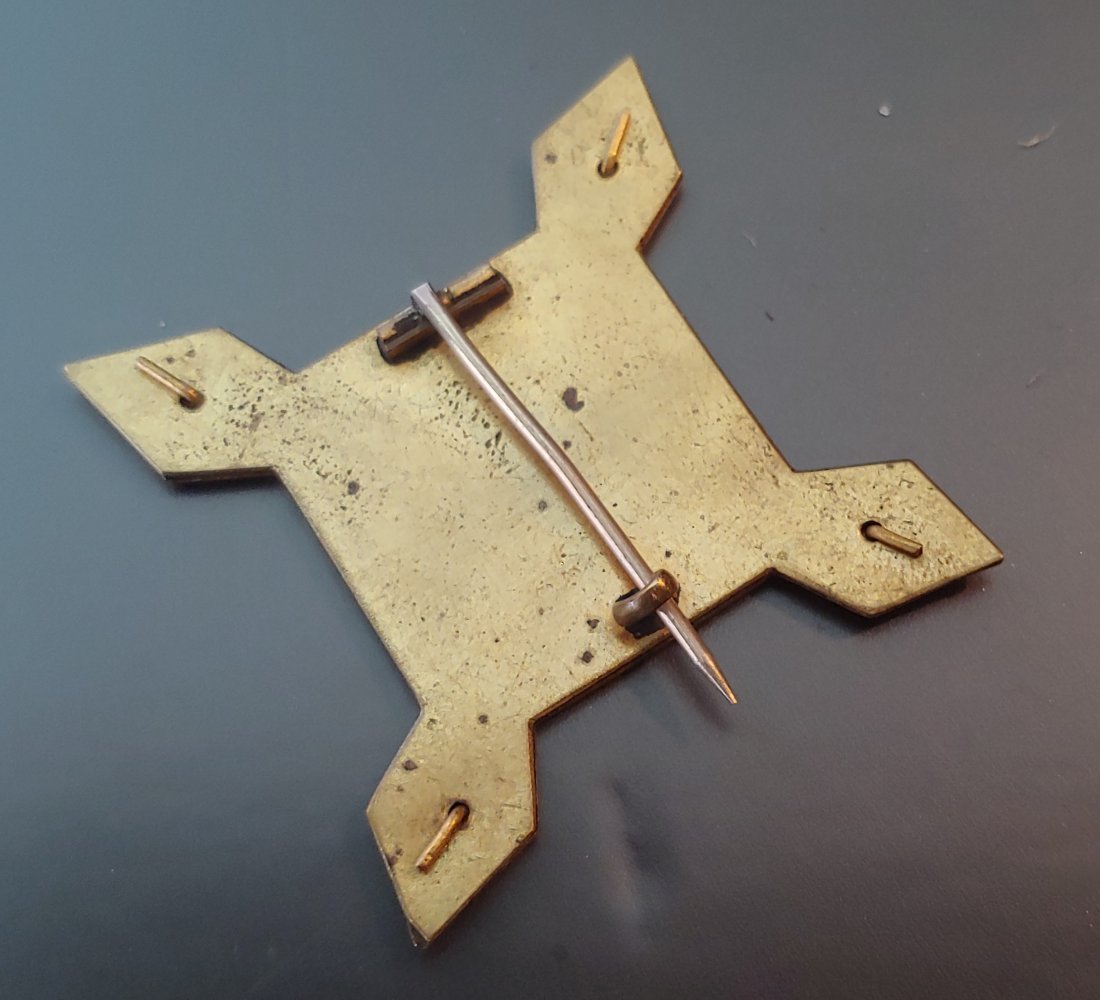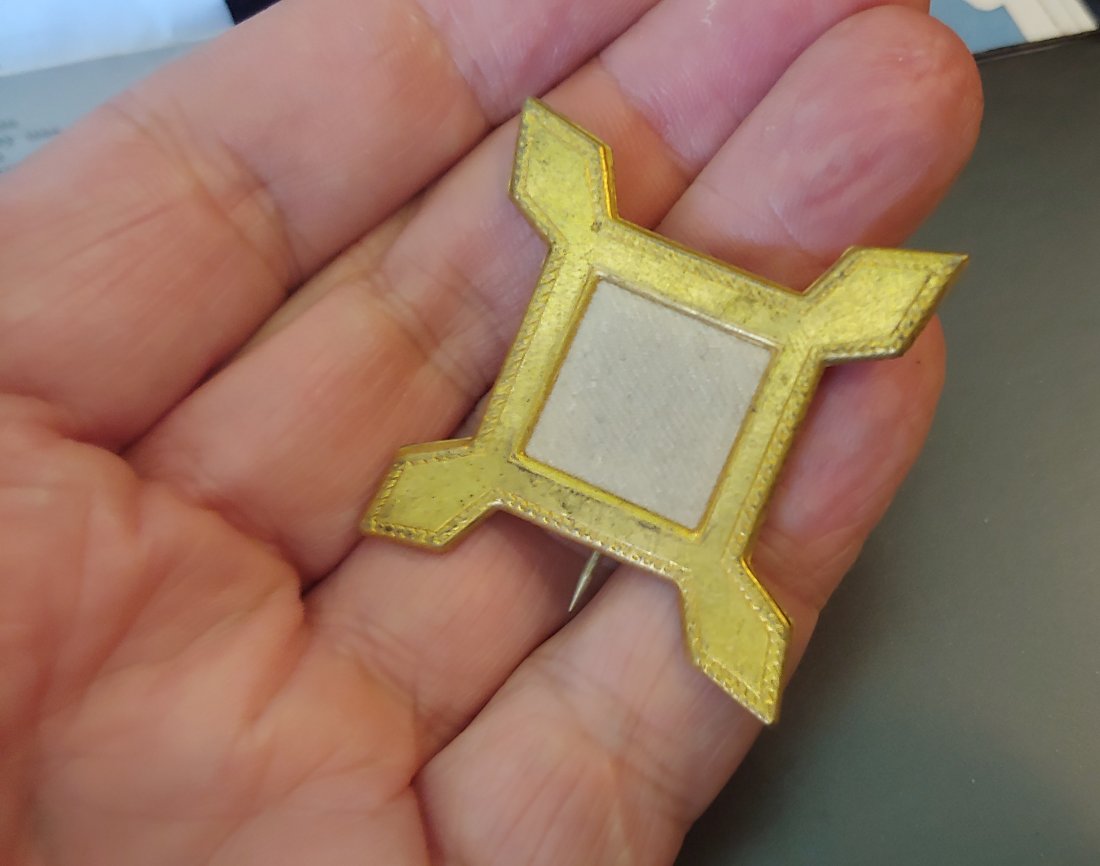 xxxxxxxxxxxxxxxxxx