21-02-01  Ames 1849 Rifleman's Knife Correspondence
Interesting letter from Springfield Armory to James T. Ames regarding the production of the Model 1849 Rifleman's Knife which is now one of the Holy Grails of US arms collecting. Written by Lt. Col. J.T. Benton in 1879 " …  Much obliged to you for your letter in relation to the knife made by you some years ago for the mounted rifles…  "  Perhaps you know if Ames' letter exists in the Springfield Armory archives.   Roughly 8.5 x 5.5 inches. Excellent    SOLD
**************************************************
21-02-02  4th Michigan First Sergeant w/ Corps Badge  Quarter Plate Tintype

********************************************************
TOUGH AS NAILS 4th MICHIGAN FIRST SERGEANT. A BLOODIED GETTYSBURG REGIMENT.
This has been part of my collection for over half my lifetime.  I bought this incredibly clear and character-filled tintype at Mail Pouch Antiques in Maumee, Ohio in 1986. (Toledo suburb 12 miles from Sylvania.)   An infantry first sergeant is seated on a simple folding stool in front of a painted backdrop showing a large U.S. flag flying in the left background, along with a body of water and some distant hills, with a building or fort partly visible. In the foreground is a military camp with A-tents, a cannon at left and two zouaves at right.  Interestingly the 4th Michigan was a Pseudo-Zouave regiment that wore a lumber jack fez and zouave style leggings during the early part of the war.
Our subject is a tough-as-nails character from a tough-as-nails unit.  He is seated, one hand on hip, the other resting on his thigh. He wears an issue four-button fatigue blouse with an identification badge suspended from a shield-shaped pin on his chest, lighter color issue trousers, and an issue infantry waist-belt with oval US and cap box. He has kept on his flat-brimmed kepi, which shows on the front a large stamped brass, false-embroidered Fifth Corps badge on the front with a numeral "4" above. Our man shows obviously tanned hands and face, with neatly trimmed mustache and sideburns. His cheeks have been lightly tinted and his large first-sergeant chevrons are beautifully tinted light blue. His head is turned slightly to the viewer's left and his eyes are looking to the viewer's right.
His pose and expression is plainly that he his looking at something to one side and does not like what he sees- probably a well-practiced expression for the chief non-commissioned officer of an infantry company, responsible for the day-to-day running and discipline of the company from bottom to top, while the officers… well, who knows what the officers were doing. It took a special soldier to be a first-sergeant. They were usually a bit older and certainly more mature. They had to govern by authority, by example, and by character. Their portraits are often character studies and well worth collecting on their own.
There were a few companies of the 4th US Infantry in the fifth corps, but that is the only other 4th Regiment in the corps in 1863 aside from our Michiganders.  The fact that I found this tintype locally 34 years ago pretty much guarantees the identification as 4th Michigan, as it was largely organized in Adrian, Michigan which is about twenty miles from here.    I would guess the photo dates 1863 or early 1864.  The photographic quality of the image is sharp enough that you can plainly see it is one of the stamped brass, false-embroidered styles.  An example of the actual badge is shown in Phillips Corps Badges, p. 32, bottom right.
The regiment served from June 1861 through June 1865 and lost 12 officers and 177 enlisted men just in killed and mortally wounded, and another 16 men dead in Confederate prisons. They were assigned to the Army of the Potomac in August 1861, serving in Sherman's brigade and then Porter's Division, briefly in the 3rd Corps from March into May 1862, and then in the 5th Corps for the rest of their service. CWData lists 85 points at which they were engaged with loss, starting with First Bull Run. They suffered significant losses at Gaines Mill, Malvern Hill, Fredericksburg, Chancellorsville, Gettysburg, Wilderness, Spottsylvania, and Petersburg. Gettysburg was their hardest engagement, when they were caught in the cauldron of the wheatfield, attacked from front and flank.  Of 403 officers and men present for duty at Gettysburg, they lost 165, including 10 officers and 79 enlisted men killed or wounded, including Colonel Harrison Jeffords who was fatally bayonetted there in hand-to-hand fighting trying to save the regimental colors. The Reb who bayonetted Col. Jeffords was shot dead by Capt. Jarius Hall with a Colt navy revolver.  Hall would eventually become the last Colonel of the 4th.
This image has great clarity, condition, history, and content.  There are a couple minor bends in the tin but not of consequence.  You can see a trace of the old oval mat marking.  Currently not cased, just the tintype, which is how I found it in 1986.  $700.00  SOLD
************************************************************
21-02-03      Civil War Beer Shipment
…
I have a couple dozen American Express shipping receipts as shown here all with 2 cent orange Revenue Stamps cancelled in 1865.  The above receipt is for Ale and two  barrels of beer.  The below receipt is for one half barrel of beer.  All the receipts are for grain to make beer and ale or for the beer and ale itself.  All from Erie, Pennsylvania in 1865.  A fine inexpensive collectible that looks great in an old frame on the den wall.  Priced each at $26.00   SELLING WELL… A FEW LEFT….
************************************
21-02-04  Civil War .58 Caliber Paper Cartridge
John Rogers Group ONE MORE SHOT (I have one such statue available.)
**********
Original and undamaged paper wrapped .58 caliber cartridge for the Springfield Rifle-Musket.  I have the one shown here, another identical priced each at $95.00 BOTH SOLD
Also have one damaged with tear at the tail end.  $50.00
Also have a full package of ten in plain wrapper $895.00 wrapper torn.
………………………………………………………………………………………………………
21-02- 05  Tip Top Condition Bullseye Canteen Complete with cover, strap, and stopper.
.

REGULATION CIVIL WAR CANTEEN WITH COMPANY LETTER AND RACK NUMBER  $550.00
Here is an exceptional 1858 pattern canteen, the regulation canteen of the Union army. This one is the "bulls-eye" or corrugated pattern introduced to strengthen the body with a series of concentric rings. The brown cover is complete, with some very minor surface wear and small stains, but no holes or exposed metal. The stopper is present. All three brackets are in place. The web shoulder sling is complete and in place. Best of all, this has a dead real company letter "C" stenciled in white paint at the center of one side and on the other, the number "59," which could be a regimental number but is more likely the individual soldier's "rack number," assigned to keep track of issue equipment. This is a scarce combination of condition and painted unit markings which proves actual issue to a soldier rather than army surplus.  One of the best examples I've owned, and I've owned many over the last 50 years.  $550.00  SOLD
**************************************************************
21-02-06  Civil War Eating Utensils   $125.00  SOLD
"UNION ARMY KNIFE" MESS SET  This is one half an interlocking Civil War combination mess set, constructed like a standard jack-knife in two separate halves.  One half contains the fork and spoon as we have here.  The other half held the folding knife.  The knife portions are frequently missing as earlier users kept that half in their pocket for use as a pocket knife, and then never bothered to reunite it with the eating tools.   Issue mess gear was provided by the various recruiting services and seldom of the highest quality, so many new soldiers purchased or were given sets like these by friends and loved ones. Besides, what recruit would not want to have the cleverest new gadget to make a soldier's life easier?  Several patterns of combination utensils were marketed.   This  one uses interlocking handles, one with a folding knife blade and the other with a fork and spoon. They were supposed to be easier to locate in a haversack than separate utensils and not as liable to poke through the cloth bag. This one is nicely marked on the base of the fork "UNION" with "ARMY KNIFE" in an arc overhead.  This marking is absolutely the correct marking on the 1860s specimens.  There are some minor age spots on the fork and spoon and small handling marks on the wood, as would be expected. The raised studs, which would lock into keyhole slots on the mating half, are present.  Excavated frequently on Civil War sites.
$125.00      SOLD
.

****************************************************
21-02-07   Civil War Musician's Bass Drum Beater  $250
The large bass drum was an essential part of a regimental band and was played with a single beefy drumstick having a padded head. Lots of standard rosewood drumsticks are around for snare drums, but we almost never see proper 1860 era  beaters for the bass. This one is full-length and in good condition. The padded headed and the stick show appropriate age and are solid. The head has a few small holes or moth nips acquired over the years, but is all there and secure. The stick has a nice patina and even shows a period modification where the drummer attached an extra piece of wood to widen the stick for a better grip.  If you have the bass drum this is exactly what is needed to complete the display.  $250.00   SOLD
***************************************************************
*****************************************************************************
21-02-08   Confederate Government Official Envelope  $55 SOLD
CONFEDERATE ENVELOPE FROM THE CS ADJUTANT AND INSPECTOR GENERAL'S OFFICE: SENT BY ADJUTANT J.B. CHERRY, 8th AND 59TH NC, MORTALLY WOUNDED AT PETERSBURG.
This envelope has a torn corner at upper left and along the right edge, but still preserves a "Paid" stamp and Richmond cancellation. The pre-printed sender's address is mostly intact: CONFEDERATE STATES OF AME[RICA / Adjutant and Inspector G[eneral / (OFFICIAL B[USINESS.] It is a addressed to "Solomon Cherry Esq. / Norfolk Va." on the front. On the reverse is: "Adjt. J.B. Cherry / Col. Shaw's Regt / Roanoke Island / NC." Shaw must be Colonel Henry Marchmore (or "Muchmore") Shaw of the 8th NC. A former U.S. congressman, he enlisted as the regiment's colonel in May 1861, was captured with a good part of the regiment and paroled at Roanoke in February 1862. He was later killed in action at Batchelder's Creek, NC. Adjutant Cherry was Joseph B. Cherry,  who was a native of Bertie County, NC, also enlisted in the 8th NC in May 1861 and was commissioned first lieutenant and adjutant of the regiment 9/11/1861. He was promoted to Captain in the 59th NC 8/9/62. He was wounded in action at Petersburg 3/29/65, admitted to the hospital at Petersburg with a gunshot wound 4/1/65, and died the same day. Joseph Cherry's father, Solomon, had been a clerk in the Bertie County Court, but at this time was a "commission merchant" in Norfolk. It looks like the younger Cherry took advantage of a government envelope, available from his post as adjutant, to write a personal letter to his father. $55.00  SOLD
*************************************************************
21-02-09  Regulation Union Army Infantry Cartridge Box w/ Original US Plate $450
A very solid example of the mid-war infantry cartridge box issued to Union Army Infantrymen.  It is complete with the tin inserts and the oval US cartridge box plate on the front flap.  All the buckles and straps are firmly in place.  The leather is in very good condition showing only expected age, this being nearly 160 years old.  These things never turn up at estate sales any more and they are still quite affordable…..
$450.00  SOLD
*****************************************************
21-02-10  Tintype Photo Armed Yankee Cavalryman / Wonderful Clarity & Color

A very appealing slightly larger than CDV size tintype of a youthful Yankee cavalryman very much looking the part.  The boots are wonderful and his pose with a steady hand on the saber's hilt is perfect.  He sports cavalry uniform & accoutrements.  Regulation forage cap on his head.  Early war cavalry jacket with only one loop of braid on the collar.  His saber belt supports his holstered revolver and cap box.  He has forgone the shoulder support strap on his belt as is frequently seen in photos of experienced horse soldiers.  This is just the tintype, no mat, frame, glass or case… though I may be able to supply some or all of these at modest additional cost.  I will have to look in my cabinet of cases and parts.   Super image…. edges trimmed as shown.   $295.00  SOLD
.
.
.
******************************************************************
.
.
21-02-11  Union Soldier's Canteen for the Case Patent Filter / Straw
Truly exceptional condition regulation Union Army Canteen with smooth side and complete with the original cloth cover and shoulder sling.  What makes this one special is the spout.  We clearly see that the soldier in addition to affixing his initials, also drilled two holes in the pewter spout, and the stopper is missing.  The reason for this is that the soldier had a Case Patent water filter device which is now gone.  The device incorporated a cork stopper with a horizontal vent hole and a long metal tube (drinking straw).  To make the straw work the soldier had to turn the cork so that the hole in the cork did not match up with the vent hole he had drilled in the spout. This would allow for suction when the soldier sucked on the "straw".  Turning the cork a quarter turn would align the vent holes and cancel the vacuum effect necessary to suck liquid out.  The system was patented by John Case of Philadelphia in 1861.  I know of only TWO OTHER complete canteens with the complete filter straw and each is nearly identical to this one…  smooth canteen, tan jean cloth cover, and same sewn cotton strap.  One was sold by Heritage Auctions in 2018 for $750 plus premium.  Here is a link to that one…  https://historical.ha.com/itm/military-and-patriotic/civil-war-canteen-with-brown-jean-cloth-cover-and-case-s-patent-filtering-cork/a/6188-40099.s?ic4=GalleryView-Thumbnail-071515
A very very scarce Civil War accoutrement……   $495.00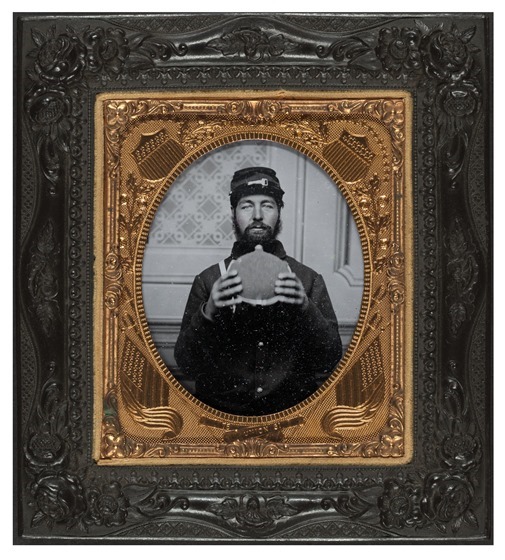 BELOW IS AN ILLUSTRATION OF WHAT THE CASE'S PATENT FILTER LOOKS LIKE WHEN IT IS INSERTED INTO THE CANTEEN. THE ILLUSTRATION IS COURTESY OF HERITAGE AUCTIONS WHICH IS THE ONLY PHOTO SOURCE I CAN FIND SHOWING IT ON THE ENTIRE INTERNET.
********************************************************
21-02-12 Union Infantryman's Percussion Cap Box dated 1864
Standard infantry cap box made and marked by Watertown Arsenal and dated 1864.  About fine condition.  Shows expected handling wear commensurate with being 146 years old.  Solid and very desirable with the production stamped on it.  $235.00 SOLD
****************************************************
**********************************************************
  21-02-13
1861 Albumen Photograph Manassas Junction / Bull Run
Ruins framed in 1861  $850.00  SOLD
TRAIN, KID, DEAD MULE, ABANDONED ARMY STORES, YANKEE IN BLOUSE AND BOOTS, 4 POINT BUCK ANTLERS
ABOUT AS INCONGRUOUS A SET OF SUBJECTS AS I HAVE ENCOUNTERED IN A CIVIL WAR PHOTO.
PERFECT PLACE FOR A YOUNG BOY TO VISIT.  HE HAS TO GROW UP SOMETIME.
NOTE THE RACK FROM A LARGE FOUR POINT BUCK AT THE LOWER RIGHT.  VENISON OVER DEAD MULE ANY DAY.
THE BACK OF THE FRAME IS SEALED WITH A NEWSPAPER FROM JANUARY 1861.
*************************************************
21-02-14   Enfield Rifle Musket Likely Confederate Used or Intended  $1,395.00  SOLD
Enfield rifle muskets bearing a date of 1863 or 1864 are scarce in the world of Civil War used weapons.  1864 dates are downright rare.  Most if not all late war production Tower muskets bearing the export barrel markings were intended for delivery to the South.  Thousands of them were captured from Blockade runners at sea and brought into Boston where they were issued to Union troops.  But they were intended for the south.  By 1863 Union manufacturing was at full steam and the North was not pursuing European arms purchases as they did in 1861.  The South on the other hand imported as many English longarms as they could get right up to the bitter end.  The Enfield was the Confederacy's 2nd most issued infantry longarm, after the CS Richmond Rifles & Muskets.  This one is NRA Very Good and is truly attic-found condition.  It is 100% original, 100% complete and mechanically perfect. This has never been cleaned, polished, nor monkeyed with.  The patina is 100% undisturbed.  The only warts are age old minor stress fractures in the wood around the lock.  These have been there for over a century and simply add character to a Civil War musket that was really there.  $1,395.00   SOLD