Get ready to do some scrolling…  this is a good long Web-Cat.
Everything is priced to move. The first caller gets the item.
DAVE TAYLOR CIVIL WAR ANTIQUES
P.O. BOX 87   SYLVANIA, OHIO 43560
TEL. (419) 842-1863 WEEKDAYS EASTERN TIME ZONE
COLT SPECIAL MODEL 1861 RIFLE MUSKET Scarce 1862 Date!
220801  This is the Special Model 1861 .58 Caliber Rifle Musket made by Colt in 1862.  Colt approached the U.S. Chief of Ordnance on May 13, 1861, with a request for some of the new M1861 rifle muskets as a pattern for production. The official pattern was not adopted, however, until July and Colt began producing a rifle musket for his initial contract of 25,000 that blended elements of the M1861 and the British P1853.  Colt delivered 8,005 in 1862, 47,000 in 1863, and 45,000 in 1864. This was part of the first delivery and is the rarest date to find.
This is 100% original, 100% complete, and mechanically perfect.  Overall condition is VG.  The bore is good.  All markings are deep and clear, except for the barrel date and eagle on bolster which are illegible.  The wood has good color and edges and both inspector's cartouches.  The lockplate reads, "U. S. / COLT'S PT F. A. MFG CO / HARTFORD, CT" forward of the hammer and to the rear of the hammer is dated "1862". The left breech of the barrel has strong "V / P / [eaglehead]" proofs, "STEEL" on left side. The barrel is dull silver gray with scattered dark gray spotting and light brown stains.  There is some brown corrosion and shallow pitting around the base of the nipple from firing.  A very solid and appealing Civil War musket from the early days of the war, made by America's most iconic gun maker.  Samuel Colt.   $1,450.00   SOLD
220802  Just the thing for junior's lunch box.  Ethan Allen seven shot 22 caliber vest pocket revolver.  100% original, 100% complete.  2.5 inch octagon barrel.  8th variation.  This cocks and indexes but does not lock-up.  Marked on the left barrel flat  ETHAN ALLEN & Co. WORCESTER MASS /  ALLEN'S PATENTS SEPT. 7    NOV 9   1858   SEPT 24 1861. Varnished walnut birdshead grips are excellent.  Steel is gun metal gray.  Flayderman estimated production at 1500 pieces.  Looks like he guessed a little on the low side,  this gun is serial 1525.     $295.00
220803  CIVIL WAR 22 CALIBER POCKET REVOLVER:

Here is a rather uncommon little 6 shot, 22 caliber, single action spur trigger revolver by William Uhlinger of Philadelphia, PA.   Uhlinger made about 10,000 revolvers between 1861 and 1865.   The barrel has W L Grant markings which are ghost markings which Uhlinger placed on many of his revolvers.  W.L. Grant was a dry goods merchant in Camden, NJ, and had nothing to do with making this gun.   See Flayderman.  The spring is very tight.  The gun needs a tune-up as I cannot make it cock and lock. The rosewood grips are in excellent condition.   A really cool little gun.  $350.00 SOLD
220804  Bacon .31 caliber Pocket Model Revolver with 4 inch barrel. Made circa 1860 in Norwich, Connecticut. Thomas K. Bacon was the founder of the company and was also superintendent of the Manhattan Fire Arms Co. When Manhattan moved their operation away from Norwich,  Bacon stayed behind building his own firearms company. Part of Bacon's contract with Manhattan included a "no-compete" clause that he would have been in violation of if the heads of Manhattan had bothered to sign the agreement.   Nevertheless, they still took him to court with no official judgement recorded.   Bacon's arms were popular on the commercial market and many made their way onto Civil War battlefields upon being privately purchased by soldiers.
The top of the barrel is marked "BACON MF'G CO NORWICH CONN."
The overall condition is very good. The metal surfaces have a very attractive blue finish.  This is not the original 1860 finish, but a fine refinish likely applied 50 to 70 years ago. The markings are clear and legible. The frame is delicately engraved with floral scrolls. The number 144 is stamped on the bottom of the barrel.  Ball catch on the loading lever.  The walnut grips are original and in excellent condition.  The bore is well-rifled and in good condition. The action is good and tight. Here is a very nice, and somewhat scarce Civil War Bacon revolver!  $695.00  SOLD
Attic Fine Condition Burnside Saddle Ring Carbine
220805   These "Fifth Model" Burnside carbines are the last in the evolution of Gen. Ambrose Burnside's design.  The fifth model is distinguished by a guide screw in the right side of the frame.  The US government purchased 50,000 Burnside carbines during the Civil War, most of them were fifth models.   Burnsides were the third most purchased breech loading carbine after the Sharps and the Spencer. This example has standard markings and features. This just surfaced to the collector market last month as I type this.  Overall NRA Very Good condition.  100% original, 100% complete, and mechanically perfect. Good bore. Visible cartouches.  Hints of original finish mixed with undisturbed age patina. "Attic Fine".   When I found this there was so much crust and crud on the block that you could not read the serial number thereon.  3146 is the number on the frame.  661 is stamped on the breech block.
Mismatched blocks are a common feature on Burnside carbines.   Blocks were often times accidentally switched by troopers cleaning their weapons together.  One improved feature of this model was its easily removable breech block which is completely interchangeable with any other Burnside.   Visualize some troopers chatting and cleaning their rifles together.  All the men are sitting on the ground and have their breech blocks removed.  They swab out the bores, wipe out the powder residue caked inside the frames,  apply a little oil if they have it, or maybe a little grease,  they clean and oil the blocks and nipples…  In the process Sam picks up John's breech block,  Harvey grabbed Pete's  etc…  who knew?  Who would care?  What difference would it make to anyone except a collector 100 years or more later.  The block in this gun has unquestionably been with it since its' use in the Civil War.
(This story was related to me by a collector friend who was told it by his WW2 vet uncle fifty years ago.   In 1945 a few US soldiers held a silly contest of skill involving Lugers.  During a period of boredom on board ship coming home,  several of the men who had captured German Lugers as souvenirs decided to have a contest to determine who could assemble one the fastest.  The pistols were field stripped and the parts laid out in the middle of the contestants.  Ready, set, go.   At the end of the game not one man had a P-08 Luger with all matching serial numbers.   The lesson being…   Soldiers want guns that work. Collectors want guns that match.)
This Burnside carbine is solid, honest, and definitely saw service in the saddle fighting Johnny Reb. $1,350.00  SOLD
Telephone NOW if you wish to order this item.  First caller gets it!  (419) 842-1863
220806  SHARPS MODEL 1863 CAVALRY CARBINE:   The .52 caliber breech-loading Sharps was one of the most popular and widely used carbines of the war, seeing service in all theatres in scores of cavalry units, north and south (the latter also producing their own version.) It was very popular before the war, made famous  for its role with John Brown in Bloody Kansas, with extensive military service through the entire Civil War, and further continued use in the Indian Wars in its metallic cartridge incarnations. This is a very good Civil War percussion example of this popular and iconic cavalry weapon.
This carbine is very, very interesting.  It is a New Model 1863 carbine and so marked on the barrel.  The serial number on the tang at the wrist is clearly 34,927 which is far too low for a model 1863.  The underside of the barrel (under the forearm) is a cornucopia of Sharps factory markings.  There is number 84927.   To the left of 84927 is a letter X.  To the right is another Sharps serial 88722 that has been struck through each numeral with short horizontal slashes.  This carbine was unquestionably retrofitted and refurbished in 1863 or 1864.  The serial 34,927 on the tang means the frame was produced in 1860 or 1861 and was originally one of the early brass mounted 1859 models.  Or it could mean the frame was supposed to be C34927 but the worker forgot to stamp the C.   The original barrel serial number was 88722 indicating 1863 or 64 production on a Model 1863.  When this gun was retrofitted in 1864 the man who stamped the serial number on the barrel intended to copy the tang number but struck the first numeral as 3 instead of 8.  A Monday morning gun for sure, or as friend Fred likes to say regarding screw-ups… "Definitely another alcohol related incident".
Carbine has standard  21½" long round barrel. Worn address stamped "SHARPS RIFLE / MANUFG CO. / HARTFORD, CONN" on top of barrel in front of rear sight. Worn  "NEW MODEL 1863" stamped to rear of sight. Wood is good with original finish and deep, rich color.  Screw heads show light wear.  Steel has been cleaned by a previous owner.  Maker markings and patent designations are worn but legible.  100% original and complete except for the small retaining teat that holds the hinge pin lever in place.  Bore rifling is worn.  A very solid and affordable real Sharps carbine. $2,150.00    Update — This did not sell last week  …  How about  $1,950.00 ????
Telephone NOW if you wish to order this item.  First caller gets it!  (419) 842-1863
220807    US MODEL 1842 ARMY PISTOL MATCHED 1849 DATES !
These big bore horse pistols were the army issue for dragoons and cavalry during the Mexican War and Western Indian campaigns following the Gold Rush.  By the time of the Civil War they were obsolete in the North.  The photo of the CW soldier holding one shown at the left is an incredibly rare piece of photo history.  It is shown for illustration purposes only.
This pistol was manufactured by Henry Aston of Middletown, Connecticut. He manufactured around 30,000 pistols between 1846 and 1852.   Markings are  US/H.ASTON  MIDDtn/CONN/ 1849.  It is .54 caliber smoothbore with 8 ½ inch round barrel. Barrel is marked US, 1849  on the tang and SK inspectors initials.  The ramrod is the proper captured swivel type with a button shaped head. Backstrap, trigger guard, barrel band and front sight are brass with an attractive delicate patina.
This pistol is 100% original, 100% complete, and mechanically perfect.  It is unaltered and un-messed with.  Steel parts have a delicate patina and areas of very light salt & pepper pitting.   Wood is excellent with sharp edges and two vivid cartouches.   Action is crisp.  The only wart is a small half inch stress fracture on the back of the stock at the right lock screw.
This fine American martial weapon was made the same year gold was discovered in California, and the same year John Washington (Gov. of New Mexico) engaged the Navajo Indians in numerous battles in and around Canyon de Chelly Arizona. In the first encounter Lieutenant Colonel Washington entered into Canyon De Chelly from the east  and was watched by Navajo warriors from overhead for thirty five to forty miles.  The Indians hid in the caves and cliffs along the canyon.  More than three hundred warriors attacked the contingent of four hundred troopers in the cavalry, and surrounded them.  Colonel Washington unleashed his fire power of cannons into the canyon walls as a show of strength. The show of fire power did not slow the attacking Navajo and the colonel had to retreat.  Soon thereafter  a treaty was drawn up and signed with the Navajo which resulted in much tribal infighting.  Chief Narbona was accused of riding a horse belonging to an opposing tribal faction.  Colonel Washington ordered the warchief to dismount and surrender the horse.  Narbona refused and was shot in the back and wounded.  Narbona's warriors attacked and six were killed in the fight.  The hearty and adventurous western frontier cavalrymen under Colonel Washington would have been armed with these pistols.  One shot… you better make it count.   $950.00  SOLD
Telephone NOW if you wish to order this item.  First caller gets it!  (419) 842-1863
220808   ELI WHITNEY 36 CALIBER NAVY REVOLVER:  
A good, solid, percussion cavalry sidearm produced by the Whitney Firearms Company of New Haven, Connecticut. It is designated the Navy Second Model Revolver.  A total quantity of 33,000 of these handguns were produced from the late 1850's through the early 1860s with over half the Second Models purchased by the government.
In overall VG condition, 100% original, 100% complete, and mechanically perfect.  A previous owner placed a tiny washer behind the wing-nut to keep it tight.  7½" long octagonal barrel.  The loading lever is secured with the hidden ball catch.  Six shot cylinder with safety notches between the nipples.  The two-piece varnished walnut grips are in very good condition with smooth even wear with minor dings and dents.   The steel gun metal gray. No finish remains.  It shows scattered light pitting and wear as would be expected.  Barrel address marking is the standard two-line block letter "E. WHITNEY / N. HAVEN".   Mechanics are excellent.  I personally like the Whitney better than the Remington for aesthetic reasons,  it looks like a Spiller & Burr Confederate revolver (aka Confederate Whitney), but is 20 times less expensive.    $1,350.00 SOLD     (soldier with Whitney is clip-art)  SOLD
Telephone NOW if you wish to order this item.  First caller gets it!  (419) 842-1863
220809    REMINGTON ARMY…  This is a very good example of the famous Model 1858 Remington Army Revolver.  This is the 1863 New Model and so marked.  Over 100,000 Remingtons were carried in the Civil War and the design was a decade ahead of Colt.  The cylinder in the Remington could be removed and replaced in a few seconds without tools.  Men carrying the Colt needed a work bench, a mallet and a drift to remove the cylinder.  There is a great scene in one of the Clint Eastwood westerns where he empties his percussion Remington on the bad guys and then quickly and smoothly replaces the cylinder with a fresh full one and keeps on shooting.  No way that happens with a Colt percussion revolver.  Colt = six shots and your done.
This is a percussion, six-shot, .44 caliber revolver with an 8" octagonal barrel. The maker's stamp, "PATENTED SEPT. 14 1858 / E. REMINGTON & SONS. ILION NEWYORK. U.S.A. / NEW-MODEL", is clearly visible on the top flat of the barrel.  It is overall VG condition, 100% original, 100% complete, and mechanically perfect.  All of the percussion nipples are present and in good order.  Gun metal gray overall.   Walnut grips are original and in very good condition with a nice cartouche on the left grip.   $1,395.00   (Photo of soldier with Remington is clip-art.)
220810  Zouave Rifle Bayonet.  Excellent condition saber bayonet for the Remington Zouave Rifle aka the Remington 1863 Contract Rifle.  Super condition with original brass mounted scabbard.  The only slight wart is open stitching along the back seam.  The leather is otherwise perfect and completely sound.  If you need a top notch bayonet for your Zouave Rifle here is a heck of a good deal.  $325.00SOLD
220811  BAYONET    An excellent example of the Union infantryman's regulation socket bayonet and scabbard for the .58 caliber Springfield rifle muskets.  This fits all the Springfield models from M1855 up through M1863 type-2,   This is complete with its' mid war black harness leather scabbard with riveted frog construction.  The leather shows the maker's stamp and the inspector's stamp clearly on the frog.  Bayonet is in top notch condition showing just a little age staining which will easily clean.  If these were offered separately the bayonet is easily worth $175, and the scabbard the same ….   Your price for the package….   $295.00 SOLD
220812    Very  nice example of the USN model 1860 Navy Cutlass with the original scabbard.  Deeply marked with manufacture date of "1862" as well as "USN" and the inspector's initials.  The reverse side bears a very worn but still visible maker's stamp"AMES MFG. CO. / CHICOPEE / MASS."  The leather wrapped grip is VG with some surface chips in the finish that can be easily dressed with a little shoe polish.  Brass basket guard in very fine condition with excellent patina.  Blade is likewise VG+ smooth gray steel.  The scabbard is very solid and is the original CW issue in black leather with copper rivets. (I recently learned that the Coast Guard still used these well into 1900s and that they removed the sheet brass basket guards leaving only the heavy cast brass D-Guard section in place.)  The very tip of the scabbard is worn away so the tip of cutlass blade just pokes through a small amount.   $950.00
Update — This did not sell last week  …  How about  $895.00 ????
(Sailor image is clip-art)

Telephone NOW if you wish to order this item.  First caller gets it!  (419) 842-1863
220813  Regulation Union Army Brass Shoulder Scales.  These were originally prescribed to ward off saber blows but were usually discarded by new recruits who wanted to avoid ridicule from veteran soldiers.  These are complete and in good condition with age staining as shown.  $175.00  SOLD
220814  PEWTER INKWELL :  Very handsome 1860s or earlier pewter inkwell with hinged pewter lid.  Glass liner inside is not the original.  A wonderful antique in general, and a great Civil War personal item.   $125.00   
Update — This did not sell last week  …  How about  $85.00 ????
Telephone NOW if you wish to order this item.  First caller gets it!  (419) 842-1863
220704   This is an extremely rare Jenks-Merrill Conversion Navy Carbine. One of only 240 arms that were originally issued and accepted by the U.S. Navy in 1861.   It is a complete and correct example of one of the very rarest US martial arms, and it is in near fine condition!   This is a piece that is usually missing from even the most advanced collections,  it is only the second one I have owned in 50 years of collecting and trading. The other one is the best example I've ever seen and I paid the late Mitch Luksich  nearly $10,000.00 for that one years ago at the old Denver, Colorado Expo Mart show.  With only 240 delivered and an incredibly low survival rate, the Jenks-Merrill Conversion Carbine does not often appear on the marketplace. In late 1859, the Navy agreed to allow JH Merrill of Baltimore to alter some of the Jenks -Mule Ear- Navy Carbines to the Merrill breech-loading system.  All Merrill breech loading conversion arms are rare, (Mississippi rifles, and Model 1842 muskets), but the Jenks Merrill carbine alteration is incredibly rare.  The alteration involves filling and sealing the Jenks breech, replacing the breech mechanism with the Merrill mechanism and replacing the mule-ear Jenks lock with a conventional side hammer, back action lock. A multi-leaf rear sight was added as well. Two hundred ninety-four of the Jenks-Merrill carbines were delivered to the Navy in September of 1860 and were rejected due to issues with the breechloading mechanism and the lack of reliable ignition of the Merrill cartridges. The guns were returned to Merrill for retrofitting, and in January of 1861, 240 of the guns were accepted into service with the other 54 being rejected. No further orders for the Merrill altered Jenks carbines were placed, making this one of the rarest of all US military long arms ever produced, far rarer than most Confederate weapons which sell for two, three, and four times more money. Jenks-Merrill carbines are known to have been in the small arms inventories of the sloop USS Richmond and the gunboat Michigan. Description:.54 caliber, 25 inch rifled round barrel, no S/N. Browned finish, color case hardened lock and lever, brass mountings, sling ring in trigger guard tang. Top of breech lever marked in two lines: J.H. Merrill BALT / PAT. JULY 1858. Top of chamber marked -Wm JENKS- and USN inspection marks, including USN / RC / P / 1846. An old brass collection tag stamped 37 is attached to the heel of the butt stock.
This is in Fine condition, retaining most of the original lacquer brown finish. The breech mechanism exhibits strong traces of case color, mostly on the interior. Lock with slightly less color and a mostly smoky gray patina. Bore is fine, bright with sharp rifling. Mechanically perfect.  Correct in all respects.  Stock overall fine with a few minor bumps and dings. A really fine example of a very scarce Civil War carbine. You will likely not find another example of this gun for sale for quite some time.  $7,950.00   This did not sell last week  How about $7,500.00
Telephone NOW if you wish to order this item.  First caller gets it!  (419) 842-1863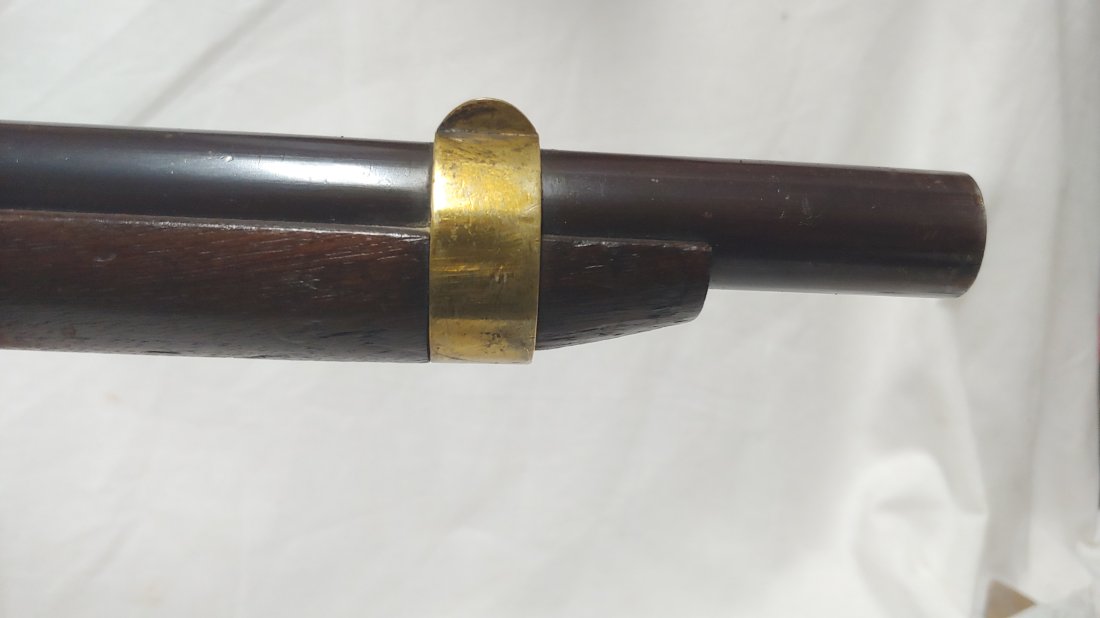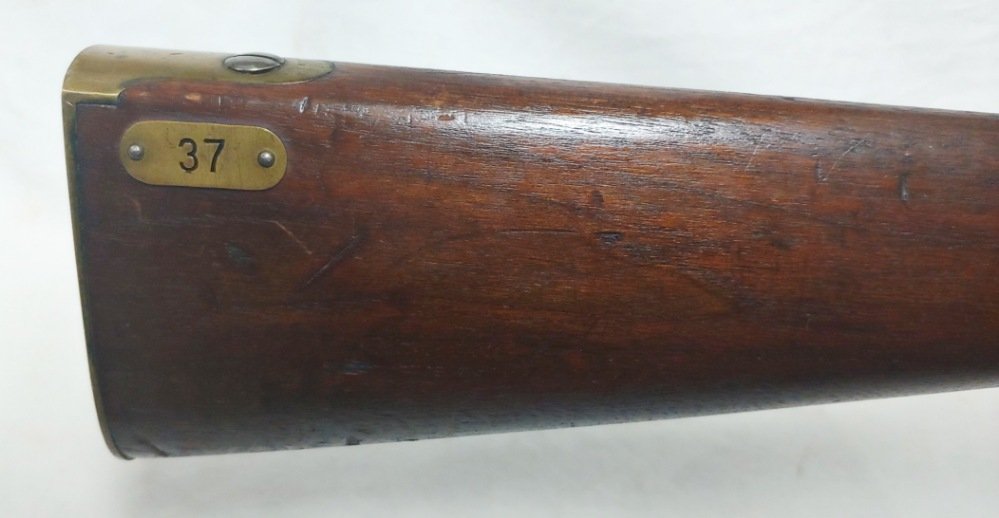 CIVIL WAR NAVY PATRIOTIC SOAP DISH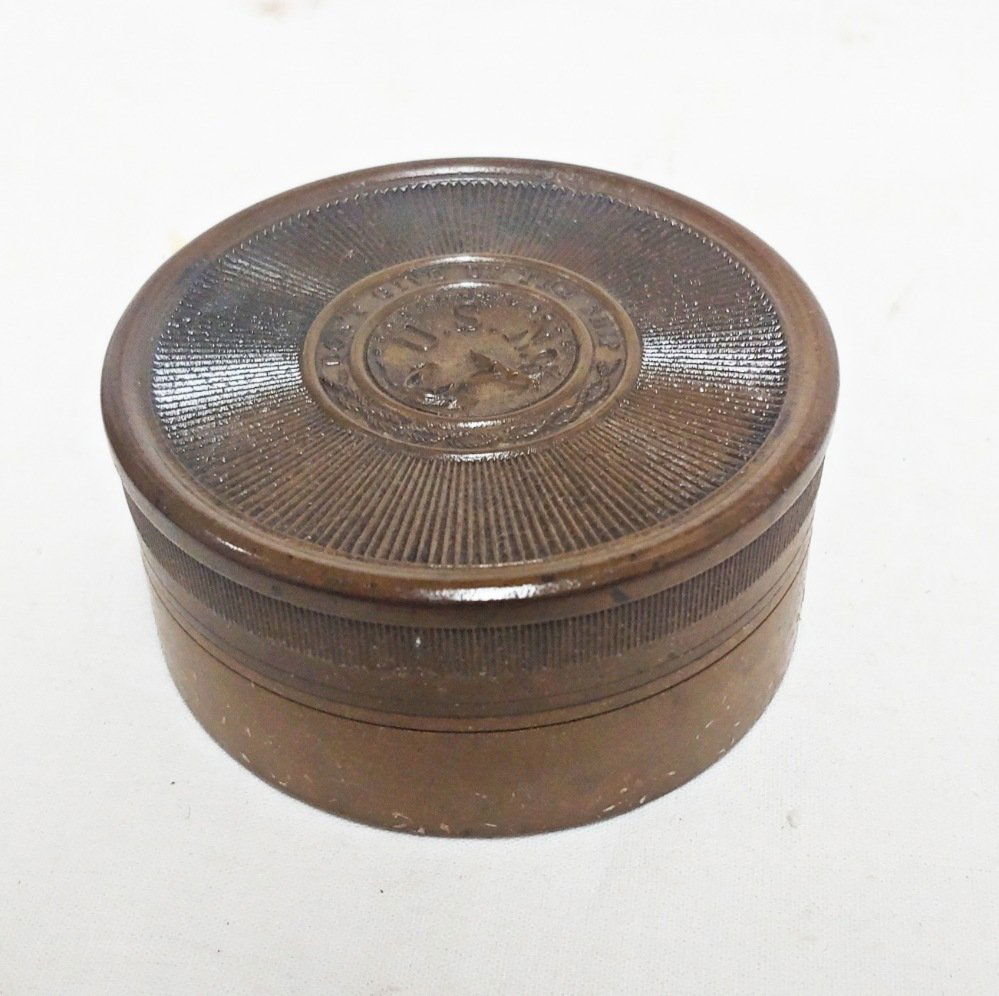 220702     One of the more popular Civil War personal item collectibles. Circular hard rubber container made of an upper and lower molded cylinder that fit together and are held together by friction. The bottom section is plain and is meant for holding a cake of soap. The top half has a very nice sunburst decoration with a central design of a fouled anchor surmounted by the letters "U.S.N." and the motto -DON-T GIVE UP THE SHIP- The underside of the lid has a circular mirror (cracked) and is embossed around the mirror with the Goodyear 1851 patent information. Very Good condition with no nicks, chips or cracks. Francis Bannerman, the war surplus dealer on Bannerman-s Island, had quite a supply of these on hand in the late 1800s and early 1900s. That's why enough have survived for us to collect.  Handsome, unusual, and interesting.  $225.00 SOLD
Telephone NOW if you wish to order this item.  First caller gets it!  (419) 842-1863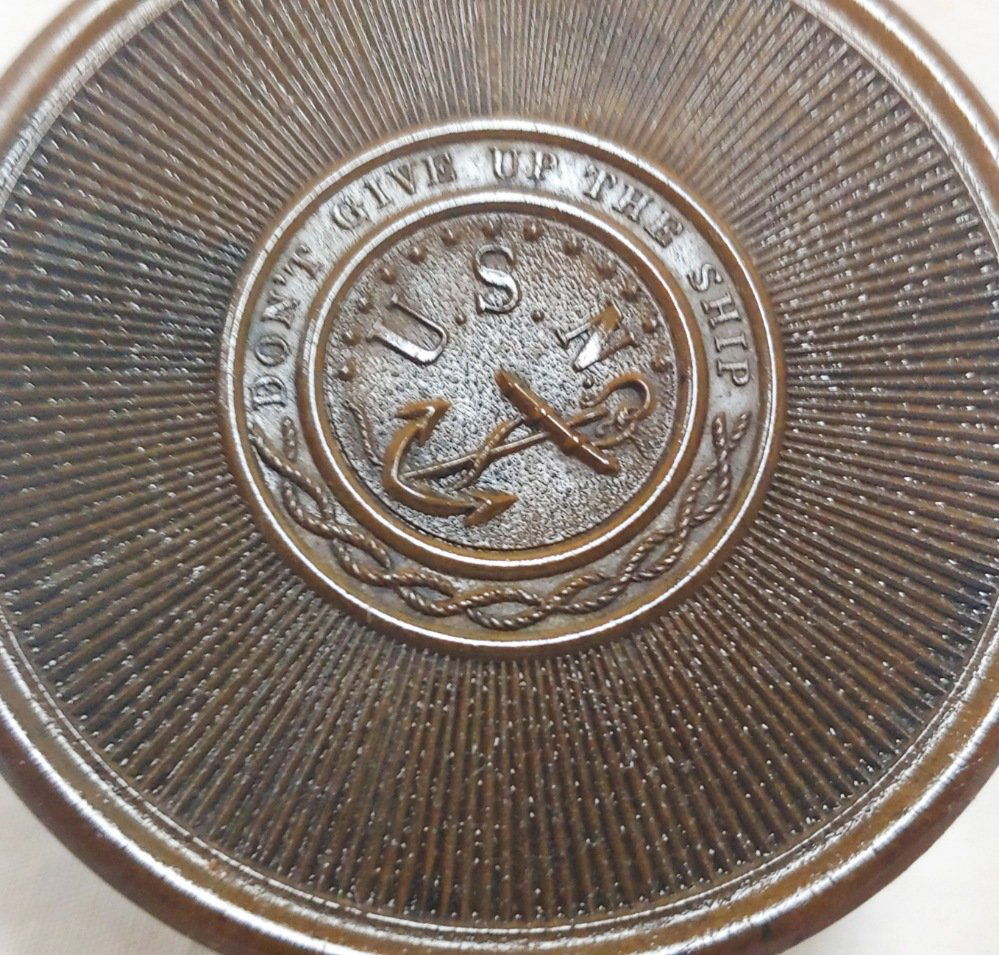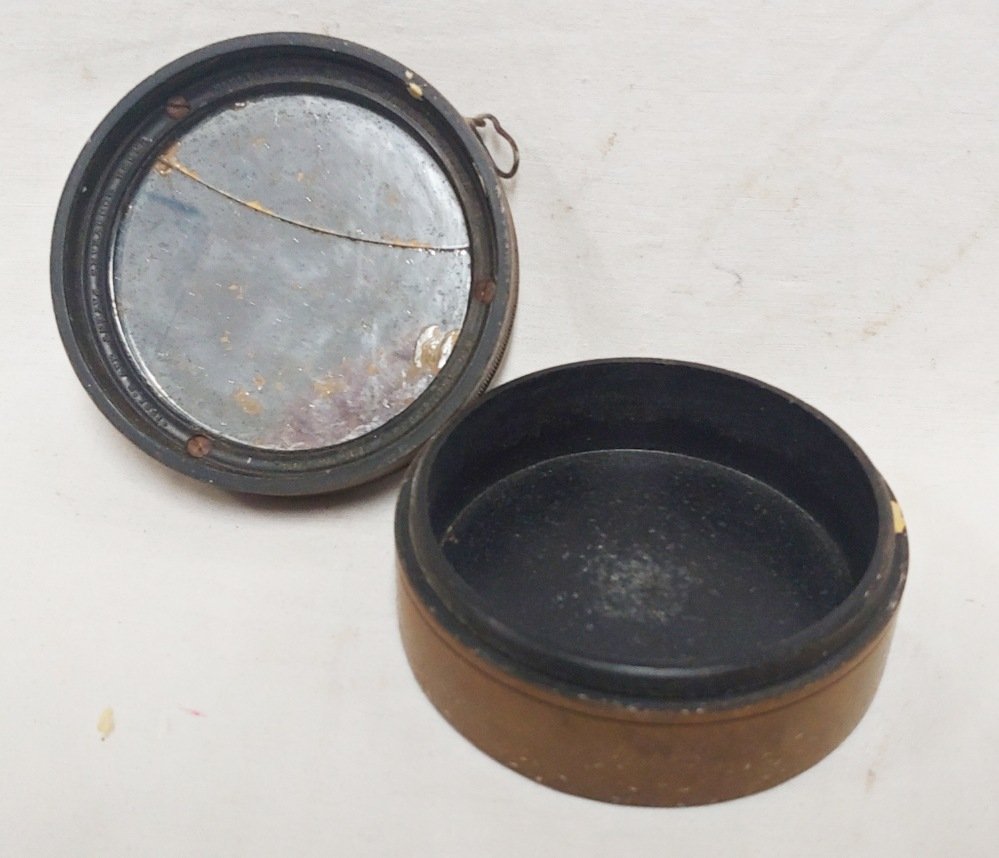 Telephone NOW if you wish to order this item.  First caller gets it!  (419) 842-1863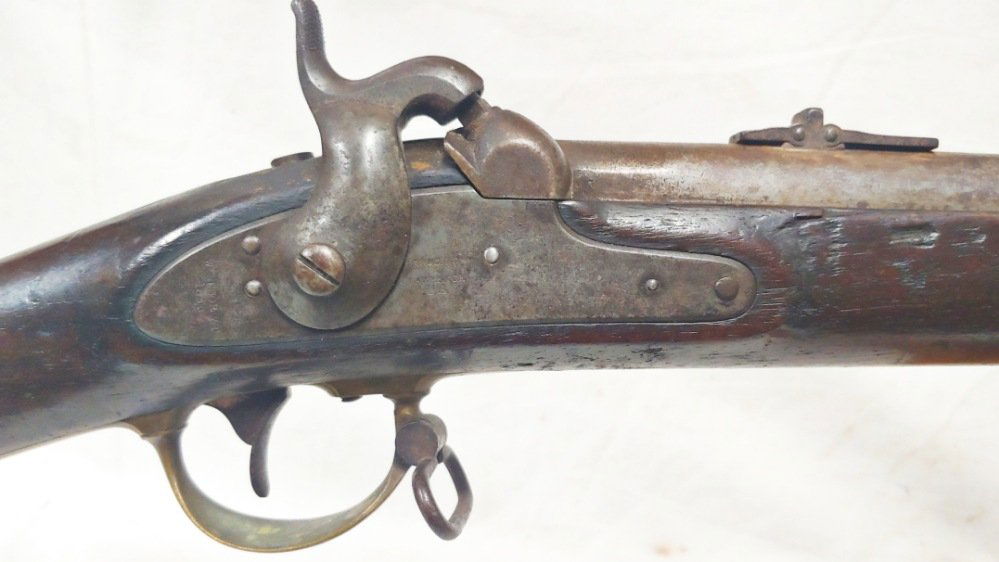 220706   Colt alterations of "Mississippi Rifles" are described on p. 156-159 of -American Military Shoulder Arms, Volume III- by George Moller.  This rifle is a classic example of the Colt alteration.  It was converted from .54 to .58 caliber (seven-groove rifling) by Colt and equipped with the Colt Model 1855 revolving rifle rear sight and a ring mounted bayonet stud.  These were fitted with saber bayonets originally numbered to the guns. No bayonet present.    In 1861, Colt purchased  11,368 Model 1841 rifles from the Ordnance Department for $10.00 a piece. Colt then altered them to accept .58 caliber Minie balls and bayonets under an agreement to sell them all back once the alterations were performed.   By June of 1862, Colt had sold 10,411 of these converted rifles back to the government for $18.50 a piece and made a quick and handsome profit. He then sold the rest to the state of Connecticut against his original agreement with the feds.  The barrel has the correct brass blade front sight, 500 yard Colt three-leaf rear sight, and the clamp-on band with bayonet stud.  The lock is marked "E. WHITNEY/U.S." at the center and "N. HAVEN/185?" on the tail. -US- is marked on the brass butt-plate tang. Barrel markings are sharp as is the barrel tang date.  Very good with smooth mottled grey patina on the barrel and lock, bright brass fittings, and general mild wear. Stock is likewise very good with some expected scratches and dings from real wartime service.   Mechanically excellent.  This did not sell last week at $1950 which surprised me.  How about….   $1,750.00  (1,750 is a gift)
Telephone NOW if you wish to order this item.  First caller gets it!  (419) 842-1863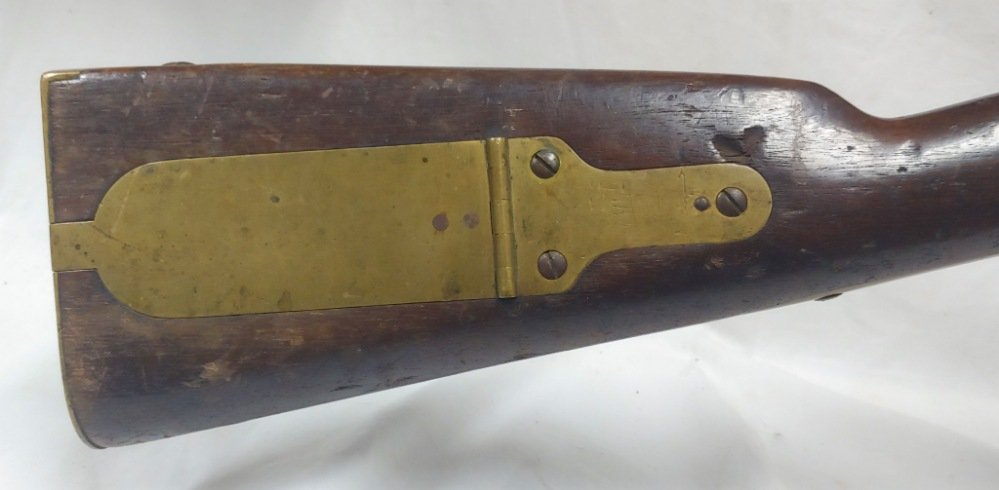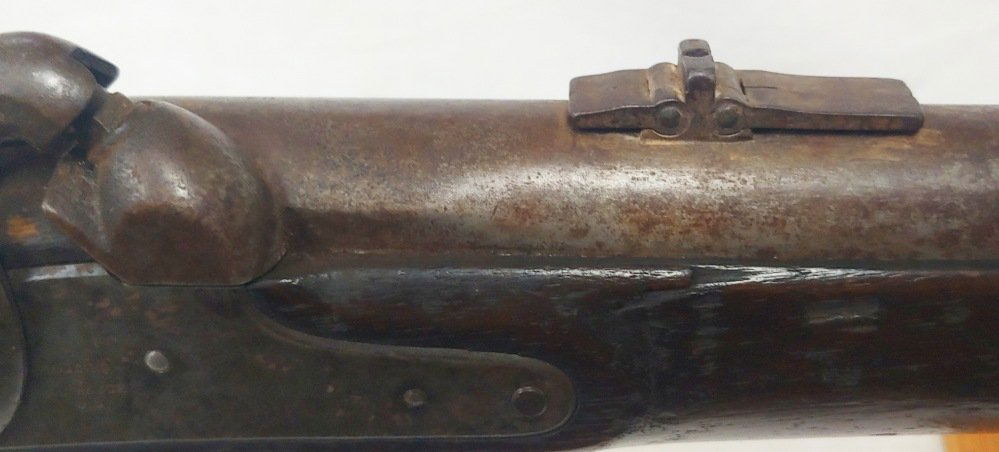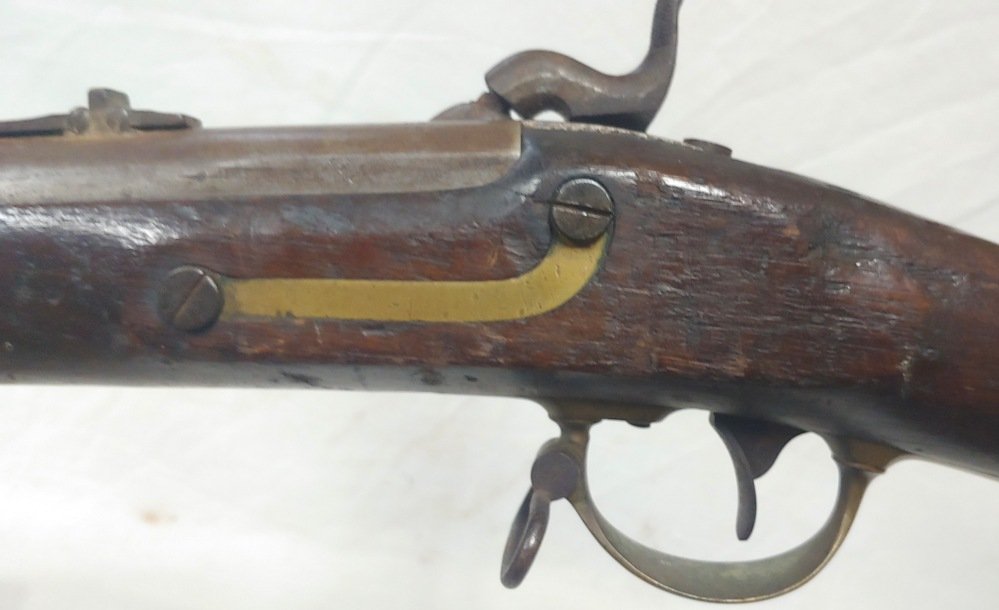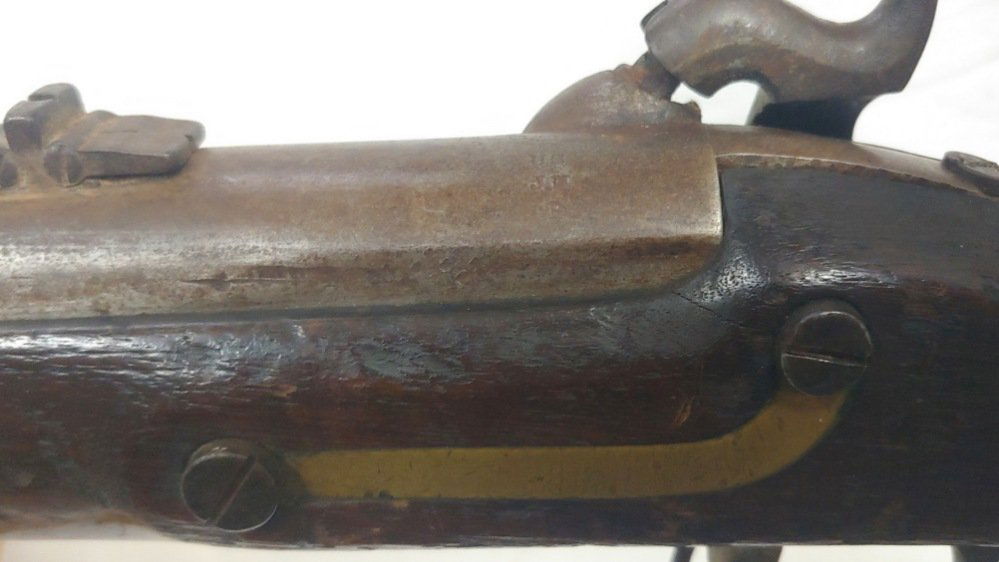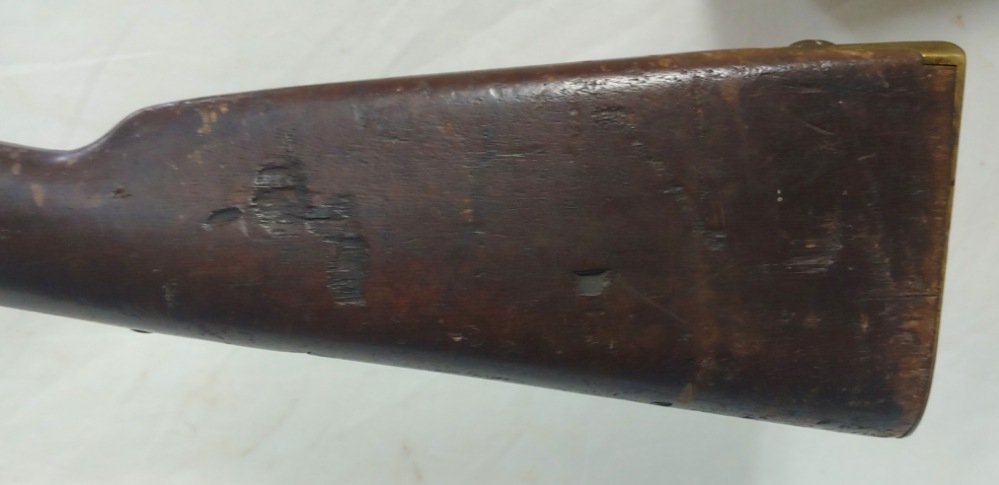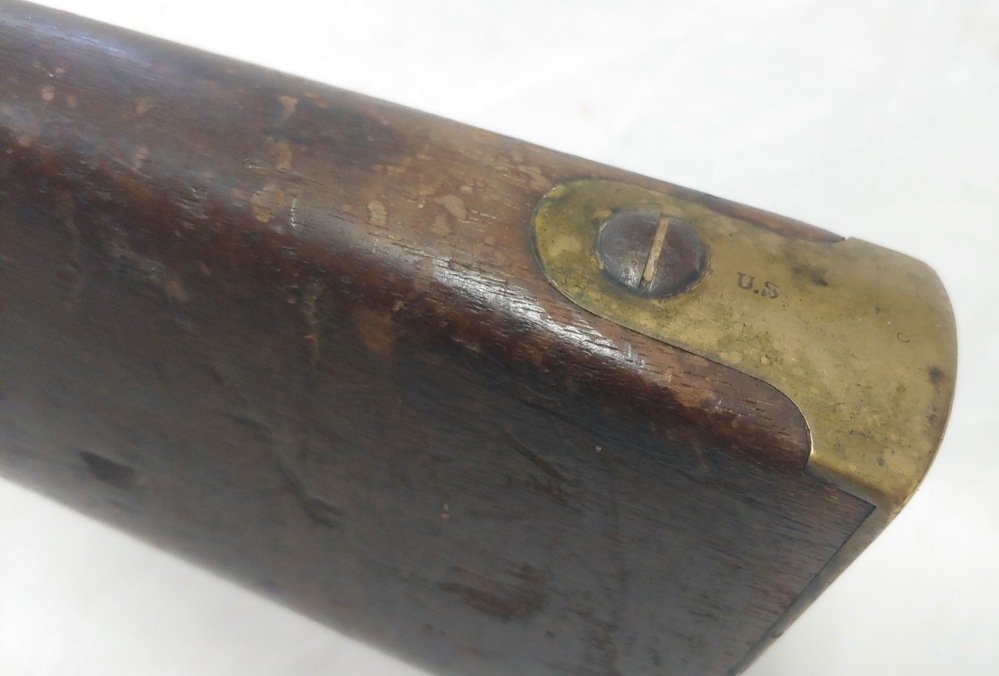 IDENTIFIED / ENGRAVED
CIVIL WAR 9TH CORPS BADGE
Telephone NOW if you wish to order this item.  First caller gets it!  (419) 842-1863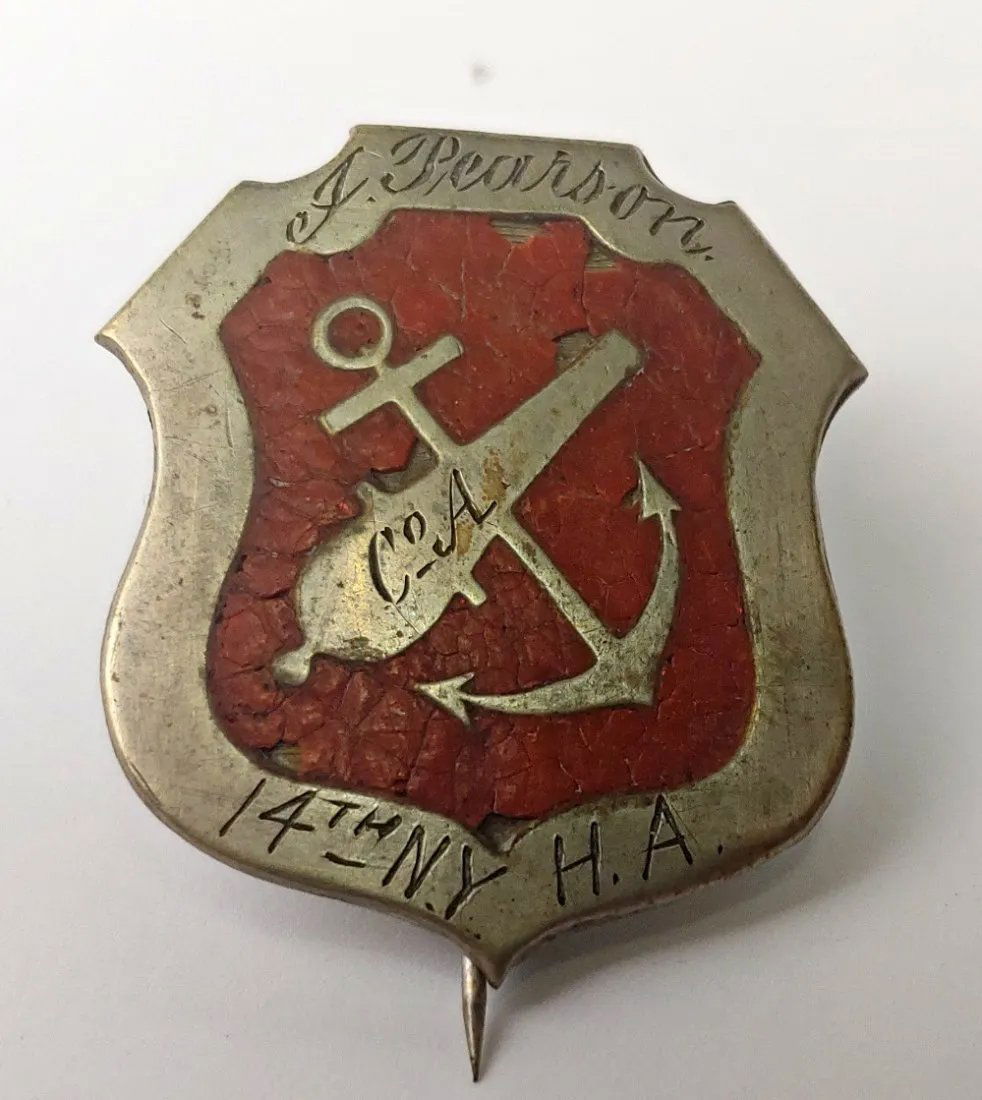 220708   A genuine wartime corps badge you can sleep at night owning. The real McCoy. The badge is typical of those sold by camp sutlers and ordered by mail order. The badge is stamped in a shield shape with recessed center bearing the crossed anchor and cannon of the 9th corps in relief and a red enamel background designating the first division. The soldier's name and unit are hand engraved: J. Pearson on the top edge, Co. A on the cannon barrel, and 14th N.Y.H.A. on the bottom edge. This is John Pearson, who enlisted in Company A at Oswegatchie, NY, 7/28/63 when the regiment was being organized. He mustered in as private and served throughout the war, only being discharged for disability on 5/26/65 at Alexandria. The regiment spent its entire service in the first division of the 9th Corps and was one the regiments recruited as heavy artillery but drilled also as infantry and called into the field for Grant's 1864 campaign. It was hotly engaged many times and lost 6 officers and 220 men killed or mortally wounded in battles such as Wilderness, Spotsylvania, Cold Harbor, months in the trenches of Petersburg, including fighting during Lee's attempted breakout at Fort Stedman at the end of March, suffering its last casualties only April 2 in the final assault on Petersburg. 226 KIA or Died of Wounds! The pin on the reverse is firmly in place and the red enamel shows crazing, but very little loss.  $1,150.00
Telephone NOW if you wish to order this item.  First caller gets it!  (419) 842-1863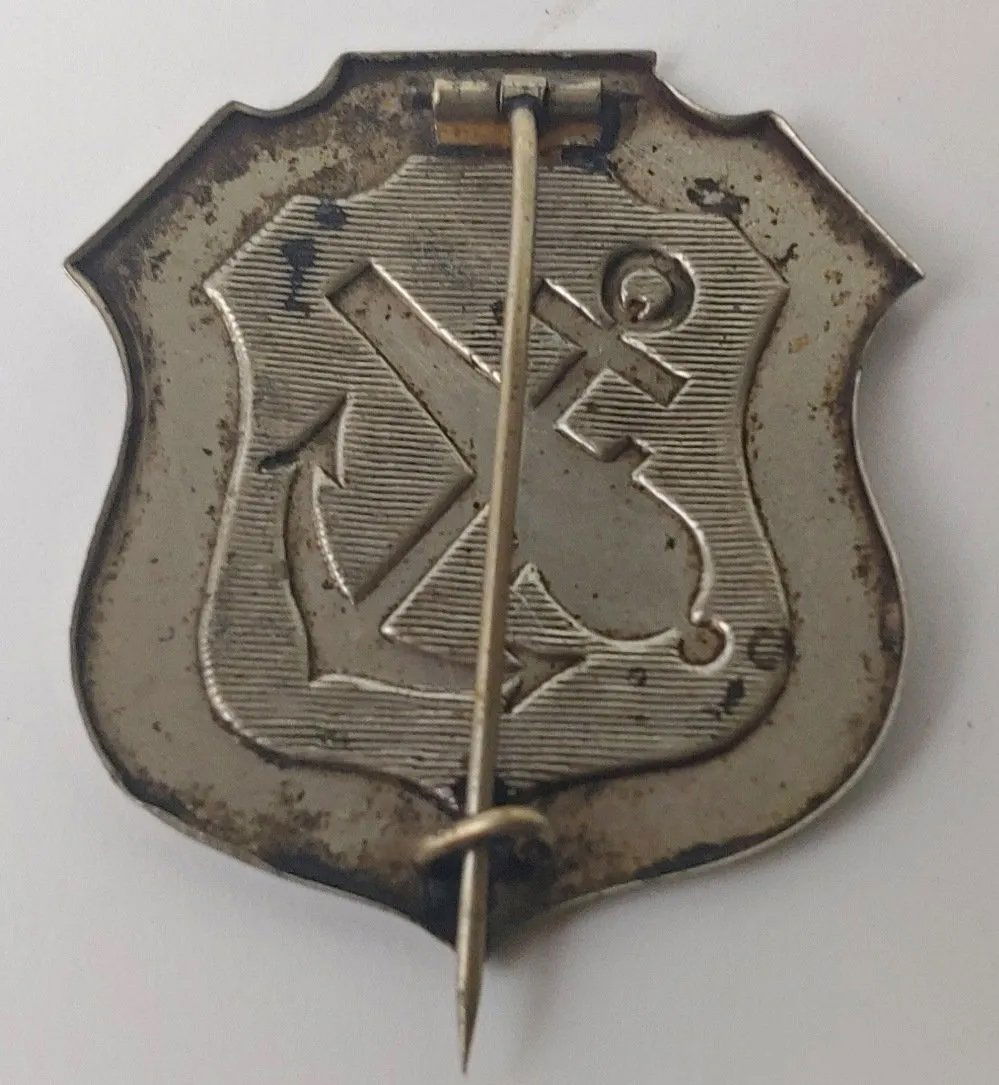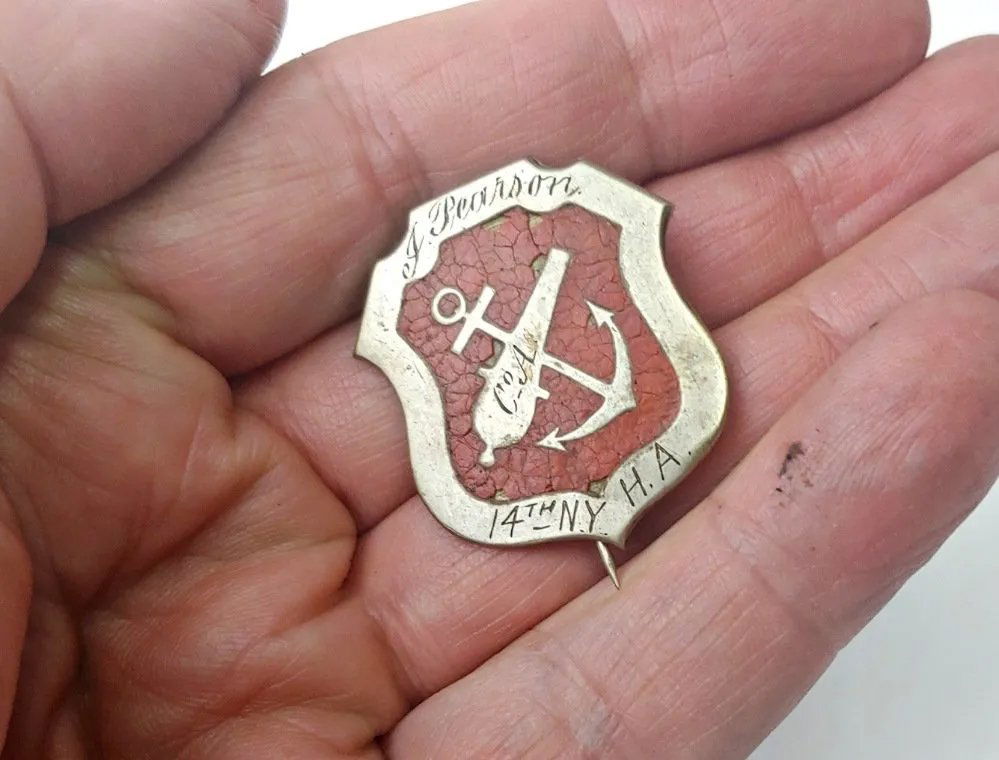 220710   Near perfect blouse size Confederate Staff Officer's button with backmark of H.T.& B. Manchester.  A southern picker found twelve of these in a tin box on the original factory card.  I bought them all.  They were part of a family estate and the name of the CS officer may come to light. My friends at The Picket Post sold one in 2020 for over $900 and currently have one SALE PRICED on their page at $795.  I have a few left that I can sell at a most friendly…    $495.00 each
Telephone NOW if you wish to order this item.  First caller gets it!  (419) 842-1863