Telephone Now if you want to buy this item. First caller gets it.  (419) 842-1863
22-08-24    Regulation Union Army Cavalry Musician's Shell Jacket:  One of the Holy Grail uniform pieces for collectors.  These trumpeter's jackets with the gridiron tape on the front have ALWAYS been extremely rare.  Back in the old days Norm Flayderman commented that when he would buy surplus unopened bales of jackets, which were still bundled in the original 1864 QM Dept wrapping, there would only be 2 or 3 musician's jackets in each bale.  (I've forgotten if there were 50 or 100 jackets per bale as I've only seen ONE in my entire life, and that was nearly 40 years ago. I remember it was huge. It belonged to famed Atlanta collector Beverly Dubose and he kept it unopened so that ONE unscathed bale would be preserved.  I don't know what happened to it after his death.)  This jacket came out of just such a bale long ago.  It is in outstanding condition with rich blue color on the body and bright yellow taping.  The full body lining and both sleeve linings are intact.  The body lining has a few snags but is completely solid and intact.  Each sleeve lining bears a size numeral "2", and one also bears the "S.A." marking of the Schuylkill Arsenal in Philadelphia. The Schuylkill Arsenal employed wives and widows of soldiers to sew the uniforms and unlike other contractors each SA piece is 100% hand sewn. Peculiar to the S.A. are the colorful and geometric materials frequently found in the linings.  S.A. marked uniforms are the most sought and highest quality of all the mass produced enlisted clothing.  For a short period twenty years ago these rarities were in such short supply and high demand that prices surpassed $10,000.00 per jacket!  Here is an opportunity to own a superior example at a very realistic price.  $4,850.00   **SOLD**
(I note that recently convicted and incarcerated ex-dealer Gary Henderschott has one of these jackets listed on his web page at $8,500.00.  I don't know who is manning his outlandish website now that he is behind bars, but maybe they'd be willing to discount that price some due to the circumstances.  Convicted con-man Gary claims to have written an expose book titled Fakes and Scoundrels , though I have never seen a copy in print.  Many of us who knew him believe the book should be listed in the Dewey Decimal System classification range  920 – 928 …  autobiography.)
22-08-25     Colt 44 caliber Army Revolver made in 1863:
These six shooters were favored by 1860s mounted troops for their light weight and good stopping power.  John Mosby always carried a brace (pair) and lost one set to a New York cavalryman who escaped from The Gray Ghost taking the Virginia Partisan's horse and six shooters along with him on his getaway.  (Those pistols surfaced at the Baltimore Gun Show just a few years ago.  By the time I made up my mind to buy them, someone had beaten me to that decision.)  This Colt is NRA Very Good condition.  100% original,  100% complete, and mechanically perfect.  All the serial numbers match including the wedge.  Steel is gun metal grey.  Stampings and firm name are clearly legible.  Some cylinder scene remains.  The bore is very good, the grips are very good, and the action is smooth.  The cartouche on the lower grip is no longer visible.  This is a good solid cavalryman's sidearm in Very Good and solid condition.  It has not been gunsmith fixed or improved,  just the way it survived after coming home from the war.  $1,750.00   **SOLD**
Telephone Now if you want to buy this item. First caller gets it.  (419) 842-1863
22-08-26  1860 Staff and Field Officer's Sword:  A very handsome example, and early.  These dress swords were authorized for officers from 1860 through 1902.  The bulk of surviving examples were made in the 1890s.  This sword dates to the 1870s in my opinion, based on the top scabbard mount, lack of nickel finish,  and the high quality casting of the guard.  The top scabbard mount is more akin to 1850s-60s NCO and militia examples.  This was made without a middle ring mount.  The hook on the top mount shows if was meant to be carried in a leather throg  (frog).   This sword does not have a folding clam shell reverse guard.    (I once owned Gen. Alexander Webb's inscribed Civil War staff sword, and it too was made without a reverse clam shell on the guard.)   This sword is higher quality than most we see and was never nickel plated. It is solid and more substantial than the common 1890s versions that abound, heavier and beefier.  The blade is etched with US and military motifs.  Blade is grey and blotchy with age stains. A good solid REAL INDIAN WAR officer's sword.  $275.00    **SOLD**
Telephone Now if you want to buy this item. First caller gets it.  (419) 842-1863
22-08-27   44 CALIBER STARR SELF COCKING ARMY REVOLVER:
A solid example of this Civil War cavalry revolver.  It is technically self cocking but is still referred to it as double-action because for all intents and purposes, it is.  The user can cock the hammer manually with his thumb then pull the trigger at his leisure as with a standard single action revolver.   Or the user has the option of pulling the trigger which will cock the gun,  advance the cylinder, and fire… all with one long, hard pull on the trigger.  There is a sliding lever behind the trigger which allows or prohibits the falling of the hammer when the gun is cocked by pulling the trigger.  This feature is why the gun is technically "self cocking".  100% original and complete except for a replaced screw that secures the hinged frame in place. 100% complete. Mechanically sound.  It has matching serial numbers of 10159.  All metal markings are legible, as is the cartouche.  The steel is gunmetal gray and no original blue finish remains.  These Starrs saw heavy service in the Civil War and this one shows that at face value.  $1,150.00
22-08-28  Wonderful Union Army Forage Cap (Bummer's Cap) with original artillery insignia.  One of the most visually appealing CW caps I've owned, and in excellent condition.  100% complete (except for missing paper label) and all original.  Excellent condition with rich blue color on the body, with only a few very tiny moth nips.  This has the full brown polished cotton lining, complete sweatband, original chin strap w/ buckle, both side buttons, and classic curved downward visor.  This is the highly desirable style with smaller diameter crown which flops rakishly forward for a classic jaunty look.  All of the brass insignia on the crown is original.  The crossed cannons are standard regulation issue, and are extremely rare items.  The letter "B" is the fancy style with rounded serifs, so-called zouave style.  The numeral "4" is a common large one inch example.  Assuming the insignia has been in place since the war, which is an assumption, this insignia could represent Battery D 4th U.S. Light Artillery, or Company D 4th New York Heavy Artillery. The insignia is definitely original, but I cannot tell whether it was attached in 1864 or 1964.  The caps and insignia were common and inexpensive in both years.  In 1964 the war was 99 years ago,  and now 1964 is nearly 60 years ago.  In either event the insignia has been on the cap a long time.  The lining certainly has the appearance of having been worn during the Civil War as most of the polish is gone off the brown polished cotton, and that is a good indicator of wartime usage.  I bought this at auction and there was no background history included.  Excellent condition, handsome, visually exciting, a SUPERB display item, 100 % original.  One of the better examples I've owned.    $3,250.00
22-08-29   12 Millimeter Lefaucheux Army Revolver / Durango Marked:
A very handsome and solid example of the large bore (12mm) French 1854 pattern Lefaucheux pinfire revolver. These Spanish examples are designated as Spanish 1858 Patterns.    Most Lefaucheux revolvers are marked in French and were made in France or Belgium.   This piece was manufactured in Durango, Spain.  The Spanish Trubia Artillery Foundry produced 3000 Lefaucheux revolvers from 1858 to 1863.  During this period private Spanish contractors produced around 10,000 of this pattern.  This gun was manufactured at the Durango Factory in Northeast Spain and bears serial number 15197.  Very little is written about this factory except that the original owners went bankrupt in 1866 after being in business for a couple decades.   Both the Union and the Confederates purchased tens of thousands of Lefaucheux 12 mm revolvers and millions of cartridges.  Whether this included any Spanish made weapons I do not know.   Overall NRA "very good" condition.  100% original and complete.  Functions as single action only and I'm not sure if that is peculiar to this Spanish model or if it is supposed to be double action.  Super grips.  Left side of the frame bears an inspector's stamp of capital letter "S".  Very scarce variant Lefaucheux   $1,150.00
xxxxxxxxxxxxxxxxxxxxxxxxxxxxxxxxxxxxxxx
Telephone Now if you want to buy this item. First caller gets it.  (419) 842-1863
Telephone Now if you want to buy this item. First caller gets it.  (419) 842-1863
22-08-30  REGULATION CIVIL WAR "BLACK HAT".  A top notch Model 1858 US Army Hat (Hardee Hat) in excellent condition.  Very solid, just showing light handling age which is to be expected.  This one has been adorned to represent Company "F"  3rd Infantry Regiment. The insignia was added to this war-surplus hat back in the 1960s or 1970s.  The infantry hunting horn insignia is original, as is the blue hat cord.  The side eagle is a replica, the numeral "3" is 1870s or 1880s era.  At one time there was a 5th corps insignia sewn to the side of the hat.  It  was removed leaving stitching visible on the inside of the hat.  The original wide red leather sweat band is in place.  The maker's label in the crown is not present.  These hats are best known for their connection with the iconic Iron Brigade of Gettysburg fame.  The Army of the Potomac Iron Brigade hats were usually adorned with brass unit insignia.   However, these Black Hats were also worn in vast numbers by less flashy western troops such as the 21st Michigan who wore them without insignia and frequently creased or rolled them into a common slouch hat configuration.  Sherman's 1864 western boys were far less interested in "show" than the early war eastern dandies under McClellan.  These were quite scarce and expensive when I was a kid.  I couldn't afford one until I was in college.  I still have that one which is "veteranized" like the 21st Michigan boys wore.  A great item priced very fairly.  $2,950.00
xxxxxxxxxxx
CALL (419) 842-1863 NOW TO RESERVE YOUR ITEM!
220816  A large 41 caliber Philadelphia style percussion belt pistol made by the renowned John Krider of Philadelphia. The long octagon barrel is reminiscent of early Kentucky pistols, and is stamped  Philada. on the top flat.  This has a Deringer-style back action lock with sparse engraving and is signed Krider. Furniture is Deringer-style.  Trigger guard has the classic Deringer pineapple top finial, German silver nose cap and thumb piece.  The varnished walnut stock has a nicely checkered bag-style butt.  Krider was one of the best and most prolific makers in Philadelphia.  He started as an apprentice for immigrant gun maker Prosper Vallee and in 1839 bought the business and building at 2nd and Walnut from Vallee. This pistol shows many similarities to Vallee's pistols.  Krider made a great many good quality rifles, shotguns, pocket size derringers, and brass mounted militia rifles… but very few large size pistols such as this one. Overall Very Good condition, 100% original, 100% complete, and mechanically perfect. There is a miniscule stress fracture in the wood illustrated in the close-up view of the lock. The steel has a salt and pepper age patina.   Much scarcer than a Krider pocket derringer but doesn't cost more.  This didn't sell last week at  $1,650.00    how about $1,350.00 **SOLD**
1st North Carolina Infantry Canteen Spanish American War 1898

The 1st North Carolina in Havana Cuba


220823  Superb condition Indian War / Spanish American War canteen 100% complete including the strap and stopper.  The 1st North Carolina served in Cuba as part of the occupation forces following the cessation of hostilities.  On May 22, 1898, the 1st North Carolina Regiment was dispatched to Camp Cuba Libre in Jacksonville, Florida.  The regiment had been raised earlier that month, and trained at Camp Bryan Grimes in Raleigh.  After six months training in Florida the unit was shipped to Cuba and saw four months of occupation duty in Cuba between December 1898 and March 1899.  Didn't sell last week at  $295.00    I will let it go at $245.00   **SOLD**
CALL (419) 842-1863 NOW TO RESERVE YOUR ITEM!
220710   Near perfect blouse size Confederate Staff Officer's button with backmark of H.T.& B. Manchester.  A southern picker found twelve of these in a tin box on the original factory card.  I bought them all.  They were part of a family estate and the name of the CS officer may come to light. My friends at The Picket Post sold one in 2020 for over $900 and currently have one SALE PRICED on their page at $795.  I have a few left that I can sell at a most friendly…   This is roughly half the cost shown in the price guides.   $495.00 each
Telephone NOW if you wish to order this item.  First caller gets it!  (419) 842-1863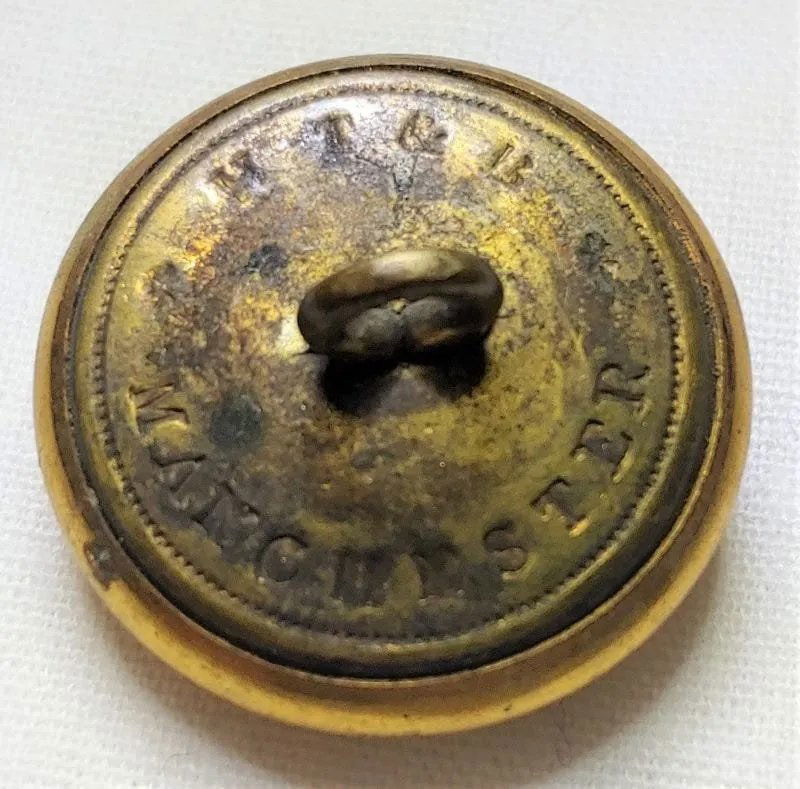 220806  SHARPS MODEL 1863 CAVALRY CARBINE:   The .52 caliber breech-loading Sharps was one of the most popular and widely used carbines of the war, seeing service in all theatres in scores of cavalry units, north and south (the latter also producing their own version.) It was very popular before the war, made famous  for its role with John Brown in Bloody Kansas, with extensive military service through the entire Civil War, and further continued use in the Indian Wars in its metallic cartridge incarnations. This is a very good Civil War percussion example of this popular and iconic cavalry weapon.
This carbine is very, very interesting.  It is a New Model 1863 carbine and so marked on the barrel.  The serial number on the tang at the wrist is clearly 34,927 which is far too low for a model 1863.  The underside of the barrel (under the forearm) is a cornucopia of Sharps factory markings.  There is number 84927.   To the left of 84927 is a letter X.  To the right is another Sharps serial 88722 that has been struck through each numeral with short horizontal slashes.  This carbine was unquestionably retrofitted and refurbished in 1863 or 1864.  The serial 34,927 on the tang could mean the frame was produced in 1860 or 1861 and was originally one of the early brass mounted 1859 models.  Or it could mean the frame was supposed to be C34927  (134927) but the worker forgot to stamp the C.  Or maybe the intended number was meant to be 84927 but the worker grabbed a numeral 3 die instead of the 8 die.  There is no way of knowing after 150 years.   The original barrel serial number was 88722 indicating 1863 or 64 production on a Model 1863.  When this gun was retrofitted in 1864 the man who stamped the serial numbers messed up.   A Monday morning gun for sure.
Carbine has standard  21½" long round barrel. Worn address stamped "SHARPS RIFLE / MANUFG CO. / HARTFORD, CONN" on top of barrel in front of rear sight. Worn  "NEW MODEL 1863" stamped to rear of sight. Wood is good with original finish and deep, rich color.  Screw heads show light wear.  Steel has been cleaned by a previous owner.  Maker markings and patent designations are worn but legible.  100% original and complete except for the small retaining teat that holds the hinge pin lever in place.  Bore rifling is worn.  A very solid and affordable real Sharps carbine. $2,150.00    Update —   Someone ordered this last week at  $1,950.00 but failed to send payment or respond to reminders.  It is again available at the ultra fair price of $1,950.00  **SOLD**

CALL (419) 842-1863 NOW TO RESERVE YOUR ITEM!
xxxxxxxxxxxxxx