Start Scrolling… then call to place your order.
The first caller gets the item.
CALL (419) 842-1863 NOW TO RESERVE YOUR ITEM!

220815  Extra fine condition Sharps 4-barrel .30 caliber pepperbox pistol. Around 85,000 Sharps antique derringers were produced from 1859 to 1868 in their various incarnations.   They were produced in .22  and .30 caliber.  After 1862 they were produced by Sharps & Hankins.  This is an early Civil War Model 2 with the standard C. Sharps firm and patent markings.  They were highly favored by gamblers and hard women, and a great many were carried during the Civil War as a last ditch defense.  This is truly Fine condition, retaining over 80% vivid lustrous factory blue finish and 50% original silver plate on the brass.  It is 100% original, 100% complete, mechanically perfect, and Very Pretty.  There is a little surface rust on the blue.  I just bought this yesterday and will let you carefully soak off the crust.  I had to argue with myself not to price this into four figures.  I really like this gun.  My kinder nature won out this time.  Super example, super deal…  $975.00   SOLD $875.00
CALL (419) 842-1863 NOW TO RESERVE YOUR ITEM!
220816  A large 41 caliber Philadelphia style percussion belt pistol made by the renowned John Krider of Philadelphia. The long octagon barrel is reminiscent of early Kentucky pistols, and is stamped  Philada. on the top flat.  This has a Deringer-style back action lock with sparse engraving and is signed Krider. Furniture is Deringer-style.  Trigger guard has the classic Deringer pineapple top finial, German silver nose cap and thumb piece.  The varnished walnut stock has a nicely checkered bag-style butt.  Krider was one of the best and most prolific makers in Philadelphia.  He started as an apprentice for immigrant gun maker Prosper Vallee and in 1839 bought the business and building at 2nd and Walnut from Vallee. This pistol shows many similarities to Vallee's pistols.  Krider made a great many good quality rifles, shotguns, pocket size derringers, and brass mounted militia rifles… but very few large size pistols such as this one. Overall Very Good condition, 100% original, 100% complete, and mechanically perfect. There is a miniscule stress fracture in the wood illustrated in the close-up view of the lock. The steel has a salt and pepper age patina.   Much scarcer than a Krider pocket derringer but doesn't cost more.  Was  $1,650.00    Now $1,350.00
220817  A fine sixth plate ambrotype of an Ohio volunteer armed and ready to meet Johnny Reb.  Our Buckeye Boy holds his Austrian Lorenz rifle across his chest.  Ohio troops were issued a great many Lorenz rifles.  The most interesting element of this image is the belt plate.  It is the rare and ultra desirable OVM buckle representing the Ohio Volunteer Militia.  This is the standard pattern OVM believed to have been made by Emerson Gaylord, though there are no known marked examples.  The image is in fine condition with excellent clarity and contrast.  The little blue spots shown near the buckle are the uniform buttons on his regulation infantry 9 button frock coat which the photographer highlighted with a dot of gilt which then oxidized.  The image is outstanding and housed in a standard sixth plate leatherette case missing the lid.  The only complaint I have is that our subject allowed the socket on his bayonet to partially obstruct our view of his buckle…  pretty thoughtless of him.  OVM images are as rare as images showing Confederate plates, and this one is priced very friendly.    $465.00  SOLD
CALL (419) 842-1863 NOW TO RESERVE YOUR ITEM!
xxxxxxxxxxxxxxxxxxxxxxxxxxx
220824  Confederate CS Army of Tennessee waist belt plate.  The iconic western theater Johnny Reb belt buckle in excellent dug condition… found back in the 1960s with a metal detector.  About perfect condition.  This is the style without "spin marks" around the hooks.  Outstanding. Dead Real. Guaranteed for life!  $3,250  SOLD
CALL (419) 842-1863 NOW TO RESERVE YOUR ITEM!
xxxxxxxxxxxxxxxxxxxxxxxxxxxxxxxxxxxxxxxxxxxxxxxxxxxxxxxxxxxxxxxxxxxxxxxxxxxx
220818  Lefaucheux Army Revolver.
M1854 12mm Lefaucheux pinfire revolver.   Double action 12mm produced at licensed production facilities at Liege, Belgium.  Tens of thousands were imported by both Union and Confederates.  In very good overall condition. Approximately 12" overall length, standard six-shot cylinder, standard 6 1/8" barrel.   Serial number "16522" is stamped on the left side of frame.  Maker's stamp is clearly visible on the left side of the barrel lug.   The iron trigger guard exhibits the distinctive "spur".  These were produced as double action guns.  Double action does not currently function.  The gun cocks on single action but the cylinder does not advance.   Loading gate is intact and functional as is original spring-held ejector rod.   All gunmetal is uniform in color with some hints of original finish.  Between September, 1861 and June, 1862, the Union Army purchased a total of 11,833 of these.   The Union Army also purchased 1,856,680 cartridges for these weapons.  Just needs a tune up.  $975.00
CALL (419) 842-1863 NOW TO RESERVE YOUR ITEM!
xxxxxxxxxxxxxxxxxxxxxxxxxxxxxxxxxxxxxxxxxxxxxxxxxxxxxxxxxxxxxxxxx
220825 Wonderful excavated CSA rectangular waist belt plate with undisturbed age patina, all three hooks firmly in place, and some really great casting flaws that give it great character.  Note the upper right hand corner of the plate.  The hooks are nicely turned up at the tips and the edges show the proper and expected file marks.  The quintessential Confederate infantryman's belt buckle. The real deal.  Guaranteed genuine forever!  $2,950.00   SOLD
CALL (419) 842-1863 NOW TO RESERVE YOUR ITEM!
xxxxxxxxxxxxxxxxxxxxxxxxxxxxxxxxxxxxxxxxxxxxxxxxxxxxxxxxxxxxxxxxx

220819  This regiment was organized at Mansfield, Ohio from Oct. 7 to 17, 1862.  Its' first action was in the Vicksburg campaign. The regiment was ordered to cover a working party engaged in laying a pontoon across Chickasaw bayou.  In the movement against Arkansas Post the regiment was in position on the extreme left of the line and charged directly upon the fort. In the battle of Port Gibson the loss of the regiment was 1 for every 8 it had engaged.  It was engaged in the attack on Jackson.  In August 1863 the regiment was ordered to Louisiana and remained there until the following May, when, while on the transport "City Belle," on Red river, near Snaggy point, it was attacked by a large force of Confederates where Colonel Spiegel was killed.  The majority of the regiment was compelled to surrender, and were sent to Tyler, Texas.
When the war broke out Spiegel was 32 years old.  Enlisted on 11/13/1861 as a 1st Lieutenant in the 67th Ohio.     He was discharged for promotion in the 120th Ohio on 10/2/1862.  He was soon promoted to Colonel of the regiment.   He was Killed May 3rd 1864 at Snaggy Point, Red River, LA.
Someone treasured this autographed portrait showing Spiegel in his Full Bird Colonel's uniform.  The fact that they housed it in a nice sixth plate daguerreotype case says a lot.  I have owned this eleven years.  I bought it locally and put it away in my personal collection.  I rediscovered it this week and realized I hadn't looked at it in over a decade.  Time to let someome else enjoy it.  I paid almost two hundred dollars for this eleven years ago!  Great piece of NW Ohio Civil War history.    $350.00    SOLD

220820  I bought this portrait at the same auction on the same day I got Spiegel's portrait above… eleven years ago.  This is Major Joseph H. Whittlesey.  He was a career Army Officer.  Here is his biography…
Joseph H. Whittlesey was born in New York, he was graduated from the Military Academy on the 1st of July, 1844, and assigned to the Second Dragoons (now Second Cavalry) as a brevet second lieutenant. He was appointed a second lieutenant in the First Dragoons (now First Cavalry) September 18, 1845, and promoted a first lieutenant October 18, 1847. He served as adjutant of his regiment from September 30, 1851, until he was promoted a captain, to date from October 22, 1854. He joined at Fort Jesup, La. (acting adjutant of the Second Dragoons June- July, 1845), and served in the military occupation of Texas and in the Mexican War, and was made a brevet first lieutenant, to date from February 23, 1847, for gallant and meritorious conduct at the battle of Buena Vista. He was transferred to New Mexico in 1848, where he served until 1852; had stations at Santa Fe, Taos, Rayado, and Fort Union, and was engaged in an Indian skirmish at El Cerro del Olla on the 13th of March, 1849.
He served at Fort Leavenworth, 1852-54, and at Fort Union until 1856. After a tour of service at Carlisle he was transferred to Oregon and employed in operations against hostile Indians until the beginning of the war of the Rebellion.
He then returned East and was promoted to major in the regiment, to date from November 12, 1861, and commanded it from the 14th of January to the 21st of May, 1862. He served in the defenses of Washington during the winter of 1861-62; participated in the Virginia Peninsular campaign, and was engaged in the siege of Yorktown and in the battle of Williamsburg.  He was captured at Winchester, Va., on the 25th of May, 1862, and held as a prisoner of war until September 30, 1862.  He was exchanged in a prisoner swap for Confederate George M Edgar of the 26th Virginia Regiment.
Major Whittlesey was retired from active service on the 30th of November, 1863, for disability resulting from long and faithful service and from disease and exposure in the line of duty.  He was professor of military science at the Cornell University of New York from June, 1868, to July, 1870. He resided at Winchester, Va., until the 3d of December, 1876, when he was appointed treasurer of the Soldiers' Home, D. C, and continued in the discharge of the duties of that office until July 15, 1881, when he returned to his home in Winchester, Va.  Housed in a sixth plate dagurreotype case with a mismatched lid.  Spine split.  $350.00  SOLD
CALL (419) 842-1863 NOW TO RESERVE YOUR ITEM!
Union Infantryman with Austrian Lorenz Rifle
220821  A fine crisp ninth plate tintype photo showing a Yankee volunteer in his regulation Army Issue 9-button infantry frock coat, and showing off his Austrian Lorenz rifle.  He sports slightly long hair which curls over his ears.  In addition he has New England style jowl whiskers and a delicate (almost invisible) mustache.  He might have been wiser to just stay clean shaven.  If h e was shooting for a He-Man Woman Haters appearance with those whiskers…  he missed his mark.  Superb condition.  The spots shown are simply dust.  Housed in a half leatherette case.  $275.00   SOLD
CALL (419) 842-1863 NOW TO RESERVE YOUR ITEM!
220822   HISTORY OF THE 9th MICHIGAN INFANTRY.  I have owned this regimental history for decades, and it was very expensive when I bought it.  It's a very scarce book.  1913 1st edition. Solid and overall very good condition.  Has the standard dark green cloth binding, with bright gilt-lettering.   76 pgs., fold-out plate at rear. Also includes "Four Years Campaigning in the Army of the Cumberland" by Chalres W. Bennett.  I have no idea what the current value is, though the web-site bookfinder.com has several copies listed in the $750 price range.  I also found one that sold through LiveAuctioneers for around 300 with the premium.  The book is offered here,  the images are not for sale.  $275.00 SOLD
1st North Carolina Infantry Canteen Spanish American War 1898

The 1st North Carolina in Havana Cuba


220823  Superb condition Indian War / Spanish American War canteen 100% complete including the strap and stopper.  The 1st North Carolina served in Cuba as part of the occupation forces following the cessation of hostilities.  On May 22, 1898, the 1st North Carolina Regiment was dispatched to Camp Cuba Libre in Jacksonville, Florida.  The regiment had been raised earlier that month, and trained at Camp Bryan Grimes in Raleigh.  After six months training in Florida the unit was shipped to Cuba and saw four months of occupation duty in Cuba between December 1898 and March 1899.  Was $295.00    Now  $245.00
CALL (419) 842-1863 NOW TO RESERVE YOUR ITEM!
XXXXXXXXXXXXXXXXXXXXXXXXXXXXXXXXXXXXXX
220802  Just the thing for junior's lunch box.  Ethan Allen seven shot 22 caliber vest pocket revolver.  100% original, 100% complete.  2.5 inch octagon barrel.  8th variation.  This cocks and indexes but does not lock-up.  Marked on the left barrel flat  ETHAN ALLEN & Co. WORCESTER MASS /  ALLEN'S PATENTS SEPT. 7    NOV 9   1858   SEPT 24 1861. Varnished walnut birdshead grips are excellent.  Steel is gun metal gray.  Flayderman estimated production at 1500 pieces.  Looks like he guessed a little on the low side,  this gun is serial 1525.    Was  $295.00  This did not sell last week… How About    $235.00
Telephone NOW if you wish to order this item.  First caller gets it!  (419) 842-1863

220806  SHARPS MODEL 1863 CAVALRY CARBINE:   The .52 caliber breech-loading Sharps was one of the most popular and widely used carbines of the war, seeing service in all theatres in scores of cavalry units, north and south (the latter also producing their own version.) It was very popular before the war, made famous  for its role with John Brown in Bloody Kansas, with extensive military service through the entire Civil War, and further continued use in the Indian Wars in its metallic cartridge incarnations. This is a very good Civil War percussion example of this popular and iconic cavalry weapon.
This carbine is very, very interesting.  It is a New Model 1863 carbine and so marked on the barrel.  The serial number on the tang at the wrist is clearly 34,927 which is far too low for a model 1863.  The underside of the barrel (under the forearm) is a cornucopia of Sharps factory markings.  There is number 84927.   To the left of 84927 is a letter X.  To the right is another Sharps serial 88722 that has been struck through each numeral with short horizontal slashes.  This carbine was unquestionably retrofitted and refurbished in 1863 or 1864.  The serial 34,927 on the tang means the frame was produced in 1860 or 1861 and was originally one of the early brass mounted 1859 models.  Or it could mean the frame was supposed to be C34927 but the worker forgot to stamp the C.   The original barrel serial number was 88722 indicating 1863 or 64 production on a Model 1863.  When this gun was retrofitted in 1864 the man who stamped the serial number on the barrel intended to copy the tang number but struck the first numeral as 8 instead of 3.  A Monday morning gun for sure.
Carbine has standard  21½" long round barrel. Worn address stamped "SHARPS RIFLE / MANUFG CO. / HARTFORD, CONN" on top of barrel in front of rear sight. Worn  "NEW MODEL 1863" stamped to rear of sight. Wood is good with original finish and deep, rich color.  Screw heads show light wear.  Steel has been cleaned by a previous owner.  Maker markings and patent designations are worn but legible.  100% original and complete except for the small retaining teat that holds the hinge pin lever in place.  Bore rifling is worn.  A very solid and affordable real Sharps carbine. $2,150.00    Update — This did not sell last week at what I thought was a pretty fair deal at 2,150 …  How about  $1,950.00
CALL (419) 842-1863 NOW TO RESERVE YOUR ITEM!
220812    Very  nice example of the USN model 1860 Navy Cutlass with the original scabbard.  Deeply marked with manufacture date of "1862" as well as "USN" and the inspector's initials.  The reverse side bears a very worn but still visible maker's stamp"AMES MFG. CO. / CHICOPEE / MASS."  The leather wrapped grip is VG with some surface chips in the finish that can be easily dressed with a little shoe polish.  Brass basket guard in very fine condition with excellent patina.  Blade is likewise VG+ smooth gray steel.  The scabbard is very solid and is the original CW issue in black leather with copper rivets. (I recently learned that the Coast Guard still used these well into 1900s and that they removed the sheet brass basket guards leaving only the heavy cast brass D-Guard section in place.)  The very tip of the scabbard is worn away so the tip of cutlass blade just pokes through a small amount.   $950.00
Update — This did not sell last week  …  How about  $850.00 ????        SOLD
(Sailor image is clip-art)

Telephone NOW if you wish to order this item.  First caller gets it!  (419) 842-1863
Telephone NOW if you wish to order this item.  First caller gets it!  (419) 842-1863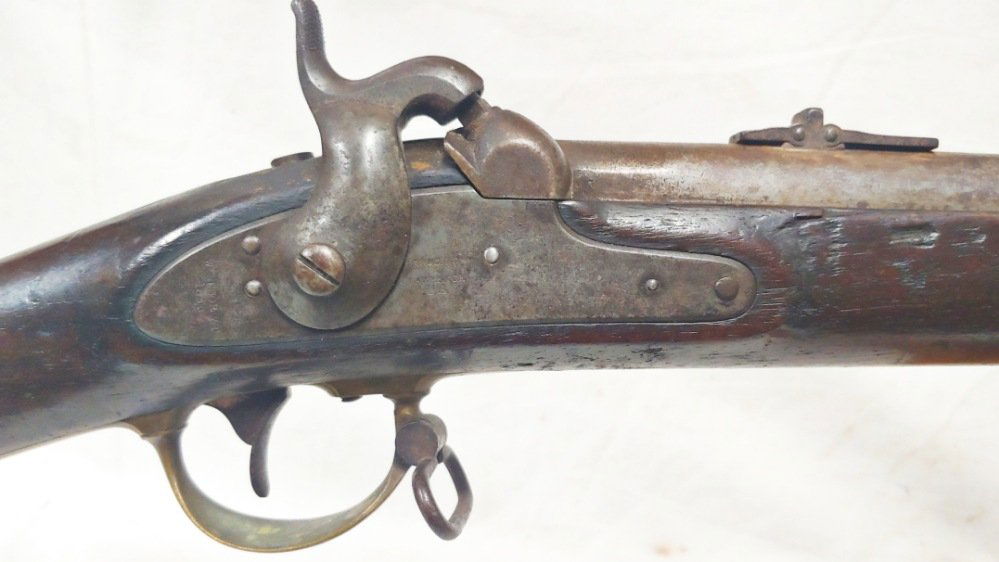 220706   Colt alterations of "Mississippi Rifles" are described on p. 156-159 of -American Military Shoulder Arms, Volume III- by George Moller.  This rifle is a classic example of the Colt alteration.  It was converted from .54 to .58 caliber (seven-groove rifling) by Colt and equipped with the Colt Model 1855 revolving rifle rear sight and a ring mounted bayonet stud.  These were fitted with saber bayonets originally numbered to the guns. No bayonet present.    In 1861, Colt purchased  11,368 Model 1841 rifles from the Ordnance Department for $10.00 a piece. Colt then altered them to accept .58 caliber Minie balls and bayonets under an agreement to sell them all back once the alterations were performed.   By June of 1862, Colt had sold 10,411 of these converted rifles back to the government for $18.50 a piece and made a quick and handsome profit. He then sold the rest to the state of Connecticut against his original agreement with the feds.  The barrel has the correct brass blade front sight, 500 yard Colt three-leaf rear sight, and the clamp-on band with bayonet stud.  The lock is marked "E. WHITNEY/U.S." at the center and "N. HAVEN/185?" on the tail. -US- is marked on the brass butt-plate tang. Barrel markings are sharp as is the barrel tang date.  Very good with smooth mottled grey patina on the barrel and lock, bright brass fittings, and general mild wear. Stock is likewise very good with some expected scratches and dings from real wartime service.   Mechanically excellent.  This did not sell last week at $1950 which surprised me.  How about….   $1,750.00  (1,750 is a gift)
Telephone NOW if you wish to order this item.  First caller gets it!  (419) 842-1863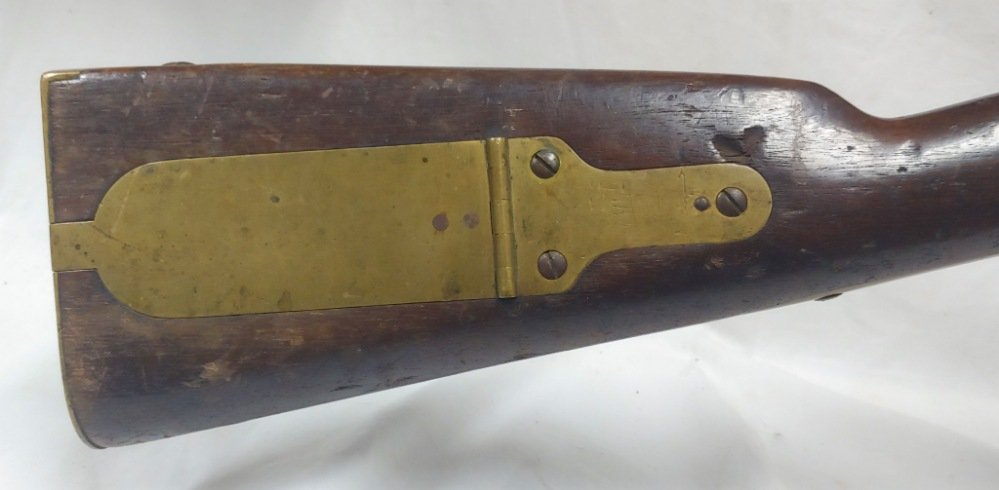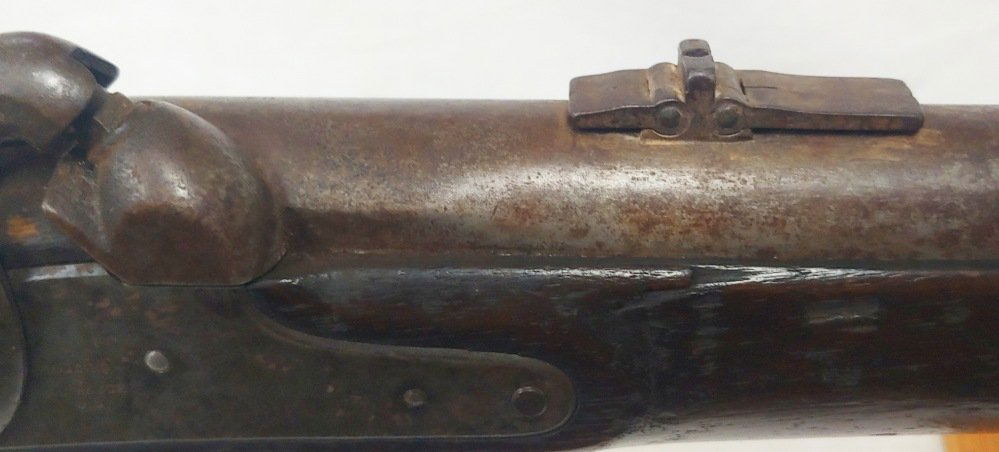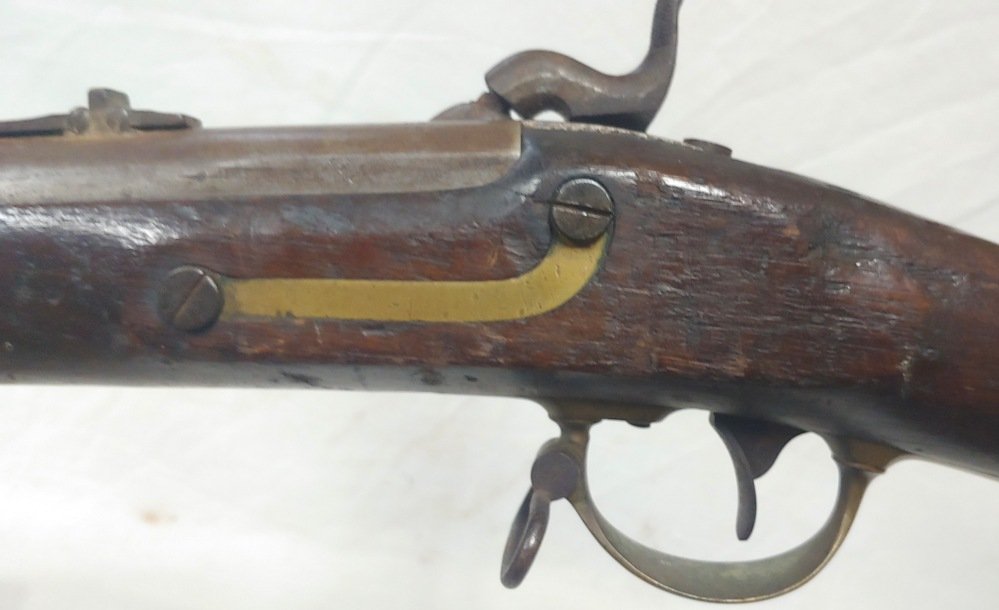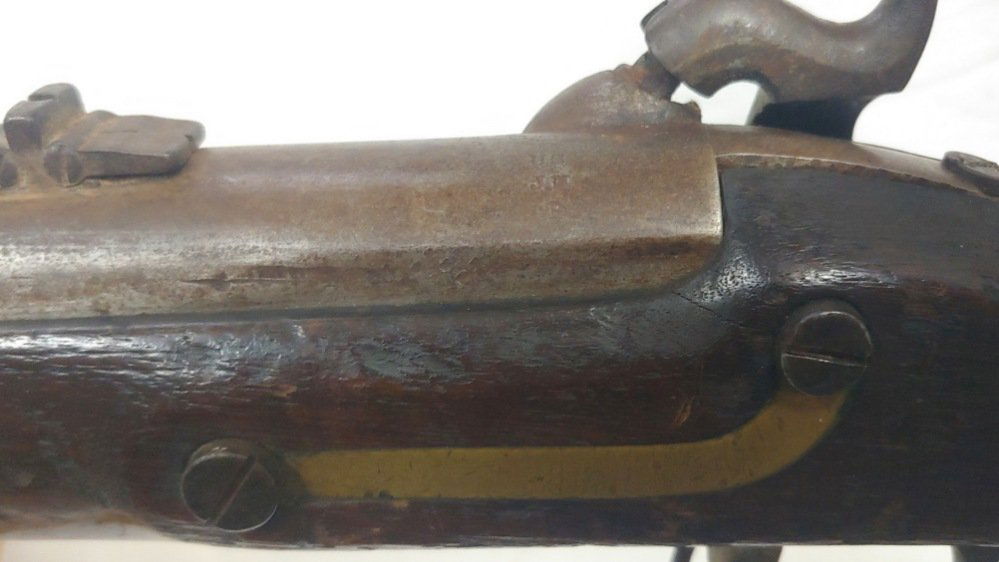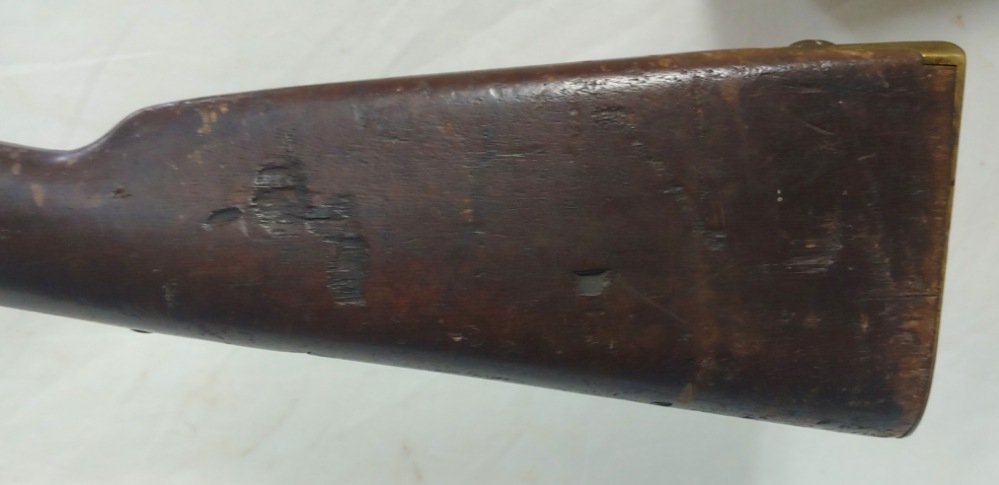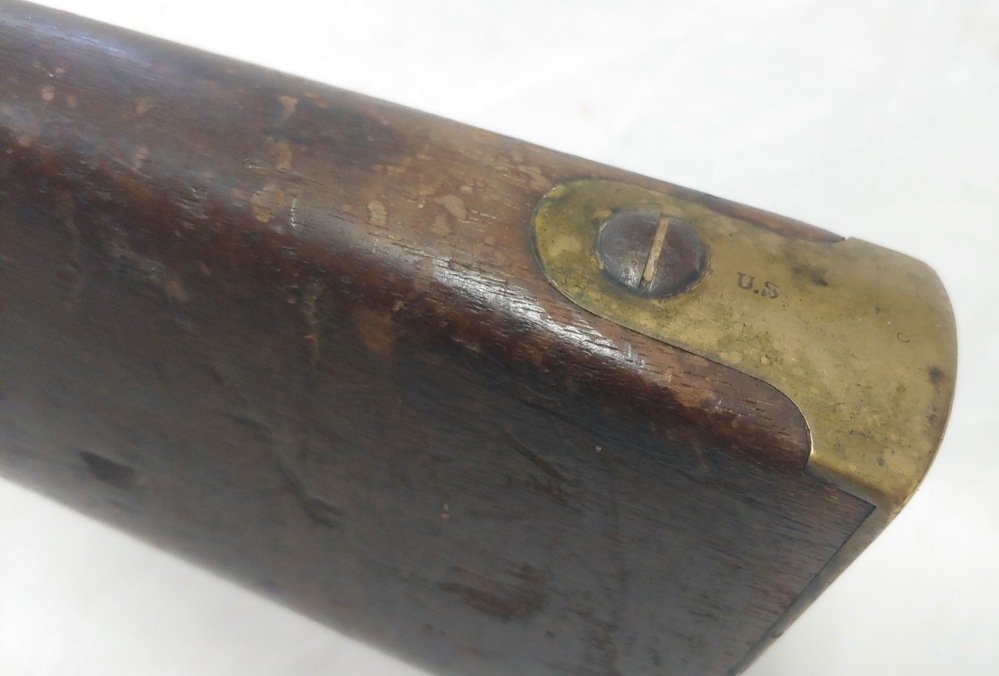 220710   Near perfect blouse size Confederate Staff Officer's button with backmark of H.T.& B. Manchester.  A southern picker found twelve of these in a tin box on the original factory card.  I bought them all.  They were part of a family estate and the name of the CS officer may come to light. My friends at The Picket Post sold one in 2020 for over $900 and currently have one SALE PRICED on their page at $795.  I have a few left that I can sell at a most friendly…   This is roughly half the cost shown in the price guides.   $495.00 each
Telephone NOW if you wish to order this item.  First caller gets it!  (419) 842-1863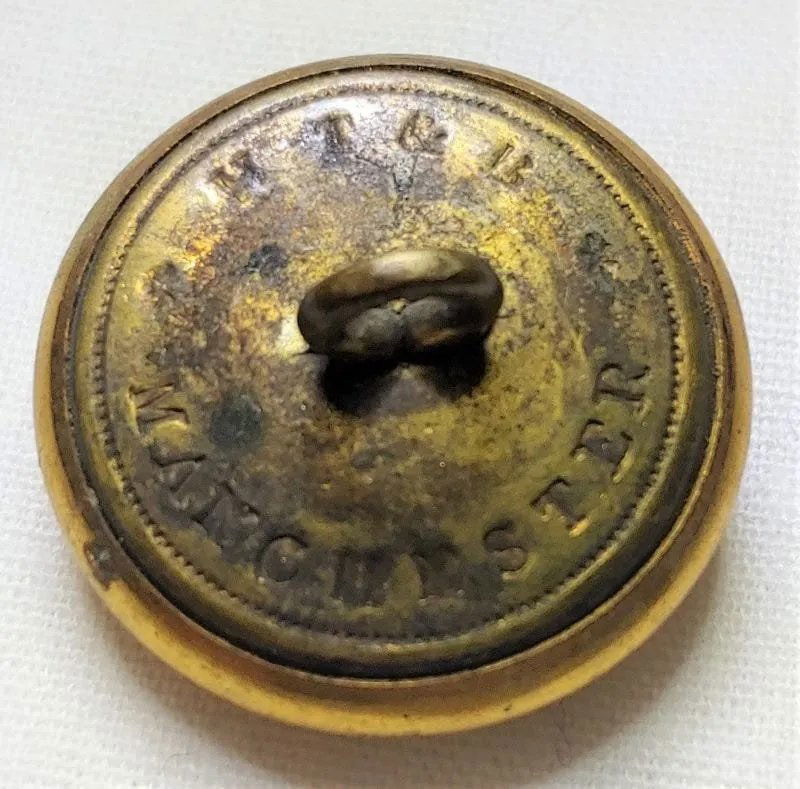 xxxxxxxxxxxxxxxxxxxxxxxxxxxxxxxxxxxxxxxxxxxxxxxxxxxxxxxxxxxxxxx