Sharps Saddle Ring Cavalry Carbine
   (California Cavalry?)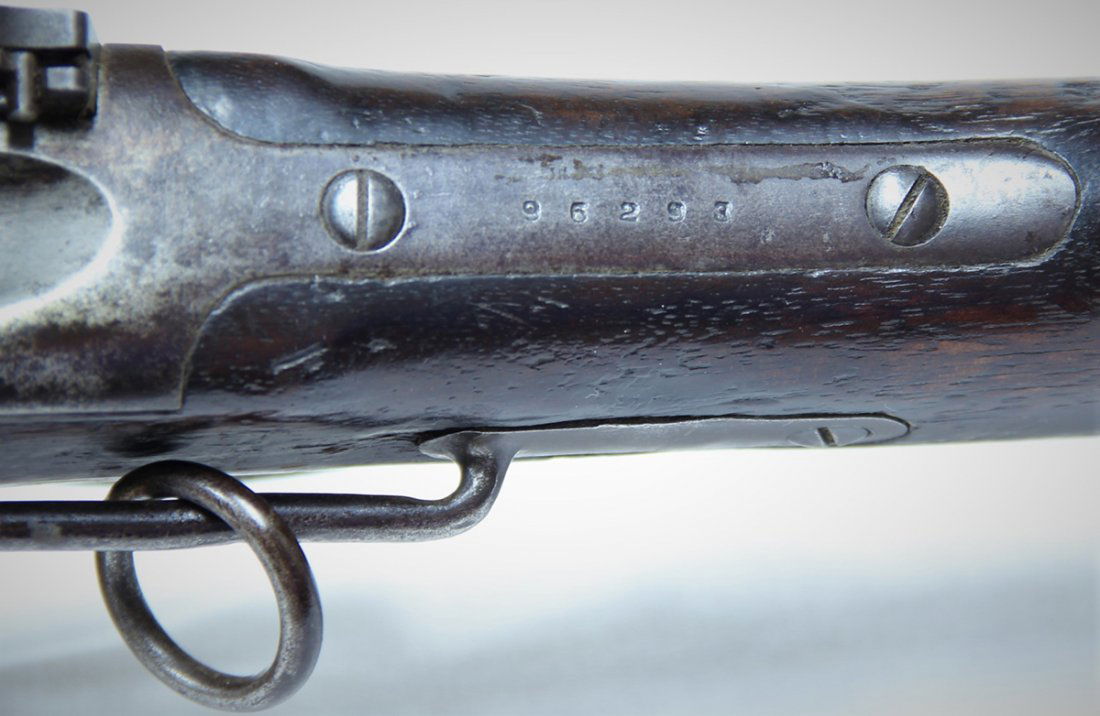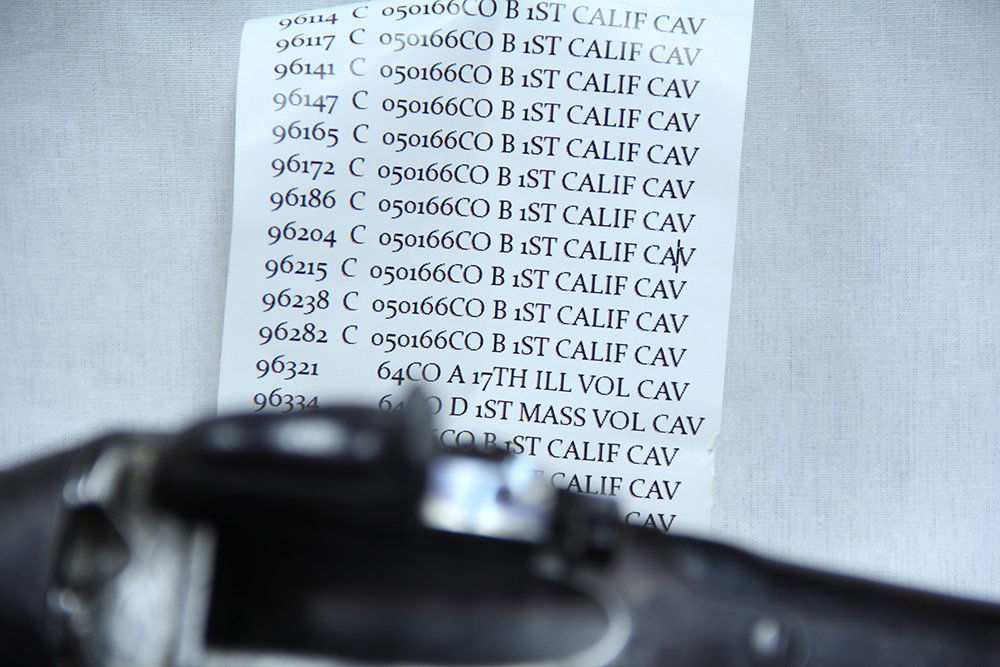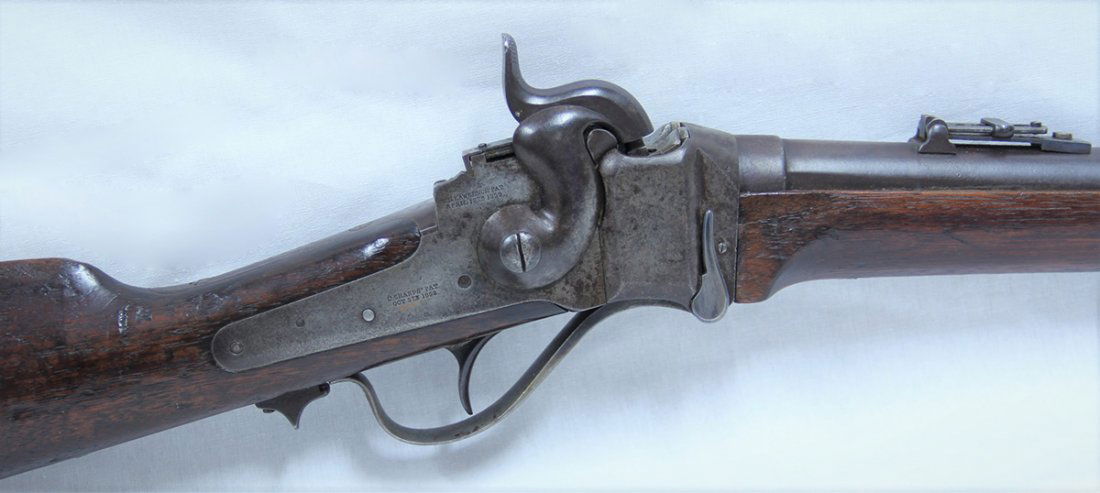 20-04-01  Early Production Model 1863 Sharps carbine, World famous .52 caliber  breechloader invented and patented by Hartford, Connecticut native Christian Sharps.  Very good condition serial # 96,293 which is in the range of Sharps issued to the California cavalry.   21.5 inch barrel, straight-breech. Barrel address strong with SHARPS RIFLE / MANUFG CO. / HARTFORD, CONN.   in front of rear sight. NEW MODEL 1863. stamped to rear of sight. Stock and forend VG with light coating of shellac or lacquer.   Metal is uniformly age patinated mixed with a mottled gray. Bore is VG with its six-groove rifling. 100% original, 100% complete, and mechanically perfect.  The cheek side of the butt stock has the unmistakable vertical rub marks of true saddle wear showing this one saw service in the cavalry.  The serial number is right in the midst of those known to have been issued to the 1st California Cavalry — BUT — this number is NOT listed in the surviving issue records for that regiment.  This is what Springfield Research Services called a "range match".  A good solid Civil War Sharps priced affordably..  $1,850.00   SOLD
Call us @ 419-842-1863

Model 1842 Musket marked by New Jersey


20-04-02  Model 1842 US Springfield infantry musket issued by New Jersey. 100% original, 100% complete, and mechanically excellent. The 1842 was the last .69 caliber smoothbore weapon to be manufactured and issued to the US military. It went into production at Springfield Arsenal in 1844, with 2,956 guns being delivered that year. Production at Harper's Ferry began in 1845, and that armory delivered 2,225 that year. The muskets were produced until 1855. Springfield producing 165,970 and Harpers Ferry producing 106,629, making the total production a hefty and generous 272,599. The M-1842 musket saw significant use during the American Civil War from beginning to end.   Lock markings are clear with date of 1848.  Barrel breech proof marks and eagle's head are visible and legible.  The date on the tang is buried under rust or obliterated. Both sling swivels are intact.  The ramrod is the proper trumpet contour style.  I cannot see the inspector's cartouche on the counter pane which is NOT unusual on the model 1842. They frequently appear with no wood stampings whatsoever.   Metal is mottled grey steel mixed with age brown spots and areas of light pitting.   Stock and barrel surcharged "N J"  Overall VG condition showing honest age and handling but no abuse.  I think you will look long and hard before finding another complete American made Civil War musket with state identification at this price…  $750.00   SOLD
Call us @ 419-842-1863
A Real Matched Pair of Truly Fine Condition
Colt Model 1849 Pocket Revolvers
That Have Been together for 150 Years.
20-04-03  A genuine matching pair of Colt pocket revolvers. Serial numbers 312636 and 312811. Both manufactured within a day or two of each other in 1869, with matching fine condition and patina, and less than 200 numbers apart.  These are NRA fine condition with generous amounts of blue finish remaining and generous traces of case color also present.  Each gun is 100% original, 100% complete, Mechanically perfect, and has all matching serial numbers including the wedge.  The loading levers on these are not numbered which is absolutely correct and proper for Colts in this serial range.  The near perfect walnut grips on both rate excellent plus. Both grips have the desirable varnished red-orange color and tone as seen on fine condition Henry Rifles.  Far prettier than the military oiled walnut grips we see so often.   Medium patina on the brass on each gun, a tad darker on 811. 35% to 40% matching thin blue on both 4 inch barrels and matching traces of case color on both frames. The cylinder on 811 shows a bit more brown and slightly less crisp scene and marks, but both are nicely visible. 636 also shows a slightly sharper barrel address, so it looks like 811 was the pistol the owner carried more. Probably the "right hand gun". These would look great cased together if you happen to know where an empty 2-gun casing can be found, or if you want to make or buy a custom box, that would be neat. Or… if you have a pair of period holsters and a belt, (or buy same at the next antique arms show), that would really make a heck of a western frontier display with these great old matched Colts. A very handsome, true matched pair of very early western Colt pockets.  Each gun is easily worth the better part of two thousand dollars individually.  Matched pairs generally bring double the value.  I will sell this pair for $3,950.00
Call us @ 419-842-1863

20-04-04 ALLEN AND WHEELOCK LONG BARREL SIDE HAMMER POCKET REVOLVER…
This A&W has a 3 ¾ inch barrel and is 7 ½ inches overall. It is six shot and .32 rimfire. The 1858 two-line patent stamp on the left flat is crisp and the July 3, 1860 stamp on the left frame forward of the cylinder is light, but legible. The metal is a mix of dull silver and gray, with a little brown. The metal is smooth overall with a few light dots on the right frame forward of the cylinder. The cylinder is a bit dark, the scene is nicely visible. The brass front sight is mortised, and the cylinder pin has a cylindrical head and latch below as seen on the .22 caliber versions. The grips are excellent. The barrel shows number 452, but these are batch numbers rather than serial numbers for the whole manufacturing run. All original and mechanically fine. These are interesting pistols with lots of variations for the collector. Comfortably affordable.  $495.00 
Call us @ 419-842-1863

20-04-05  FACTORY ENGRAVED SHARPS PEPPERBOX WITH FAUX IVORY GRIPS;
A beautiful little 22 caliber four-shot derringer. Marked "Sharps & Co. Philad'a PA." on the lower left side of the barrel assembly. Marked "C. Sharps Patent 1859" on the right side. The ingenious rotating firing pin in the hammer made these repeating derringers feasible and they were favorite vest pocket arms of gamblers, soldiers, saloon girls, etc… The frame is fully covered with the highest quality flowering scroll New York style engraving matching the original relief decorated faux ivory (aka Vegetable Ivory) grips made to appear to be carved elephant ivory. Serial number 1319. Mechanism is good and functions fine with just a little sloppiness. There is no finish remaining. There is a little powdery pitting on the left side. Some wear and small stains are present on the raised areas of the grips from handling and there is a slight gap at the butt strap from age. This is a very high class little pistol with the faux ivory or gutta percha grips colored to imitate real ivory. Factory engraved derringers with deluxe grips are darn rare in the gun collecting world. I believe this is a very good deal at…  $1350.00 zzaajjxx
Call us @ 419-842-1863
****************************************************
Civil War Soldier Mending His Uniform With Needle & Thread

20-04-06 I purchased this military sewing kit, housewife, earlier this year at Garth's Auction in Columbus.  It was housed in a wall frame with the colorful interior materials on display. It looked quite nice that way.  The exterior is black oilcloth which is the material most often used to make sewing kits for Civil War soldiers.  When I removed the kit from the frame I found a modern 20th century note inside which reads  — Sewing kit carried by W.R. Goodman in Civil War —  There are numerous soldiers with that name in the records.    Exterior is black oilcloth which is bound at the closure end in faded red, white, and blue cloth tape.  The interior lining is a mix of folksy red, brown, and green cloth prints.  Two pockets are present for holding thread, buttons, thimble, etc…  Two large pieces of patching material are still affixed to the interior.  The original black cloth-tape closing tie-strap is gone, and a piece of string now serves that purpose.   This is about as classic a Civil War soldier's sewing kit as you are going to find.  $225.00   SOLD
Call us @ 419-842-1863
Freshly Found Civil War Officer's Sword – Peterson #75
20-04-07  Fresh from an old time auction in Ypsilanti,  Michigan last week is this Civil War steel mounted officer's sword.  It is in very, very good condition and is 100% original and 100% complete.  These non regulation swords were extremely popular with Union officers as they were solid, sturdy, light weight, and not expensive.  I have owned dozens over the years including one carried by General Phil Sheridan that he gave to one of the early directors of the Smithsonian along with a letter written by Sheridan stating that he had carried the sword in the war and found it very much to his taste and liking.  I kind of wish I had kept that one.  Mid 20th century sword scholar and author Harold Peterson illustrated and described this pattern in his book THE AMERICAN SWORD.  It was figure 75 in the illustrations, and collectors have called it a Peterson 75 for the past fifty years or more.  Overall length in the scabbard is 40″. Grip retains all the pebble grain shagreen covering and triple twisted copper wire wrap.  Blade bears PROVED cartouche.  Blade etching is quite worn but still visible with a handsome eagle and nicely presented US motif in bold wide letters.  A really handsome and appealing Civil War sword with US eagle forming the hand guard.  These were the battlefield work horses in the world of officer's swords.  Priced as friendly as I can make it.  $655.00 SOLD
**********************************
Very Attractive Fine Condition 1849 Colt Pocket Revolver

20-04-08  Top notch Model 1849, 31 caliber Colt Pocket Revolver as carried by tens of thousands of gold seekers in California and even more military men during the Civil War. This gun was Colts largest production run of the 19th century,  and this specimen is an extra fine example.  100% original, 100% complete, mechanically perfect.  It has all matching serial numbers 148,721 which was produced in 1858.  Retains nice thin traces of blue on the barrel, a lot of silver plate remains on the trigger guard, and the frame shows rumors of gentle case color.   I would rate it VG+++  or near fine.  Very nice gun….   $1,150.00 SOLD
Call us @ 419-842-1863

20-04-09  U.S. regulation bayonet for the .58 caliber rifle musket, the standard Civil War infantry long arm. The bayonet has a good, smooth surface with not rust, pitting or nicks. The color is a subdued silver gray with some darker gray age spots here and there. The locking ring is present and turns freely. The socket is a tad darker than the blade, which is usual since the blade was sheathed and less exposed to the air. The scabbard is regulation and complete with not breaks or bends. The brass tip is firmly affixed. The collar and belt loop are intact and tight. This pattern uses 7 rivets to secure the collar and loop, but still uses just the stitching at the throat to secure the body to the collar. Minor crazing to the surface of the leather. Good color and finish overall.   $265.00   SOLD                                                                                                                                  vv190106zz
Call us @ 419-842-1863
20-04-10  Regulation socket bayonet for the US Model 1816 US Musket.  Overall VG condition.  Mostly steel grey in color with speckled areas of pitting and age staining.  Nicely marked on the ricasso with US and inspector's initials.  This fits the flintlock and the percussion conversion M-1816 muskets and is appropriate for display with militaria from the Mexican War through the Civil War.  Priced nice at $135.00 SOLD
Call us @ 419-842-1863
**************************
20-04-11  EYE CATCHING TINTYPE ARMED YANKEE 2nd LIEUTENANT STANDING IN FRONT OF A TENTED CAMP SCENE BACKDROP:
This is a sharp and clear, larger than CDV size tintype showing a very lean and handsome Union Army infantry lieutenant full standing. He sports a forage cap with insignia. His sash is beautifully whisper tinted crimson and his trousers are likewise delicately rumor dusted sky blue by the photographer, his battle sword is at his side. The photographer's backdrop of the tent filled camp scene is not one I recall seeing previously. Have you? It is distinctive enough that it may be possible to identify the artist and location. A fine mid war image with excellent clarity, condition, and contrast.  $295.00                                                                                            190108
Call us @ 419-842-1863

20-04-12  CASED ENGLISH "TRANSITION REVOLVER"
I love these 1850 era repeaters that are half pepperbox and half revolver. The truncated forend is an acquired taste, and they have an English elegance all their own. Very upper class in apperance. This one has smooth steel with a good 40 or 50 percent of its factory blue intact. It bears very nice floral engraving on the receiver, trigger guard and butt cap, as well as some touches around the muzzle and the top of the bar hammer. High quality and attractive. The fully checkered grips are very good and fit tightly. The cylinder has touches of original case hardening that blends well with the rest of the gun. The hammer likewise retains generous case color. This double-action pistol bears British proof marks. The top barrel flat is nicely engraved, "Improved Revolving Pistol." The casing is outstanding, with deep blue velvet lining and compartments holding wrench, bullet mold, powder flask, oiler, cap tin and a couple of round balls Top end set. Looks like a multi thousand dollar museum gem. Very fairly priced at                  $2,250.00         SOLD            qr190307ty
Michigan Civil War Buttons
20-04-14     4 Michigan cuff or vest buttons. Bears the state seal of elk and moose.  (No Boris, Not Moose and Squirrel.)  " SCOVILL MF'G CO WATERBURY" depressed stamped back-mark, with single ring of dots, (15mm)
These scarce little buttons are stamped with the state seal of Michigan, and were made for officers of Michigan state units and are frequently found on documented CW uniforms from the low numbered regiments early in the war. These small size buttons have an empty shield in the center. The coat size buttons have a tiny hunter or soldier in the shield. Backmark:"SCOVILL MF'G. CO. / WATERBURY." And an inner ring of dots, this is the abbreviated version of the Scovill series of depressed mark early 1860's buttons. Albert MG4, Tice MG205As7.  A quick check of the internet shows me that Horse Soldier Shop and Union Drummer Boy Shop (both in Gettysburg) each have a coat size version of this button priced at $250.00  Horse Soldier shows they SOLD a small cuff / vest button at $100.  The cheapest I can find on the net is William Leigh,  CW Button Expert from Virginia and all around nice guy.  He has a Scovill marked small button like ours at $45.   I found a small baby food jar of these buttons for very little money.  I can supply a few lots of 4 buttons each… and when they are gone, THEY'RE GONE.  HAVE THREE SETS REMAINING AS OF 4/24/20
Here is a classic DWT – Friends and Relatives deal – for you…  Four Buttons …. $100.00  !   You can sew two of them on each of your cuffs and show 'em off.
***************************
CDV Rochester NY Soldier in Wonderful Duster.
20-04-15 This full standing view is backmarked by Squiers of Rochester and has a period pencil identification of the subject as "Charley" written partially over the photographer's logo on the reverse. There is no sign of a tax stamp, so it was taken sometime before Fall 1864. Charley rests his hand on the back of Mr. Squiers' chair and holds his issue forage cap down at his side to show the viewer that he is a soldier, but not particularly interested in showing off about it. He has donned a decent necktie for the camera, but his footwear is obviously just "work shoes".   He is either wearing extremely heavy weight wrinkled denim trousers over boots, or he is wearing very tall false boots (half boots) over his shoes. We may be looking at heavy canvas or leather false boots.   The deep creases and folds in the thick cloth or leather over his lower legs is very similar to what we see with well used boots. (Or dirty trousers saturated with horse sweat that have been worn for a week or so.) Charley also wears a plain light color duster which is a piece of clothing almost never seen in photographs, and which is generally associated with mounted service or cowboys. There is no insignia indicating his branch of service, but the duster and footwear tells me he is likely cavalry. The 8th New York Cavalry included a large number of men from the Rochester area. Perhaps our boy served with them in the desperate fights at Winchester and Gettysburg.. Or perhaps Charley just shoveled shit at some Army remount facility. I'll let you choose.   Neat photo   It didn't sell last month at $85….   How about $50.oo ??? Seems cheap to me. FIFTY BUCKS $50 SOLD
Military Themed Tobacco Box Late 18th or Early 19th Century
20-04-16 A classic Dutch tobacco box. Cover is engraved with female Britania stroking her lion amidst an arrangement of cannon, flags, kegs, and military equipment. She holds her spear/trident in her left hand. I can't really read Dutch but the motto below says something about Britain always hoists something… and maybe a reference to the west. The back is engraved with two horsemen firing pistols at one another with the bullets flying toward their intended marks. That side is engraved with something about Dutchmen being like lions. It is likely the Dutch making fun of the English in a manner that made sense at the time. Didn't sell last month at $395.00…. How about $295.00 ?
Incredibly Rare War of 1812 Era Arsenal PACKAGE of Bayonet Scabbards!



20-04-17    MISC018 – Incredibly Cool 1812 to 1820s Arsenal Pack of Bayonet Scabbards: The scabbards are similar to 1816 US patterns with brass throats and drags, but they are British for the Bess muskets. There are four scabbards still present (one lacks the brass tip and one has an incorrect tip) but the cool part is the accompanying original thick brown paper wrapper with the original printed green label which reads "10 Bayonet Scabbards".  Even the original twine is still present.  One of my bayonet guru friends informs me that he believes they are Hawke Moseley & Co. products which were in use from 1812 to 1830s. He says Bannerman and company offered these for sale in the old days and this must be the remnant of one of those ancient packages. If you have a display of War of 1812 or Mexican War weapons this would make one heck of a great addition. I doubt you will find another such item for sale anywhere this year — $650.00
Indian War / S.A.W.  Canteen Complete w/ Cover, Strap, & Stopper
20-04-18  Indian War / Spanish American War US Canteen with the PROPER strap:  A complete regulation example right down to the correct and proper leather shoulder strap.  Most of these we see have haversack straps affixed.  The haversack strap is contoured to be narrow where it joins the canteen, and wide where it rests on the shoulder.  The true canteen strap is the one shown here, uniformly just over an inch wide.  They have always been somewhat scarce, and for a very short while they sold for thousands of dollars.
Interestingly and sadly, a well known book on antique arms contains a photograph of a Henry Rifle with one of these Spanish American War canteen straps affixed.  This error caused a lot of financial pain for a lot of uninformed collectors.  Over a period of two or three years clever gun traders capitalized on the flawed photo and text in the gun book.  A few shrewd sellers consigned their SAW canteen straps to auction houses where they were described as ultra rare Henry rifle slings, and accompanied by a copy of the page in the book.  Initially bidders bid as high as $3,000 for a sling.    An Ohio auction company sold several over two years from the same consignor with each succeeding sale showing dramatically lower hammer prices. 3,000, 2000, 1500, 700, Passed.    Those of us who knew the score watched in wonderment and amusement as telephone bidders wasted thousands of dollars on $75 straps.
So here you can get a great Indian War canteen complete and the $3,000.00 Henry Rifle sling is free.   $150.00 SOLD