Call (419) 842-1863 to place your order.
Fine Condition Spencer Repeating Carbine
20-01-00   This fine antique Spencer turned up last weekend at a tiny gun show in Mason, Michigan.  A retirement age couple wished to sell it and they were asking $2,500.00 after researching the gun on Go0gle.  I doubt there was much more than $2,500 present inside the entire show.  Helper Chuck made them an offer and got this bought.    It is a truly NRA "FINE" condition model 1865 Spencer with near perfect wood, crisp inspector's cartouche, shiny bore, most of the barrel blue present in the form of plum blue-brown patina.  The breech block retains 80% vivid case colors when the lever is pulled.  It is 100% original, 100% complete, and mechanically perfect.  It has the Stabler's cutoff device in front of the trigger which allowed the trooper to fire the gun, eject his cartridge, and NOT re-chamber the next round.  Prior to this feature it was not possible to eject a cartridge without simultaneously chambering the next.  $1,975.00  SOLD
.
.
.
Call (419) 842-1863 to place your order.
.
.
Tintype Photo Union Army Colonel
NOW IDENTIFIED !  OUR SUBSCRIBER FRIEND FRANCIS GUBER HAS POSITIVELY IDENTIFIED THIS MAN AS COLONEL WILLIAM AUSTINE 3rd U.S. ARTILLERY.  FRANCIS HAS A SIGNED CDV OF THE COLONEL.  MANY THANKS FRANCIS !!!
20-01-01  A near mint quarter plate tintype of a Full Bird Yankee Colonel in regulation uniform and straps with his McDowell style forage cap on the table next to him. A staff wreath insignia is plainly visible on the front of the cap.  If you look closely you will see our Colonel has a set of folding spectacles suspended around his neck on a thin cord, the kind that perch on your nose and have no ear pieces.    This fellow has such a distinctive face that I am betting someone out there will recognize who he is.   Tin has been trimmed along the edges for insertion into a photo album.    It is now housed in a proper quarter plate mat, frame, and glass.  Hard images of "full bird" colonels are rarer than Baptist dance instructors.               $875.00   SOLD
x
x
x
Call (419) 842-1863 to place your order.
UNION ARMY FIRST LIEUTENANT'S
VELVET CENTER SHOULDER STRAPS
20-01-02  A beautiful pair of near mint condition Yankee infantry or staff lieutenants shoulder straps with stunning royal blue velvet backround material. These surfaced locally along with the officer's Ohio Militia officer's commission signed by Governor Todd. The finder sold the commission separately. The owner was Lieutenant Johnson of the Highland County Militia. It was a wartime state militia unit with no known connection to any federalized regiment. The straps measure 3 x 1.25 inches from the outer edges of the bullion. They do not appear to have ever been sewn to a coat and are in near perfect condition. Classic raw back construction. The bullion is the proper alternating dull and bright bullion threads.  For the sake of illustration I spent five minutes and folded and stitched the wool border material to the back of one strap to show how it looks when properly dressed and sewn to a uniform. You can see this work in the bottom most photo.   These were purchased by the officer and preserved with his commission for a century and a half. Super set… $345.00  SOLD

.
.
Call (419) 842-1863 to place your order.
Miniature GAR Canteen 1892 Reunion in D.C.
20-01-03   A fine and appealing example of the official Grand Army of the Republic souvenir canteen from the 26th annual National Encampment of the GAR held in Washington, DC in September 1892.  4 1/2 inches in diameter. Excellent condition with no defects nor damage.  Retains the original stopper and chain.  I've pasted a couple GAR photos below as clip art to add flavor.  One is an actual photo of the 1892 GAR parade.   1892 is getting to seem like a long time ago.  It didn't seem so when I was a kid.  My grandpa and grandma on dad's side were both born in the 1890s.  Both teetotalers (aka tea-totallers) and farm folks. Grandpa's grandad (Philo Taylor) had served in the 2nd Michigan Cavalry.   Mom's folks were the young cool grandparents, both born in the first decade of the 20th century, they smoked and drank hard liquor just like Dean Martin and Sinatra and Jackie Gleason.    OK… enough nostalgia.  I'll sell you this 127 year old canteen for….    $135.00  SOLD


.
.
.
.
Call (419) 842-1863 to place your order.
Confederate Richmond Virginia Percussion Conversion of
US 1836 Flintlock Pistol.
20-01-04   A top shelf example of the Confederate conversion done by Thomas J. Adams of Richmond, Virginia.  100% original, 100% complete, and mechanically perfect.  This just came to light this week.  It is one of 450 such flintlock pistols altered by Adams in Richmond in the first half of 1862 for the state of Virginia.  It has the notched bolster and plain hammer peculiar to the Adams Confederate conversions.    The breech is marked TW over P.  Side of barrel is marked NJ showing that it originally belonged to New Jersey and that they sold it to Virginia during the antebellum period.   The lock is marked US over I JOHNSON  Middn. Conn. 1837.  Crisp action. Three inspector cartouches in the stock.  There is a small crack on the left counter pane of the stock touching the cartouche.   The twin brother of this gun sold a month ago at Milestone Auction here in Ohio for $2,160.00 including the buyer's premium.   Same markings, date, conversion, etc…  I will sell you this one for…………..       $1,695.00.  SOLD
CALL 419 842-1863 TO PLACE YOUR ORDER

.
.
.
.
Call (419) 842-1863 to place your order.
Remington Double Action 36 Caliber Belt Revolver
20-01-05  A fine condition example of the very scarce double action Remington – Rider belt revolver.  100% original 100% complete and mechanically good though the fork shaped cylinder-stop spring is broken and needs to be replaced.  The gun will cock on single and double action.  The cylinder indexes fine, but it does not lock in place.  The little two tined spring (broken) is still present under the trigger guard and can be replaced in 30 seconds, but you will need to find a spring or make one.  I have looked high and low and I don't have one.   The gun is fresh to the market and is in "as found condition".  Most of the factory blue is present on the barrel and cylinder.  The balance of the steel is a very attractive plum blue/brown mix.  The grips are fine with some loss of varnish on the left grip.  Very few of these Joseph Rider patent double actions were made.  Estimates range from 3000 to 5000.  The serial on this one is 3,085.  All are made with 6.5 inch octagon barrels.  The first 1,000 or so were made with fluted cylinders,  the balance have the smooth cylinder as does this one.  Damn scarce, and really choice condition.  $1,950.00  SOLD


.
.
.
Call (419) 842-1863 to place your order.
 Very Fine and Scarce Rifled and Sighted M-1842 Musket.
20-01-06   Civil War Rifled & Sighted 1842 US Musket. When the US decided to adopt the expanding spherical bullet, aka Minie ball, and arm all troops with rifles, they not only introduced the 1855 series of arms, but went back to older models and began rifling them. The 1842 musket was a prime candidate for the upgrade and this one shows rifling of the barrel and installation of the early pattern of long-range rear sight for firing .69 caliber spherical ball cartridges. Since the 1842 had interchangeable parts, there was no need keep parts from the same gun together when they were disassembled for modification. In this case, the lockplate shows a nice Mexican date of 1847 and the barrel a date of 1855, a wide separation of years, but acceptable on this pattern.
The lock plate is clearly marked with a Harpers Ferry eagle over US forward of the hammer and SPRINGFIELD / 1847 at rear of the plate. The metal is mixed gray and brown in color, but has a smooth surface with no pitting, as is the case for the bolster as well. The barrel has matching color, going to a more light gray toward the muzzle, but has similarly good surface and crisp V/P/eagle barrel proofs. The long-range rear sight is present and complete with ladder in place. All springs, bands, swivels and rod are in place, as is the bayonet stud. The wood has good edges showing around the lock and on the reverse flat, with a few scattered old handling dings or scratches, but overall VG to fine.
These muskets were used throughout the Civil War. There were even US embossed 1864 pattern cartridge boxes made and issued for the .69 caliber rifle cartridges that this gun used. $1,450.00     SOLD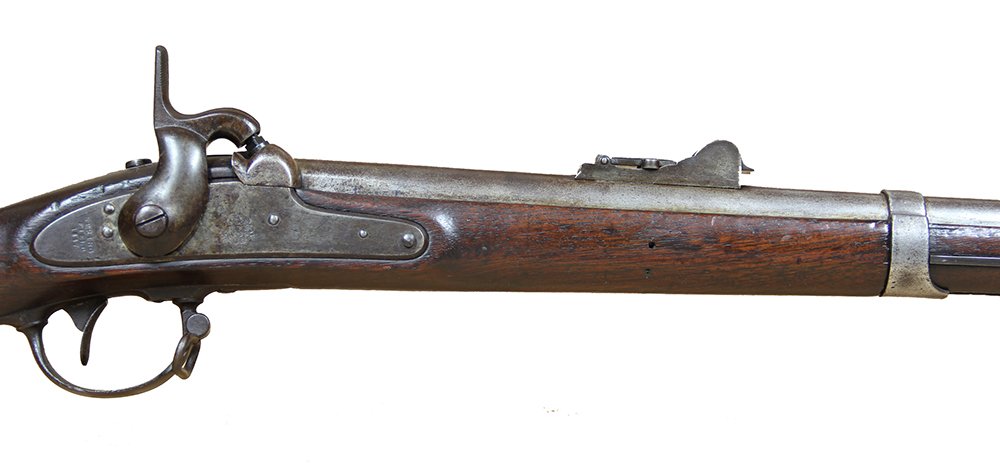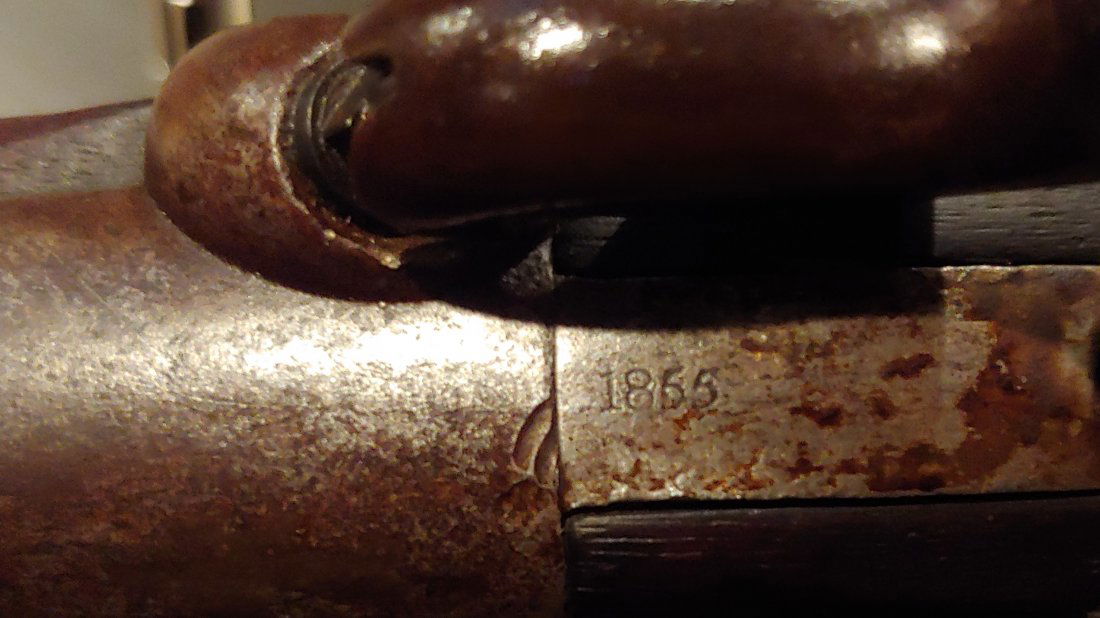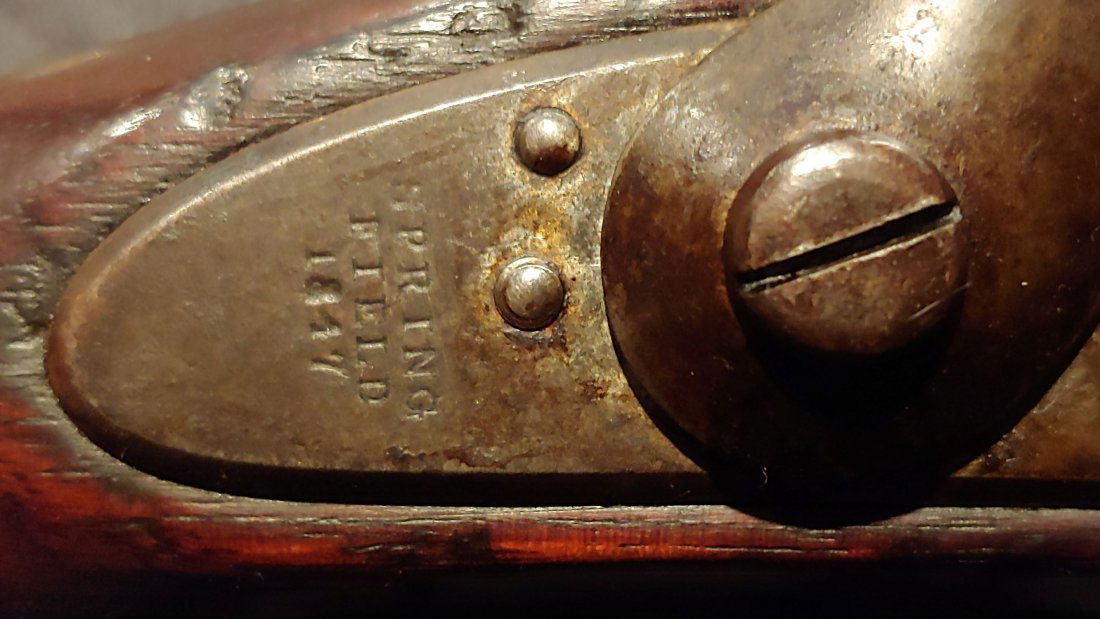 ============
=====
===
Call (419) 842-1863 to place your order.
1861 Cartridge Box & Tins Still Full of Cartridges!
20-01-07  This was quite a find last month.  It is a standard and complete early war infantry cartridge box with both tin liners inside as well as twenty original cartridges, ten of them still in the unopened, string tied, original package.   There are also two loose Williams' cleaner bullets and several pieces of crumpled brown wrapping paper inside.    The auctioneer knew there were some loose cartridges in the box but he was completely unaware of the unopened complete package of cartridges that was still hidden in the lower compartment of the second tin which was stuck securely in the box.  This was a fun find.   Years ago we used to sell loose paper cartridges for $89 to $110 each.  Full packages were always over a thousand dollars.  I am going to offer this lot in two options.  I will sell the box just the way I found it with all the cartridges and bullets and wrappers included for $1,395.00 in hopes that the buyer will keep it intact to preserve the extreme rarity that it is.  Or I will break the set up and sell the perfect cartridges separately for $75 each, sell the full package for $750, and sell the box with the tins and loose wrappers and Williams cleaner bullets for $350.00.  The second option would put an extra $500 in my pocket, but I would prefer to see this kept together.  Such finds never happen any more.   I will wait 24 hours to determine which way the lot will sell.  If in the 24 hour period someone calls to order the whole kit and caboodle he gets it all for $1,395.00.  If not I will take orders for individual cartridges.  SOLD
1864 Cartridge Box Definitely Battle Carried
20-01-08  This is a complete and very solid example of the Union Army 1864 pattern cartridge box that shows every earmark of real usage during the war.  It is complete with the tin liners.  The liners have the deep gray patina seen on attic stored boxes.  The wear and crazing on the leather is likewise totally consistent with attic storage as opposed to Army Surplus storage.  All straps and buckles are firmly in place.  The yank that wore this one also used an oval US cartridge box plate on the front flap which is no longer present.  This one was really there… Priced fair….   $295.00 SOLD NEXT LIST DISCOUNTED 245.00
====
.
Call (419) 842-1863 to place your order.
Model 1839 Small US Buckle.
20-01-09   Small Size Us Oval Belt Plate: The 1839 small size US buckle. Perfect, near mint non dug condition with single arrow and single prong on the reverse. These small plates have always been scarce… and these days they are borderline rare…  I see online that I sold one for $365 back in 2008.  This year 2020…  $295.00  SOLD



Call (419) 842-1863 to place your order.
EARLY CAST IRON TOY CAP GUN
20-01-10  A really appealing and handsome antique cast iron child's cap pistol.  Designed like an 1850s belt pistol I believe this toy dates to the last quarter of the 19th century.
The hammer and  trigger function reciprocally.  The cowboy needed to slip a paper cap in the slot allotted for the cap, and then give the trigger a swift pull.
Bang.  Dead outlaw or Indian.  $195.00
.
.
.
Super Letters from Slave  Owner Regarding His Slaves
20-01-11  Three manuscript letters in ink from the year 1856. A) Dewberry Aug.31, 1856 to cousin Mary S. Reavis from Charlie. Three pages in brown ink with very good slave content. Regarding female slaves he writes in part… I don't think we have any woman who would suit the purpose… Indeed upon examination I have been unable to find among our servants any woman or girls whom who I think likely to suit ourselves. Our servants have been so long entirely under the management of poor overseers and so little subject to the influence of a master or mistress I could not recommend them to anyone. I shall only take out with me two or three and will have them all of one family if possible. But it will be a mere piece of good fortune if they make us good house servants. We have been so long in the habit of selling our servants to the South as punishment for bad conduct that there is a general disinclination amongst all of them in this part of Virginia to moving out of the state.He continues with family news, someones trip to Baltimore. Signed Charlie.
B) Arwell Sept. 5th 1856. Four pages in ink to Sister signed Charlie Cooke. Mostly family news and health reports. Mentions trips to Fredericksburg and Richmond and Alabama. One sad and comical line reads… Bet is not dead. Nor has she been sick since she got home. The report you heard was an old one started about the time her baby was born.
C) Gainesville Ala. July 1st 1856. Three large pages in ink. Insect damage at the folds affecting the content.. To Charles signed T. Reavis Writer expresses sympathy for the troubles Charles is having with his farm in Virginia. If you wish to bring slaves enough here to work a small cotton plantation, I will furnish you with the necessary land, stock, etc… If you cannot raise… enough money to remove them here I will procure it for you. … Just as soon as you arrive here I will set you to work.You had better therefore buck up your knowledge of Blackstone.       Also included are two 1870s receipts of no consequence as far as I can see.  $250.00  SOLD
.
.
.
Military Themed Tobacco Box Late 18th or Early 19th Century
A classic Dutch tobacco box.  Cover is engraved with female Britania stroking her lion amidst an arrangement of cannon, flags, kegs, and military equipment.  She holds her spear/trident in her left hand.  I can't really read Dutch but the motto below says something about Britain always hoists something… and maybe a reference to the west.  The back is engraved with two horsemen firing pistols at one another with the bullets flying toward their intended marks.  That side is engraved with something about Dutchmen being like lions.  It is likely the Dutch making fun of the English in a manner that made sense at the time.  $395.00 Moved forward to March 2020 Webcat.